jJOIN OUR
MAILING LIST


for advance notice




of special offers!




(emails are never




shared or sold)


-


In 2016, Coastal 181 is working hard
on three book projects:
RON BOUCHARD: Remembering the Kid from Fitchburg, which celebrates the life and racing career of the late Ron Bouchard. We will launch this book on August 10 at Thompson Speedway, where Ronnie had many victories and was a track champion. We will have an autograph and book-signing session with the author, Bones Bourcier, and a number of the driving legends who participated in the book.

A extensive history (title yet to be finalized) of the Wood Family and NASCAR's Wood Brothers Racing team, by Buz McKim and Mark Moskowitz. This one will be out for the fall.

A memoir, which promises to be wild and wacky, that Lew Boyd is co-writing with open-wheeler Kevin Olson, due October.

We'll be posting more information as the books take shape, but here's some information about our memoir of Ronnie Bouchard.


RON BOUCHARD: Remembering the Kid from Fitchburg

Compiled and edited by acclaimed motorsports author Bones Bourcier, the book recalls Bouchard through the eyes of rival drivers, teammates, promoters, friends, and family members. The format is much like what Bones created in our book on stand-out racer Ed Flemke, Steady Eddie.

Contributors include Modified icons Bugs Stevens and George Summers, legendary car owners Bob Johnson and Bob Judkins, NASCAR Cup winners Geoff Bodine and Ricky Rudd, broadcasters Jack Arute and Mike Joy, and many more. All share personal memories of Ronnie B., who had a grin made for victory lane and enough talent to get him there often.

Bouchard took his first checkered flag at age 14 - having fibbed his way into the starting field at a long-gone New Hampshire oval - and his last at one of stock car racing's toughest tracks, Darlington Raceway. In between came so many triumphs that he had no idea of the total; Ron's answer to that often-asked question was "up in the hundreds, easy."

Though best known nationally for his stunning upset in the 1981 Talladega 500 and the NASCAR Cup Series Rookie of the Year honors that followed, the Massachusetts native was one of his generation's most accomplished short-track drivers. Bouchard's style blended brains and brawn; whether contesting a frantic 30-lapper or a long-distance show requiring strategy and patience, he was always in the mix. He won Modified races from New England to Florida, including major events at Martinsville Speedway in Virginia, Pocono Raceway in Pennsylvania, and New York's Oswego Speedway. Along the way came multiple track championships, and legions of fans drawn in by that winning smile.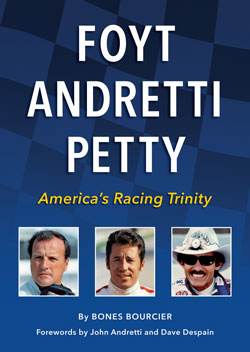 ORDER HERE
Twenty years after they hung up their helmets, the names A.J. Foyt, Mario Andretti, and Richard Petty remain synonymous with the sport they carried to new heights. They rose to fame just as the American media began to legitimize auto racing, and gave the nation characters as compelling as any in sports or entertainment.

Foyt was all Texan, John Wayne in a firesuit, stomping into victory lanes from Indianapolis to Le Mans. Petty, the genial North Carolinian, put a smiling Andy Griffith face on the American South, no small feat in the tumultuous '60s. Andretti, who'd sailed from Italy at age 15, struck for all outsiders the same yes-you-can chord sounded by another ambitious Italian-American, Frank Sinatra.

They crossed paths often, on-track and in the headlines. Take 1967, which opened with Andretti beating NASCAR's best at Daytona, peaked with Foyt's third Indy 500 win, and ended with a record 27 victories for Petty. Or the three-season stretch from 1977-79, when Foyt became the first four-time Indy winner, Andretti earned the World Driving Championship, and Petty won a game-changing Daytona 500. They even throttled back their careers in lockstep, Petty in 1992, Foyt in '93, Andretti in '94. Today all three are revered; as they walk through crowded pit areas, people make way. Charisma never ages.

This is more than a three-act biography. Laced with quotes from Foyt, Petty, Andretti, and their peers, and spiced with period accounts from the motorsports world and the changing social landscape, this is the history of modern American racing as refracted through the lives of three extraordinary champions. Further context is added by a pair of forewords, one by motorsports broadcaster Dave Despain, the other by acclaimed driver John Andretti, who grew up as Mario's nephew, raced for both Foyt and Petty, and also happens to be A.J.'s godson.

The book is hard cover, 348 pages, including 24 pages of photographs.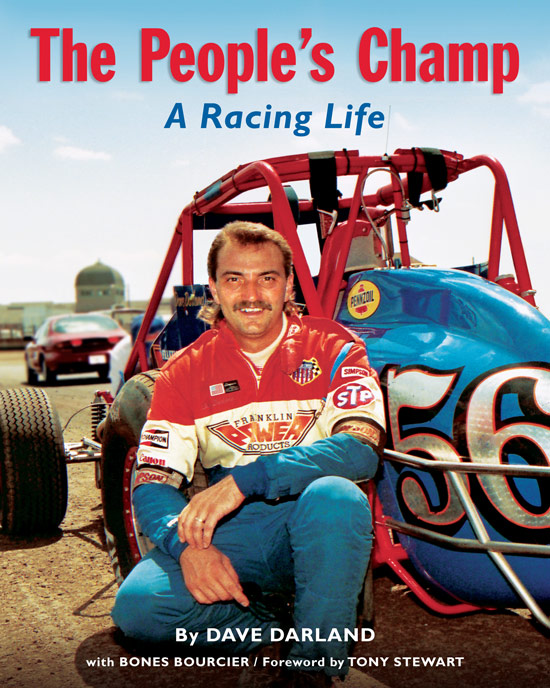 Dave Darland at the Springfield Silver Crown race on August 16, 1997,
during his title-winning season. (John Mahoney Photo)
ORDER HERE
-
192 pages plus 32 pages of black and white and color photos, documenting Dave's remarkable path into the history books, including his winning ways in 2014.
One of contemporary open-wheel racing's most extraordinary careers will be celebrated late this spring with the release of "The People's Champ: A Racing Life," the autobiography of United States Auto Club superstar Dave Darland, co-authored by veteran motorsports journalist Bones Bourcier.

The title comes from the nickname that rings from track loudspeakers whenever Darland is introduced. It's not something the Indiana driver made up himself – in fact, just hearing it almost makes him blush – and it sure wasn't dreamed up by some fancy marketing team. But it certainly fits, as evidenced by the applause those introductions generate at dirt and paved speedways from coast to coast.

One of the few drivers to win USAC championships in all three of the sanctioning body's national divisions – Silver Crown, Sprint Cars, and Midgets – Darland has conquered tracks of all sizes, from the quarter-mile bullrings dotting his home state to the Midwestern fairgrounds miles that are so much a part of USAC's rich history. And at age 47, he shows no sign of slowing down: In 2013 he won two of USAC's richest Sprint Car races, the Oval Nationals at California's Perris Auto Speedway and the Kokomo Smackdown at the track he calls home, the Kokomo Speedway north of Indianapolis. He capped his season with a Thanksgiving victory in one of Midget racing's marquee events, the Turkey Night Grand Prix, also at Perris.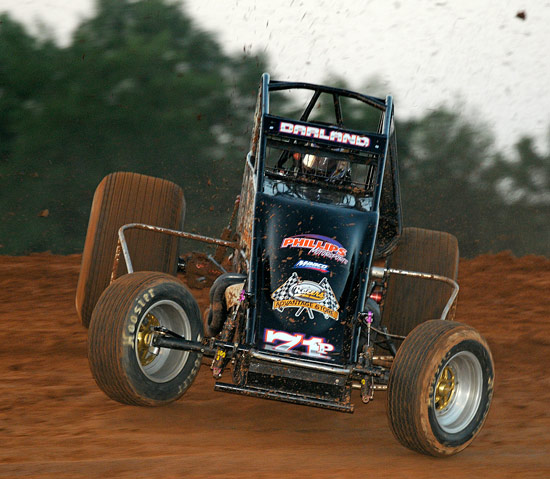 Bloomington, July 2013 (John Dadalt photo)


Told in Darland's own words, the book charts the course of his racing life, from Quarter-Midgets and local Sprint Cars through his remarkable professional career, including four USAC national championships: Silver Crown in 1997, Sprint Cars in '99, and Midgets in 2001-02. Naturally, there are plenty of tales about his success on Indiana's fierce weekly racing scene, where his loyal fan following sprouted and then blossomed.

But this is no mere chronological rehashing of a great driver's climb. Among other things, Darland discusses the rivalries that helped shape his career, the code of conduct he insists on racing by, the magic of his sport's biggest events, and the joys and stresses of being a husband and father in a sport that requires frequent travel and intense focus.

And, yes, he describes for readers both the honor and the responsibility involved in lugging around that hard-earned title: The People's Champ.

As a bonus, the book is annotated with reflections from "eyewitnesses" who have seen Darland through the prisms of their own personal and professional relationships, whether as car owner, mechanic, rival driver, or family member. Darland's story is illustrated by dozens of photographs, many previously unpublished.

This is the tenth book for Bourcier, and his seventh with Coastal 181. His most recent works were the widely acclaimed autobiographies of Indianapolis 500 hero Parnelli Jones (entitled "As a Matter of Fact, I AM Parnelli Jones") and Supermodified legend and Little 500 winner Bentley Warren ("Wicked Fast").

Keep an eye on www.Coastal181.com for further details.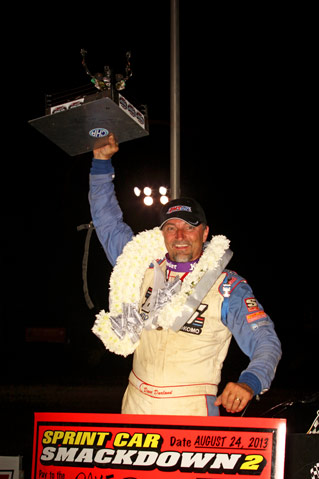 Kokomo Smackdown, August 2013 (Randy Jones photo)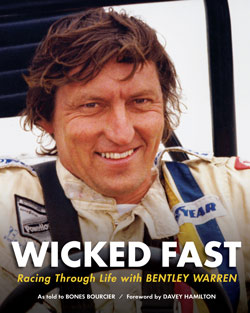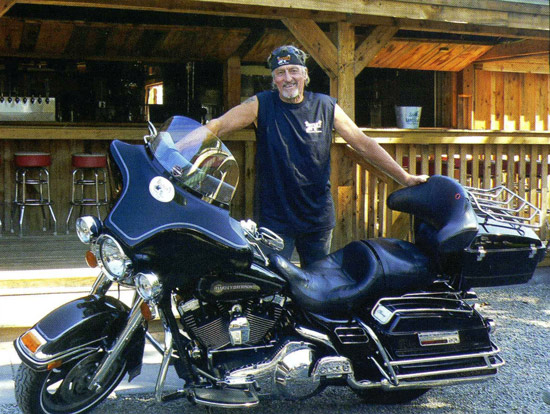 (Bentley Warren Collection)
-
WICKED FAST: Racing Through Life with Bentley Warren
by Bones Bourcier
This project is a case study in why book publishing can be fun. How about taking on one of the last truly great characters in American racing?!

Since early this year, Bones Bourcier has been bouncing around from Daytona to Arundel, Maine, chasing down that legendary, but ever-moving figure, Bentley Warren.

Everyone will tell you he's Bentley's buddy. Whether in the pits at the races or among hundreds of bikers gathered each weekend at his Saloon, he is always the center of attention.

But, when all is said and done, how many people really know Bentley? It's Bones' mission to dig deep into this amazing guy who can go wicked fast in any kind of race car made, zip across the country on the Harley from Hell at a moment's notice, or win over the most sophisticated of the business world, while still dressed in his ripped jeans and biker tee.

WICKED FAST: Racing Through Life with Bentley Warren covers all of Bentley's amazing journey and features hundreds of racing images.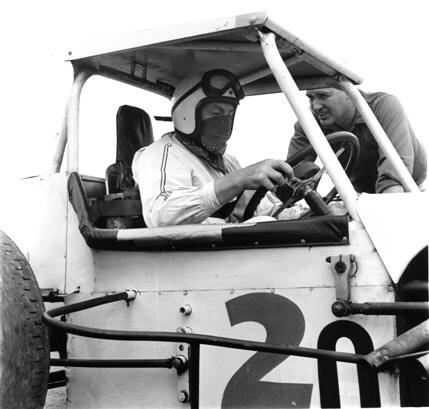 (Dick Berggren Collection)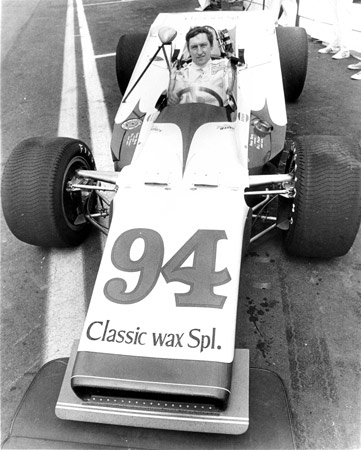 (John Lengenfelder Collection)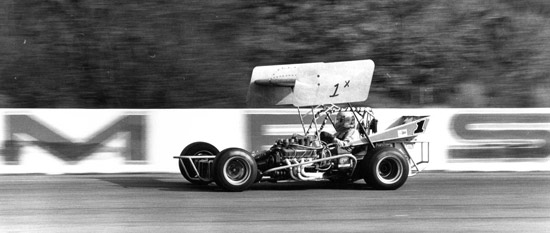 (Terry Bourcy Photo, Dick Berggren Collection)

.

Order HERE
Did You See That?
by Joyce Standridge
A few years ago, Coastal 181 published Win It or Wear It—All-Time Great Sprint Car Tales. In the process of developing that book, the team discovered the extraordinary talent of photographers Allen and Kevin Horcher, brothers who have captured incredible images from around the Midwest over the past 35 years. While we could use only their sprint car shots in that book, it was clear that their portfolios included all kinds of open-wheel images such as never had been published before.

Fast forward to 2013 and it's time to share those amazing photos with racing fans everywhere, coupled with the light-hearted and insightful captions that only award-winning writer Joyce Standridge could bring to the project, and supplemented with additional remarkable photos by David Hill, B&B Racing Promotions, Gene Marderness and Mike Campbell.

"Did You See That?" is the perfect title for a book that covers all kinds of race-track experiences, but especially those that boggle the mind in some way. There are scores of wreck and crash photos in the book—not snapshots, but sharp, caught-in-mid-action images that leave one wondering how they repeatedly managed to do that. But there's more than that to what happens during racing events, so there are also action photos, people shots and other fascinating sights that can be captured only at a track.

Scheduled for release in the fall of 2013, the book features photos from 1978 to the present, encompassing some two dozen Midwestern tracks showcasing Midgets, Sprints and Silver Crown cars. This book is a must-have for all racing fans, whether diehard or not. It's not even necessary to be an open-wheel fan to appreciate the art from unique moments in racing history.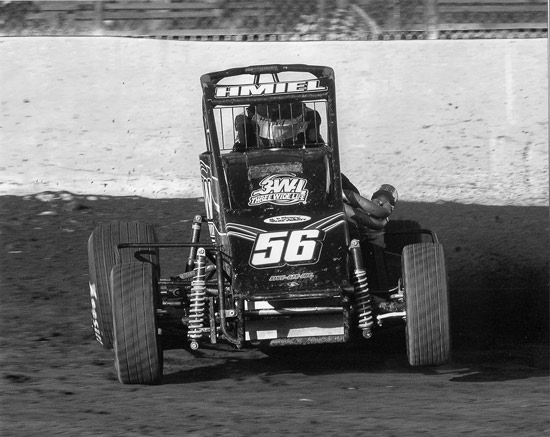 (Allen Horcher Photo)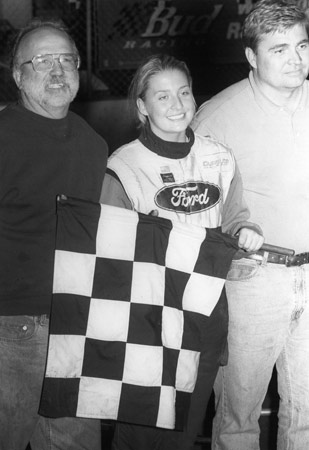 (Kevin Horcher Photo)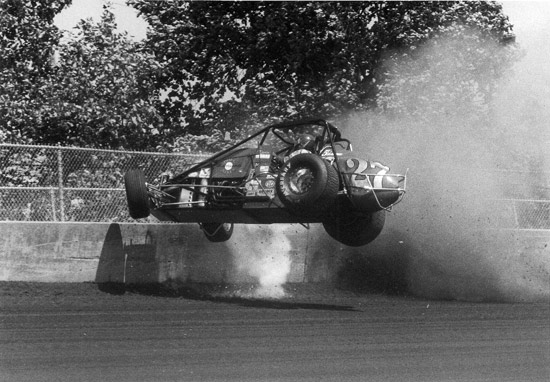 (Kevin Horcher Photo)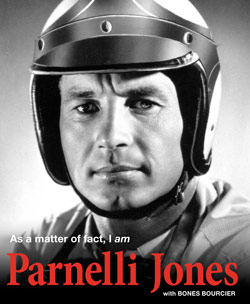 As a matter of fact, I AM
PARNELLI JONES
We are pleased to announce that Coastal 181 released a memoir of Parnelli Jones in December 2012. Written with Bones Bourcier, each chapter starts with a preface by Bones to set the scene, continuea with remembrances by Parnelli of a particular chapter of his life, and enda with a "Testimony" by someone who was there. Those "someones" include racers like Mario Andretti, Al and Bobby Unser, A.J Foyt, Johnny Rutherford, and many more, as well as intimate reminiscences from Parnelli's sons Page and PJ.
Available for purchase here.
---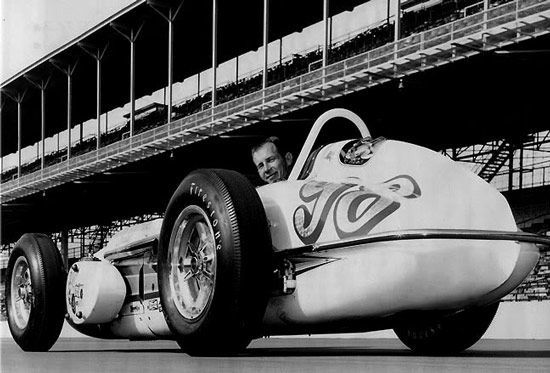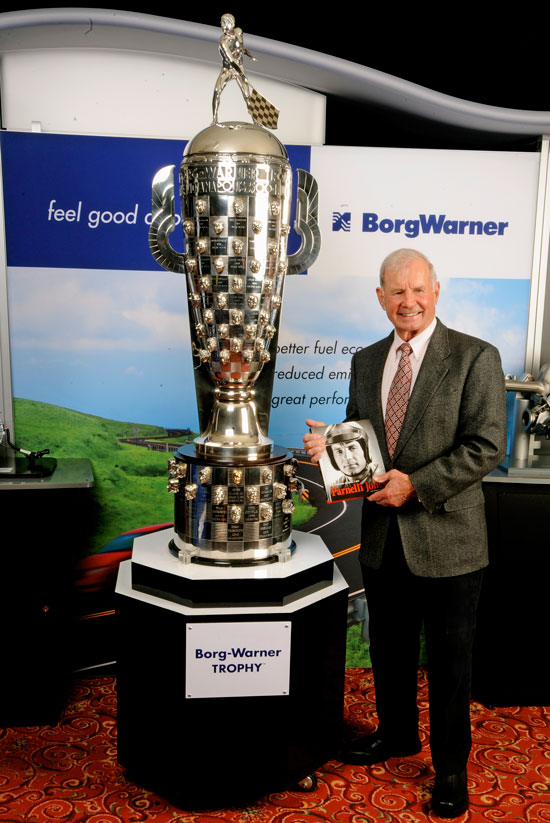 On his way to the Area Auto Racing Motorsports 2013 show, Parnelli Jones stopped in Detroit to present his friend and mentee Dario Franchitti with a "Baby Borg" trophy, commemorating Dario's 2012 victory in the Indy 500. But everyone involved had a wee surprise for Mr. Jones. When Dario finished his acceptance speech, he turned to Parnelli and said, "Now it is time for yours." Fifty years earlier Parnelli had won the Indy 500, but the tradition of giving an 18-inch tall "Baby Borg" to the winner wasn't started until 1988. As you can see, Parnelli, shown here with the full Borg-Warner trophy and holding his new book, was very pleased! (Photo Courtesy Borg-Warner)
---
For race fans of a certain age, or those in touch with the sport's history, Parnelli Jones is synonymous with speed. His rise from dirt-track jalopy battles to victory lane at the Indianapolis 500 is the stuff of American motorsports legend.
Now, at long last, Parnelli tells the story of his incredible racing life. It's all here: the hungry days as a traveling Sprint Car driver, the danger and glamour of Indy Car racing's Championship Trail, the thrilling NASCAR victories, the Trans-Am road-racing titles, the bumpy rides to Baja 1000 glory, the magnificent triumphs and searing tragedies he witnessed along the way.
There was a time when every speed-trap cop in the land would greet a typical offender by growling, "Who do you think you are, Parnelli Jones?" And one day, on a Los Angeles freeway, our hero handed over his driver's license and replied, "Well, officer, as a matter of fact …"
From winning Indianapolis aboard his Ol' Calhoun roadster to losing it with the famous STP turbine car …. From Oklahoma Dustbowl roots to a richly appointed businessman's office in Los Angeles … From scuffling for rides to owning American racing's first "Superteam" … Parnelli has been there and won that. Come along for the ride as he steers you through his amazing journey.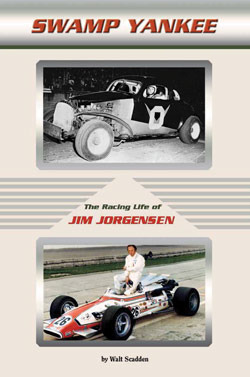 BOOK RELEASED ON LEGENDARY JIM JORGENSEN
AND AUTO RACING'S GREATEST ERA
Newburyport, Mass., July 25, 2012 – Motorsports publisher Coastal 181 announced today the release of their latest title, "Swamp Yankee: The Racing Life of Jim Jorgensen," by Walt Scadden.

"Swamp Yankee" is the story of legendary crew chief and engine-builder Jim Jorgensen's epic journey from Riverside Park Speedway in Agawam, Mass., to the National Championship Indy Car Series. From the late 1950s to 1969, Jorgensen and his crew crisscrossed the country, racing his innovative stock car, sprint, and Indy Car designs with standout drivers like Gene Bergin, Buddy Krebs, Bill Brown and Denny Zimmerman.

Progressing from countless bullrings and county fair tracks to some of the most revered venues in the country such as Langhorne, Phoenix and Milwaukee, and on to the Indianapolis Motor Speedway, Jorgensen made his name and left his mark. His journey had its share of detours and heartbreaking disappointments, but it provided him the formidable education needed to compete at the highest level of racing in the country and earned him induction into the New England Auto Racing Hall of Fame.

Jorgensen's was a time of open trailers and pick-up trucks, where a handshake was the measure of a man. His story is a compelling account of the ingenuity, passion, triumph and hardship that defined the legendary competitors of racing's greatest era.

"Swamp Yankee" will be launched at the 12th Annual CRUISIN' ON MAIN STREET Car Show on August 5th in Manchester, Conn., and is also available through Coastal 181, 29 Water St., Newburyport, Mass. 01950. www.coastal181.com, 877-907-8181 toll free. The book is soft cover, 152 pages, and is priced at $19.95.

More on "Swamp Yankee" HERE.
---
.-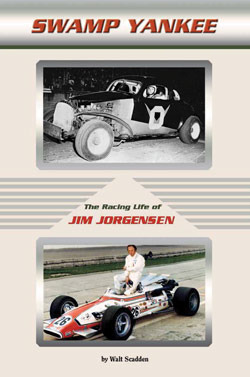 Swamp Yankee: The Racing Life of Jim Jorgensen
We are currently working on a biography of Connecticut race car builder/owner and NEAR Hall of Fame member Jim Jorgensen. Swamp Yankee: The Racing Life of Jim Jorgensen, written by Walt Scadden, recounts Jorgensen's progression from the gritty days of Modified racing at Riverside Park in Agawam, Massachusetts, where he fielded the famous "Flying Zero" for stars like Gene Bergin and Buddy Krebs, all the way to Indy in 1969, where he missed qualifying by one spot and tenths of a second.

The traveling distance from "The Park" to the Indianapolis Motor Speedway is a little short of 900 miles. The journey took Jorgensen a decade. The trip had its share of detours and heartbreaking disappointments but provided him the formidable education needed to compete at the highest level of racing in the country.

In addition to his career as a car owner, Jim Jorgensen became famous throughout Southern New England and beyond for his advancements in engine-building. John McCarthy, former NEMA president and one-time operations director of New Hampshire Motor Speedway, often credited Jorgensen as "the innovator of the great Chevy-II stock block Midget engine."

Author Walt Scadden has had a lifelong involvement in motorsports, and his knowledge and love of racing is both broad and deep. He has built or worked on race cars in every form of the sport, from road racing to speed-runs on the salt at Bonneville. Walt is the author of two previous books, Vintage Hot Rod Metal Work and Old School Hot Rod Projects.

Swamp Yankee is scheduled for release midsummer 2012.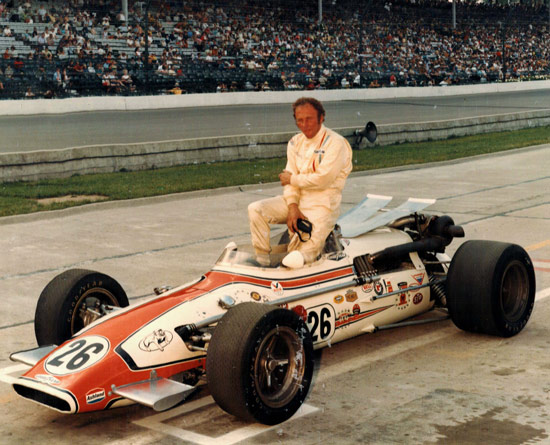 Rick Muther in the Jorgensen #26 during qualifying for the 1969 Indy 500.
(Jim Jorgensen Collection)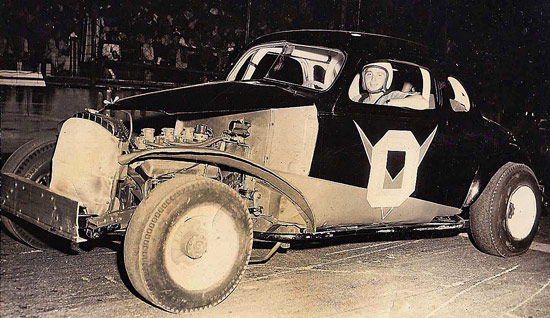 Gene Bergin in the Flying Zero at Riverside Park, late 1950s or early 1960s.
(Jim Jorgensen Collection)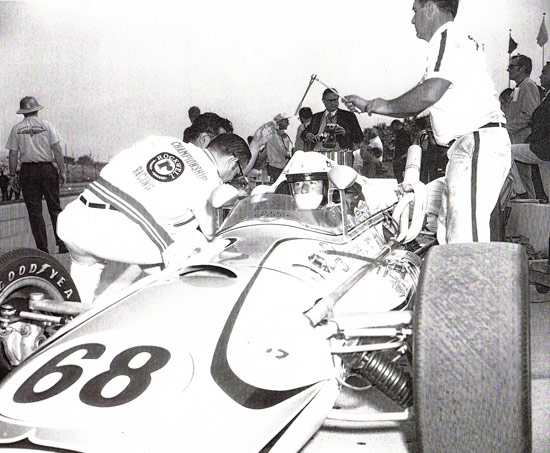 Denny Zimmerman in the Bulldog Stables #68, getting ready for his rookie test
at Indy in 1969. This was Jorgensen's favorite car. (Jim Jorgensen Collection)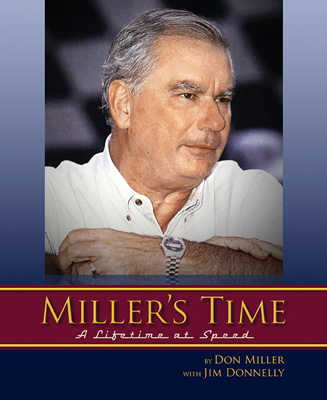 NOW ON SALE HERE
---
Miller's Time - A Lifetime at Speed
You know who Roger Penske is. You know Rusty Wallace and Ryan Newman. You know they've won enough races and championships to fill up a freight train. Without Don Miller, a lot of those triumphs might have never happened.

It's impossible to overstate how important Don Miller has been at the pinnacle of American racing, and how influential he is on so many levels. He has been an elbow-to-elbow advisor and confidant to Penske on racing matters since the early 1970s. Miller brought Goodyear to dominance in Midwest short-track racing. As a mentor, he turned both Wallace and Newman from unknowns into superstars. He represented a couple of dozen huge corporations in auto racing and made them successful. Don Miller can even take credit for inventing the souvenir trailer.

A professional drag racer in his teens and twenties, Miller has always been the hardest of hardcore racers, on every kind of track. That passion has never diminished, even though racing brought him to the very abyss of death.

Don Miller has never told his story until now. Miller's Time, the memoirs of this hot rodder, racing titan, gifted businessman and car collector who just plain loves people, is one of the most compelling, rewarding and harrowing racing books that you will ever be lucky enough to read. It can honestly change your life.
---
"SOAPBOX" FOR AREA AUTO RACING NEWS

BY JOHN SNYDER

(Excerpted from AARN SOAPBOX for April 27, 2010)


I have a pretty extensive racing library, but the latest addition to it is unlike any other book in my collection. That's because it's not about a driver, or track, or race, or race series, or promoter, or history or any of the usual subjects of motorsports texts. Instead
Miller's Time: A Lifetime at Speed
is part autobiography, part philosophy, part how-to build a race team, and part a look into the inner workings of one of the most successful organizations in the sport's history.


Miller's Time
is Don Miller's story, with help from Hemmings senior editor and my good friend Jim Donnelly. Miller, a hot rodder from Chicago, turned a life-long passion for automobiles and speed into an amazing career that took him from drag racing on city streets to key sales and marketing positions with Sears and Goodyear and then to partnerships with Roger Penske and ultimately with Rusty Wallace the formation of Penske South NASCAR (then) Winston Cup team.

Along the way, Miller relates the struggles he faced, including a 1974 pit road accident at Talladega that nearly cost him his life and did result multiple injuries and the amputation of his right leg.

A good portion of the book---and some of its most interesting pages---deals with Miller's fostering the careers of Rusty Wallace and later Ryan Newman. Of Wallace, Miller says, "What brought me to Rusty was his incredible fire, this blaze in his gut. I knew he would be successful if somebody gave him some guidance, because he always gave 140 percent, always. It was amazing. I had never met anyone up to that point who wanted to win as much as Rusty did."

While Wallace had come from the late model stock car circuits mostly in the Midwest, Newman's background was in open-wheel cars. But midget racing rivals stock cars in that region and Miller paid close attention to the USAC Midget races and drivers. "Keeping track of potential future talent was part of my job at Penske South…I was following the Big Five in the USAC Midgets, the guys who were really hot rods, which had consisted of (Jeff) Gordon, Tony Stewart, Kenny Irwin, Jason Leffler, and Ryan Newman," says Miller.

"To this day, I believe that the drivers who race Midgets have the best car control of any racers in America…I'd seen Ryan drive, at least on videotape, and know that he had a tremendous ability to precisely control these tiny, featherweight, wildly overpowered race cars."

Miller officially retired from Penske South at the end of the 2007 season, but retirement isn't a real word in his vocabulary. He still keeps his eye on what happening with Penske's wide-flung operations, but devotes much more of his time to Stock for Tots, Stop Child Abuse Now, and the North Carolina Auto Racing Hall of Fame. In fact, net proceeds from the sale of
Miller's Time
have been pledged to support the prevention of child abuse and neglect in North Carolina.


Miller's Time
is greatly enhanced by the liberal use of quotes from others whose paths have crossed his own and dozens and dozens of great photographs that match the text. And that text is crisp, informative but never preachy, and often giving small insights into creating successful enterprises, race teams included. Once you start it, it's a hard book to put down.


Miller's Time
is available through Coastal 181 and other outlets.

I highly recommend it.
---
"Indeed, It Was Miller Time"
By Mike Hembree, Foxnews.com May 31, 2010
The Charlotte Motor Speedway garage area became a much brighter space last Saturday the minute that Don Miller walked through the gate.
Miller, retired president of Penske Racing South and a racer virtually since kindergarten, made an all-too-rare appearance at Penske's Kurt Busch hauler, and the parade began. Over the past quarter-century, few garage-area residents have been as popular as Miller, and his visit to CMS attracted a long line of crewmen, officials, public relations people and journalists anxious to catch up on his latest exploits.
Miller didn't take credit for it, but, later that evening, Penske driver Kurt Busch won the Sprint All-Star Race. It seemed only appropriate, and such circumstances might force Miller to show up at the track more often.
A long-time Penske lieutenant, Miller finally was able to officially remove himself from the sport in 2007. He had been on the road in numerous racing jobs and positions (most Penske-related) for decades, and it was past time, he said, to spend some quality days kicking around with his grandchildren. Many people who retire from busy jobs say that's their aim; Miller has actually done it.
Another thing Miller has done since his retirement from running Penske's stock car operations is something he should have done – write a book. Although Miller's name generally is not known among the wide spectrum of race fans, he has been a force in racing since a relative's souped-up hot rod first got his attention as a kid in Chicago.
He got into drag racing as soon as he could afford it, eventually put himself in position to make money from racing in a variety of jobs and then met Penske. He, Penske and Rusty Wallace eventually put together the deal that returned the Penske name to NASCAR, and they built the foundation for the Penske Racing operations that now are housed in a fabulous facility in Mooresville, N.C.
Miller became a tutor of sorts for both Wallace and later Ryan Newman, whose quick rise in NASCAR can be traced, in large part, to Miller's smarts.
Miller had his hands in many things over the years, including the early development phase of stock-car roof flaps and the ground-floor design of the Taurus model Ford teams formerly raced.
Those stories and many others are retold in "Miller's Time: A Lifetime At Speed," a book Miller wrote along with Jim Donnelly. To Miller's credit, proceeds from the book will go to assist abused children in the Carolinas, a cause he has long supported.
The fact that Miller is around at all is rather amazing. In May 1974, he survived one of the worst pit-road accidents in NASCAR history. He was serving as the catch-can man in the Penske pits when a car driven by Grant Adcox smashed into the rear of Penske driver Gary Bettenhausen's car while it was being serviced. Miller was caught between the cars and then was slammed into the pit wall.
His right leg was virtually cut off in the accident, and rival crewman Buddy Parrott, working nearby, raced over and applied a tourniquet to cut the bleeding, a move that probably saved Miller's life.
The brutal accident left Miller with the mangled right leg, a broken left leg, a broken back, a pelvis broken in three places and other injuries. He went through months of rehabilitation and years of surgeries and still deals with the effects of the accident 35 years later.
No one would have blamed Miller if he had traded racing for raising petunias after the Talladega trauma and its aftermath. Instead, with Penske's encouragement and the support of family and friends, he worked through the recovery and returned to racing to become one of the most important people in the business.
"I've learned to live with it," Miller said. "There always are plenty of reminders of the operations I've had – all the nuts, bolts, screws, pins and all that that are around. It's always something.
"But it's all done. I take the high road."
Now 70, he still wanders over to the Penske shop occasionally to keep up with the goings-on. But much of his time is spent tinkering on hot rods for his grandchildren. He's a "car guy" who wants to nurture other car guys, and he wants it done safely and sanely.
---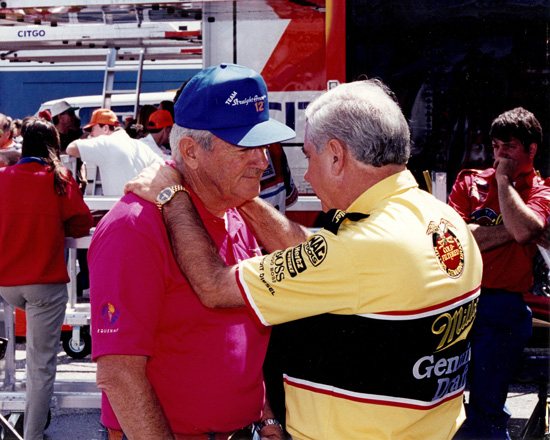 Bobby Allison and Don Miller have a lot in common:
Both legends in racing, both wonderfully decent guys.
(Penske Corporation photo, Don Miller Collection)
---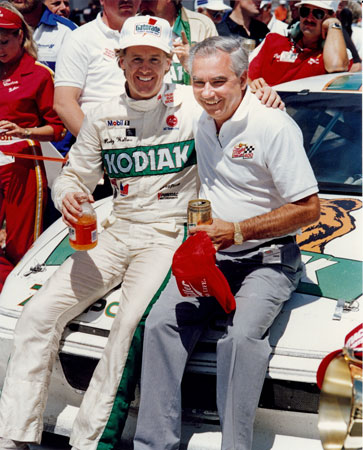 Don Miller is the guy who took a super-talented short-track driver named
Rusty Wallace, made him into a national star, a Winston Cup champion,
and then built a team around him with Roger Penske.
(Kenny Kane Photo, Don Miller Collection)
---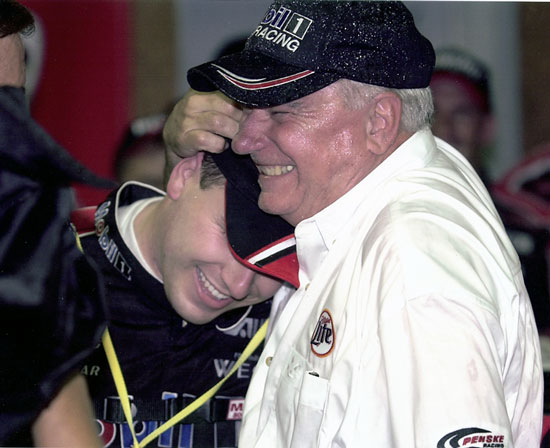 Don and Ryan Newman, celebrating an early win.
(Don Miller Collection)
---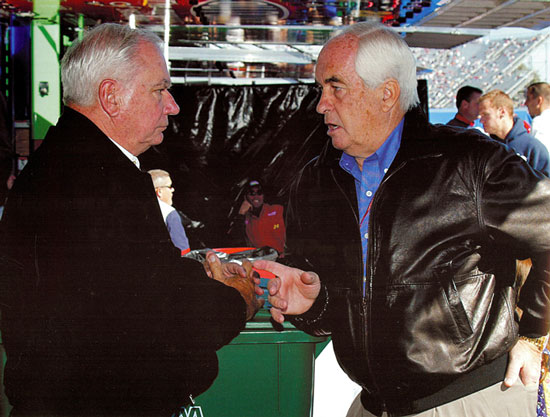 Don Miller and Roger Penske – strategists, partners and friends.
(Steven Rose photo, Penske Corporation Collection)
---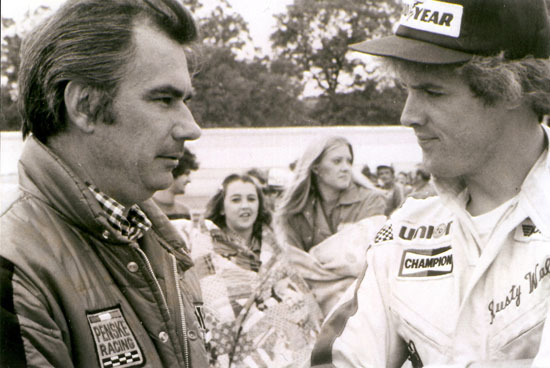 Don with Rusty Wallace, testing at Atlanta in 1980. Don Miller
– one of the best mentors a talented young racer could have.
(Penske Corporation photo, Don Miller Collection)