jJOIN OUR
MAILING LIST


for advance notice




of special offers!




(emails are never




shared or sold)



Email Lew at lewboyd@coastal181.com
---
2017 LUCAS OIL
CHILI BOWL
MIDGET NATIONALS
The boys at our table at the 2017 Chili Bowl tossed a lot of dirt over the seasons. Left to right it's Shane Carson, Johnny Rutherford, Jimmy Sills, and Jimmy Oskie. (Joyce Standridge Photo)

---


Autograph Night at Oswego Speedway
Saturday, August 15th was the Road to the Championship/Autograph Night at Oswego (NY) Speedway. The place was packed with fans and competitors, both young and time-honored. Here is Danny Kapuscinski, the super-energetic Oswego PR man and a racer in his own right. On the left, of course, is the fabled Bentley Warren, signing his book WICKED FAST. Bentley was said by some to have set a new motorcycle record from his Saloon in Maine to the shores of Lake Ontario earlier in the day. (Oswego Speedway Collection)

---

Now here's a gang for the ages. That's (L to R) Dick Berggren, Kenny Wallace, Mares Stellfox, and Matthew Stellfox at the recent AARN Motorsports show in PA. They sure are grinnin'. (That might be about the Miller Lites behind Kenny's book). (Jack Kromer Photo).
A

---


June 20, 2014
Bentley Warren ISMA Classic 75




---



Johnny Rutherford was in our front row in Tulsa. Starting next to two very strong ladies, he was on his best behavior: our hotshot salesperson, Wanda Knepper on the left and Betty Rutherford on the right. (Joyce Standridge Photo)
Everyone's favorite, Rico Abreu, joins Joyce Standridge at the Chili Bowl. Rico beat out his buddy Kyle Larson and Daryn Pittman in the first B main on Saturday. As usual, in the A he was a show all by himself, winding up in eleventh.
(Coastal 181 Photo)
What a treat to have Jeff and Linda Bloom stop by our booth at the Chili Bowl. Jeff is looking great, all buttoned up after his horrific crash in late 2012. You can count on the Blooms going for their fourth Little 500 win this coming May.
(Joyce Standridge Photo)

---

We think Parnelli broke a book-signing record on May 1, when he signed just under 300 books in less than 3 hours at the Barnes and Noble store in Torrance, CA. Shown here with friends Kathy and Tom Berg, he is the ultimate good guy, with a smile and nice word for all – belying his fierce, take-no-prisoners driving style in Indy Cars, Sprints, Midgets, Modifieds, and more. Parnelli will have to rest that right hand: he heads for Indianapolis shortly, where he'll be honored for his 1963 Indy 500 win.

---

Response to Bones Bourcier's memoir with Parnelli Jones has been overwhelming, and we saw it live with Parnelli and Bones signing their book at Len Sammons' Motorsports 2013 in Oaks, PA, in January. (So overwhelming, in fact, that we ran out of books at the show!). Here is Parnelli being interviewed on the Motorsports stage by well-known racing personality Shane Andrews, and the co-authors signing books in our display. (Frank Simek Photo and Jack Kromer Photo)

---

We thought it was time to terrorize everyone this May by bringing the Coastal 181 coupe to the Vintage Celebration at New Hampshire Motor Speedway. She's a good ol' girl we call "Melora." The folks at Seymour Enterprises hunted up some asphalt tires for us, and we dusted Melora off a little. New York State driver shoe Kenn VanWert came out to do the driving, but whenever he hit the slightest bump, we noticed a few bits of clay falling off… (Debbie VanWert Photo)

---

The Gater Motorsports Expo in Syracuse was packed with racers and fans on Saturday and Sunday, March 10-11. It was great to see so many old friends and know that the NY racing season is just over the horizon. Here, sprint car star Jessica Zemken is signing "The Home of Heroes," our 50-year retrospective of Utica-Rome Speedway. With her is pal and ace photographer Otto Graham, who would rather be behind the camera than in front of it!

---


Coastal 181 Book Signing at Motorsports 2012
Motorsports 2012 in Oaks, PA, was a huge success – lots of attendees in spite of a snowy Saturday, and great response to the folks who were signing their books and autographs in the Coastal 181 booth throughout the weekend. Here are a few memories that make us smile. (Jack Kromer Photo)
Drag legend Bill "Grumpy" Jenkins signed Grumpy's Toys, Doug Boyce's beautiful book about the cars Bill built and raced over the years. (Coastal 181 Photo)
Friend and author Dave Argabright signed his very popular books, Lone Wolf and Still Wide Open, with sprint car stars Doug Wolfgang and Brad Doty.
(Jack Kromer Photo)
Brad and Doug also spent time talking set-ups and bench racing with a number of up-and-coming young racers. Here Brad talks with Delaware Super Late Model driver, Austin Hubbard. (Jack Kromer Photo)
Buzzie and Wayne Reutimann flew up from Zephyrhills to attend the show's Nazareth Speedway Reunion, and then stopped by Coastal 181 to sign our Paved Track Dirt Track. Lew Boyd points out a few favorite photos. (Jack Kromer Photo)
SPEED TV's John Roberts and his sister M.B., an accomplished author of 17 books, signed their brand new title, The Great Book of NASCAR Lists. Here they are with AARN's Earl Krause. (Coastal 181 Photo) Right: John and Lew also seemed to enjoyed meeting Ms. Motorsports, Samantha LaGas! (Ace Lane Photo)

---

The 50th Anniversary Celebration at Utica-Rome on August 17th (and the release party for the Coastal 181-published companion book, The Home of Heroes – Fifty Years of Racing at Utica-Rome Speedway, by Bones Bourcier) was a huge success. The weather gods smiled mightily and the racing gods (assisted by Gene Cole and his crack staff) produced excellent sprint and modified features. The evening was capped off by a phenomenal light show, fireworks to equal the Fourth of July on Boston's Esplanade. We were honored to be a part of the party and proud of the book, if we do say so ourselves!
Author Bones Bourcier takes his autographing job seriously.
Bill Wimble (in favorite hat and shirt) signs a book for Doug Zupan,
U-R official and track historian.
The man who makes it all happen, Gene Cole and his wife Gloria.
Brett Hearn won the 100-lapper (

career victory

#802 for the Jet) and took home $10,000, a large trophy, and a silver Revere bowl, the famed Coastal Cup! It was presented by Bill Wimble and race sponsor and past owner of Utica-Rome, Dick Waterman. (Dave Dalesandro Photo)

---

On Sunday, June 5 the Seventh Annual Norwood (MA) Arena Reunion was held at Bezema Motors. Though the infamous speedway shut down for commercial development nearly 40 years ago, this year's Reunion was the biggest yet. They really came out of the woodwork. Here Coastal 181's Cary Stratton (L) greets modified ace Lou Austin and his wife and Daytona 500 winner Pete Hamilton (R). That's Jim Rigney in the background, tendin' to our table. (David Dykes Photo

)

---

We had a blast at the recent Motorsports 2011 show in Philadelphia. The booth was filled with visitors throughout the weekend, many coming to meet authors and subjects of 181 books. As usual, Kenny Wallace made the most noise, but we also loved talking with Shane Carson and Rick Ferkel – featured in Joyce Standridge's Win It or Wear It – as well as Don Miller and co-author and our long-time pal Jim Donnelly, who provided most of these shots.

Kenny and Don sign their respective books. Kenny credits Don
with helping to "discover" brother Rusty.

World of Outlaws Sprint Car legends Carson and Ferkel in a quiet
moment between signing books and autographs for their many fans.

Don Miller and Jim Donnelly signing
Miller's Time, a Lifetime at Speed.

Don and his "relentless editor" Cary Stratton discuss plans
for summer book-signing events.


FOUR

---

Here's Zane Zeiner, winner of the Coastal 181 Cup at NELMA's late model championship at Sundance Speedway in Pennsylvania, October 23, 2010. The presenter is Ms. NELMA, Samantha Heintzelman. In the small world department, both Zane's dad, Tom, and uncle, Jack, were regulars at the old Nazareth, Pa., half-miler. Jack was particularly helpful with research for the Coastal 181 book PAVED TRACK DIRT TRACK, Racing at Old Bridge Stadium and Nazareth Raceway, by Lew Boyd.


FOUR

---

It didn't bother Chris Perley that it was Friday the 13th when the thundering ISMA supers descended upon Lee USA Speedway for the 2010 Ollie Silva Memorial Classic. "The Rowley Rocket" showed everyone the way around in a commanding performance. No question that what motivated him was the Coastal 181 Cup, presented to him in Victory Lane by Cary Stratton on the right. On the left is Miss New Hampshire and Ed Shea, one of the most admired figures in open wheel racing in the Northeast. (Dick Berggren Photo)


FOUR

---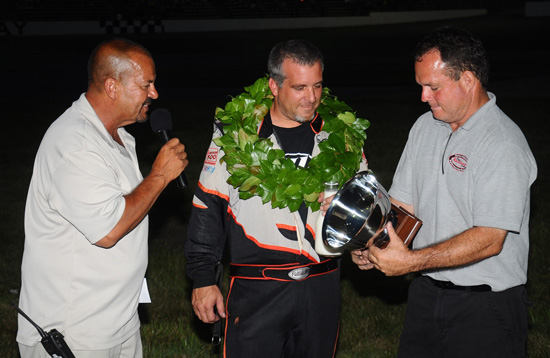 Joey Payne, "the Jersey Jet," headed North to win the NEMA Showdown of Champions at Seekonk (MA) Speedway on July 28. Here midget legend Bobby Seymour reads him the inscription on the Coastal 181 Cup, while Jackie Arute hams it up on the mike. (Norm Marx photo)


FOUR
---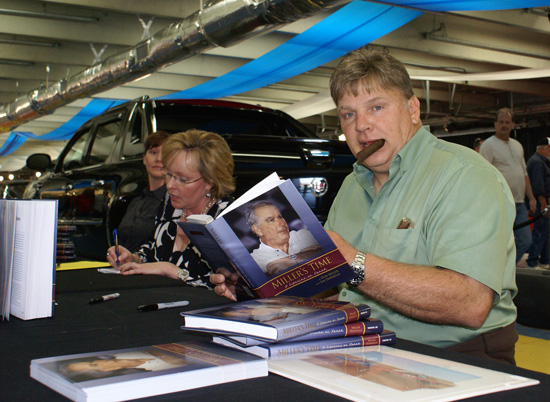 We launched Don Miller's amazing new book about NASCAR, drag racing, hot rods, and classic cars at Charlotte's AutoFair on April 9-10. Don's buddy Jimmy Spencer came back to have a look. He had lots of company! (John Davison photo)


FOUR
---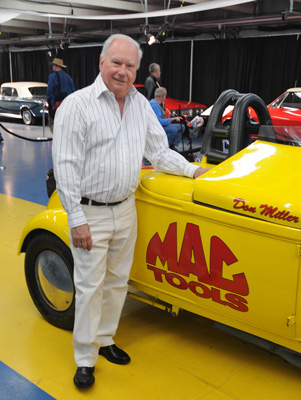 Don stands beside the 1929 Ford Model A he rebuilt and took to Bonneville, where he set the land-speed record in 1992 for a supercharged
flathead V-8 street
roadster. (Jim Donnelly Photo)

FOUR
---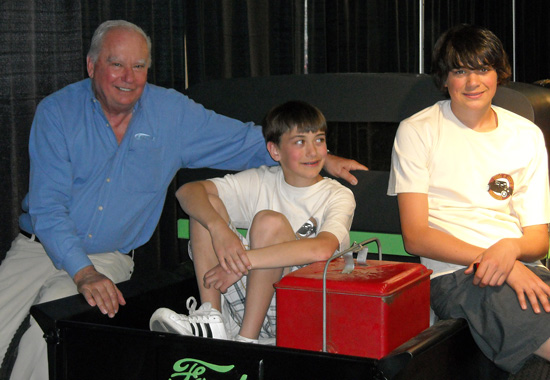 Tom and Jack Martin of Federal Way, WA, are two very lucky young men. Check out the Rat Rod below that their grandfather, Don Miller, built for them – perfect down to the logo on the door! (Cary Stratton Photos)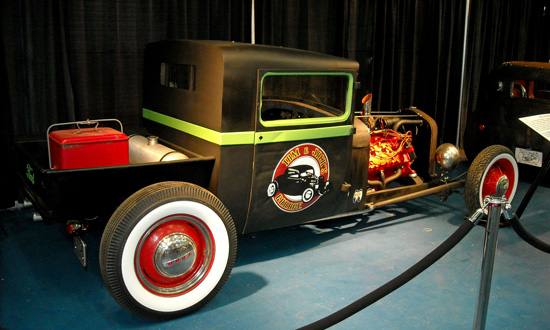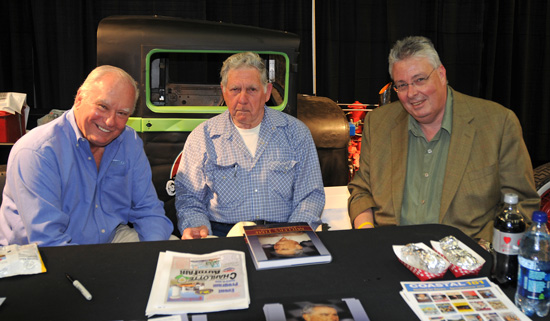 Don Miller and co-author Jim Donnelly at the Charlotte book launch. Between them is Pete Taylor, who was the first and longtime chief engine builder for Holman-Moody. (Jacquie Donnelly Photo)


FOUR
---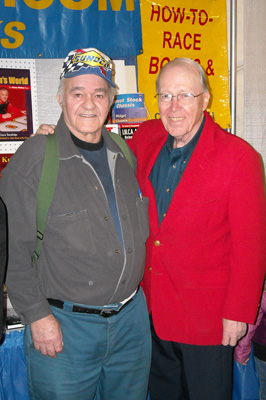 The recent GATER Motorsports show at the Syracuse Fairgrounds was a huge success and certainly a good indication of everyone's enthusiasm for the 2010 season. Some of the legends in our booth were Bill Wimble in his familiar red sport coat and the great Larry Nye in his familiar suspenders. Photo at the bottom is one of Nye's many, many victories in the flathead-powered #150 square top. (Photo top: Cary Stratton Photo bottom: Otto Graham Collection)


FOUR
---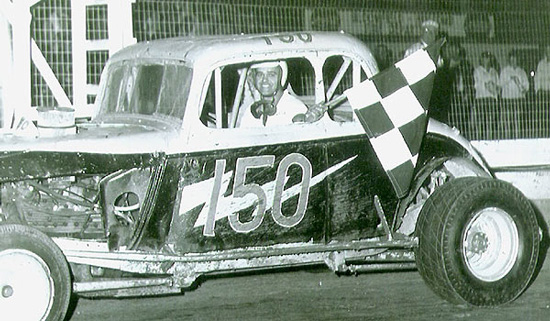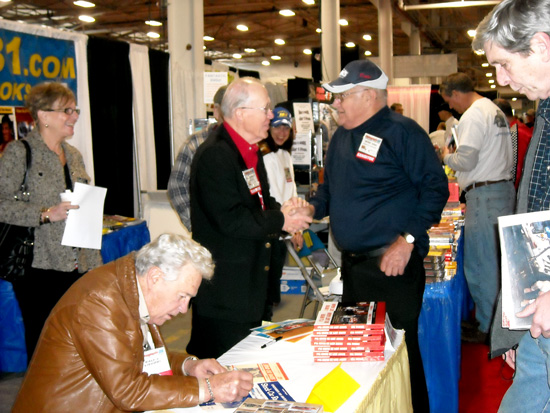 It's Area Auto Racing News' MOTORSPORTS 2010 in Philadelphia. Langhorne Speedway was the show theme. That's the great open wheeler "Ralphie the Racer" Liguori signing books for us in Philly. Behind him are Bill Wimble and Dutch Hoag, both word-class modified men, catching up with one another. (Cary Stratton photo)


FOUR
---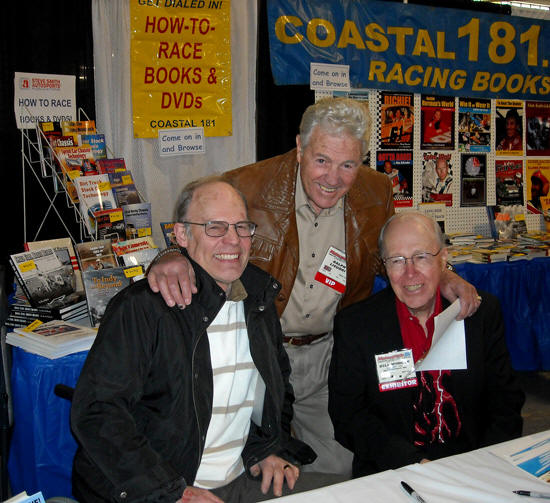 Legends Liguori, Treichler and Wimble obviously enjoyed getting together and sharing some memories and perhaps a tall tale or two. (Cary Stratton photo)
---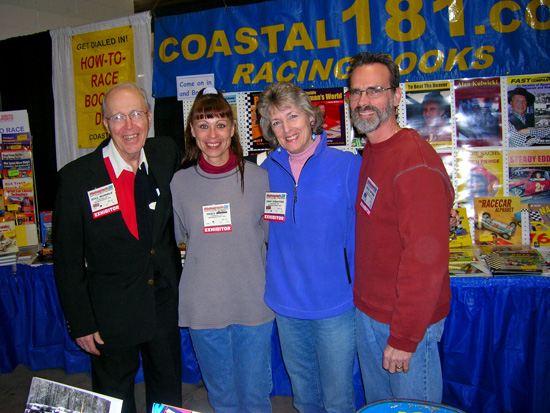 Here are two of the Coastal 181 gals. Everybody move back! That's Cary Stratton in blue and Tracy Leitao in gray. They're kept somewhat in line by Bill Wimble on the left and everyone's favorite videographer, Dale Snyder, on the right. (Bob Snyder photo)
---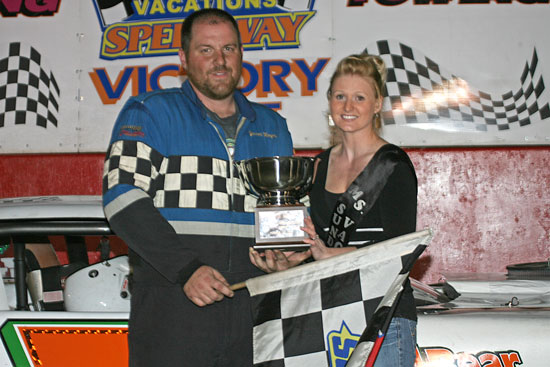 On Sunday October 25th, the third annual NELMA Late Model Challenge race was run at Sundance Vacations Speedway in St. Johns, PA. The event was promoted by Coastal 181 friend J.A. Ackley, and – as usual – it was pretty spicy. Here the winner, Jarrod Hayes, is being presented the Coastal 181 Cup for the win by trophy gal, Kathy Wylie. But there's a story behind those smiles. Would you believe that Jarrod spun someone out in the early going and had to go to the back? And, who did he put around? None other than Kathy's husband, Scott! (Mike Adaskaveg photo)
---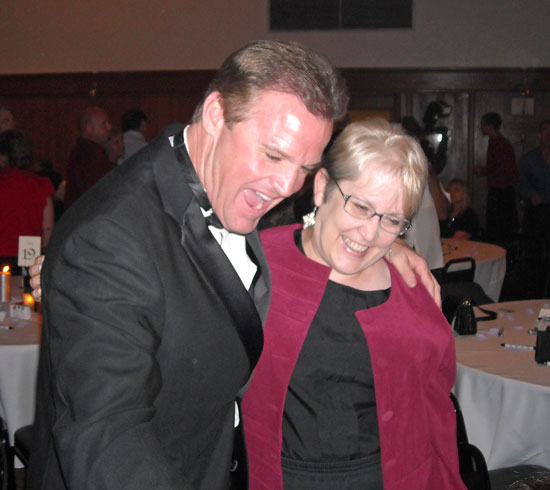 Here is Kenny Wallace at his 25th wedding anniversary celebration, along with author of Inside Herman's World, Joyce Standridge. How cool that Kenny and Kim would pick a venue back home in St. Louis rather than a fancy place in Concord, NC.
---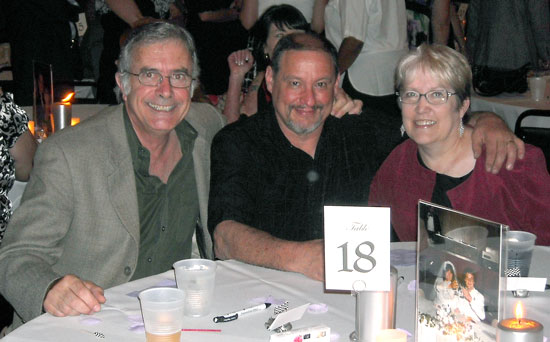 That's Joyce and her husband Rick (a standout dirt late model driver) enjoying the Wallace's party with Lew Boyd. Everyone was reasonably well behaved, but the image seems to have cropped out all the beer glasses…
On July 22 we officially launched Bill Wimble's autobiography I'LL NEVER BE LAST AGAIN at the ROC 50 lapper at Utica-Rome NY Speedway. Mercifully, the sky was blue, and, more predictably, the pits and stands were jammed.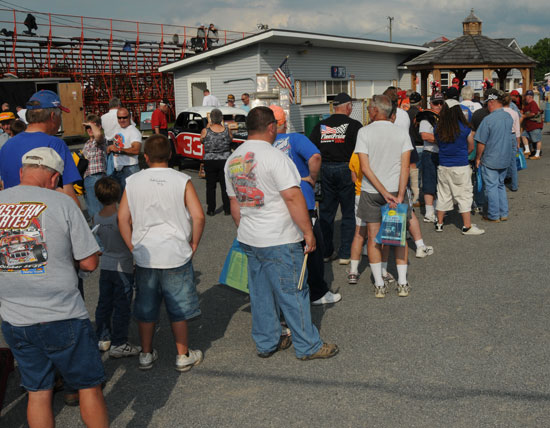 The autograph lines were long with fans all evening.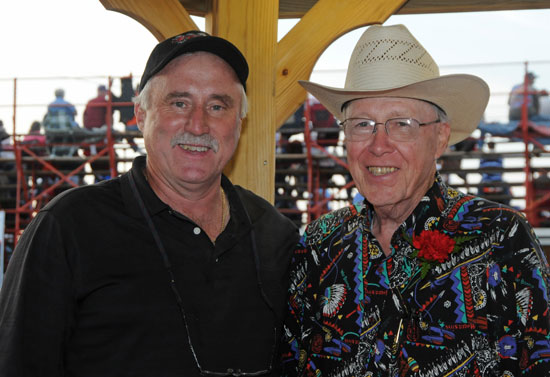 The media showed up in force. Here's Lenny Sammons of Area Auto Racing News with Bill.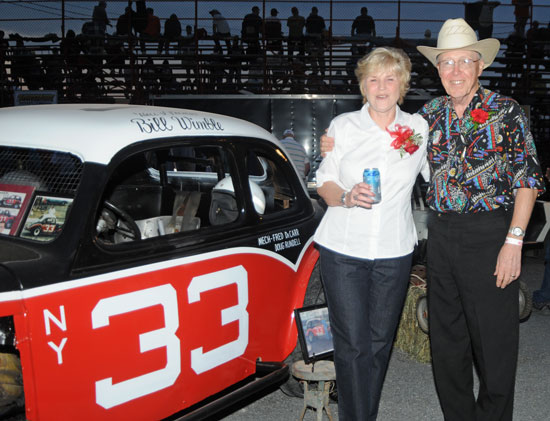 So did the racing community. John Mason brought a beautiful #33 coupe to the delight of Bill and Nancy.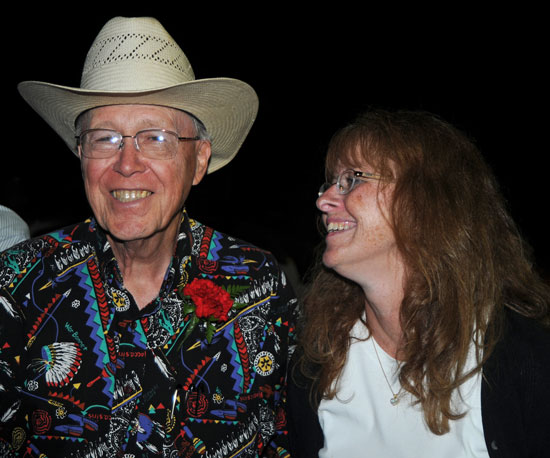 Bill's racing friends came out of the woodwork. Here Bill and Dave Lape's wife Jackie share memories and a laugh.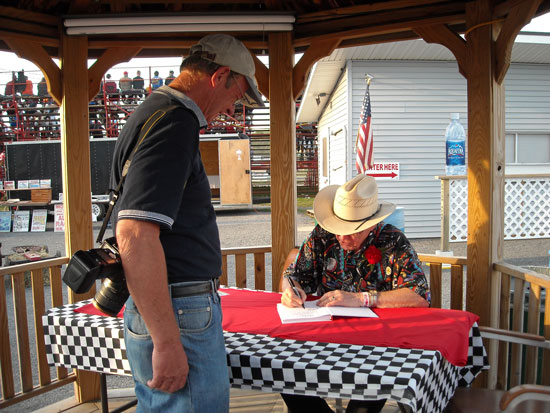 Dick Berggren, close to Bill for some thirty years, seeks a John Hancock.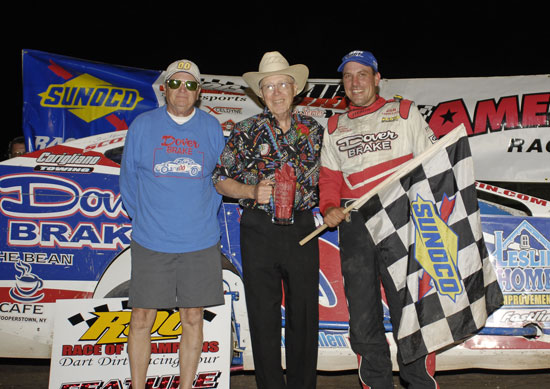 (Otto Graham/Gene Cole photo)
The ROC guys really got into it and put on a great race. It was a treat for many to see Bobby Varin win so spiritedly in Dave Cruickshank's famous Dover Brake #00. Dave's cars have graced the exhaust circuits since 1970 when he first began to sponsor Bill's lifelong friend, Buzzie Reutimann.
---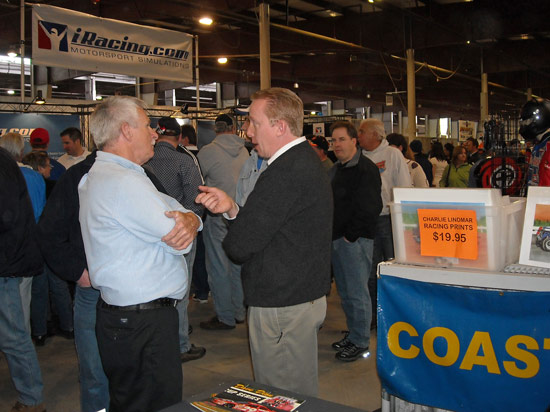 That's Ricky Craven on the right, Dave Dion on the left at the Coastal 181 booth at Speedway Expo 2009. Who do you think has the bigger story?
---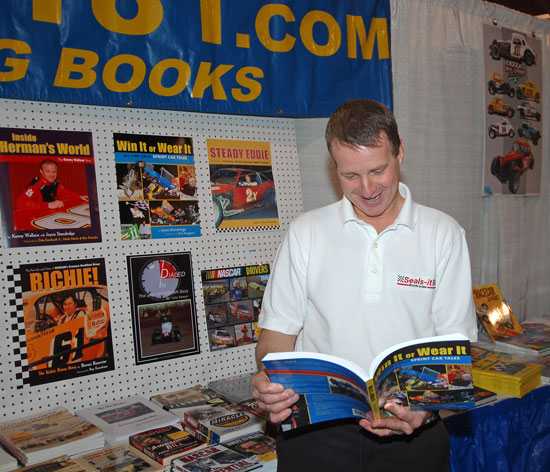 Johnny "Hot Rod" Heydenreich, one of the nation's most competent and popular open wheel racers, checks out a copy of Joyce Standridge's new sprint car book
WIN IT OR WEAR IT at Speedway EXPO in W. Springfield MA on March 1.
(Norm Marx photo)
---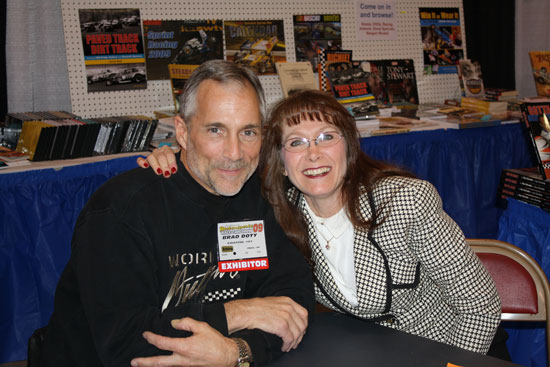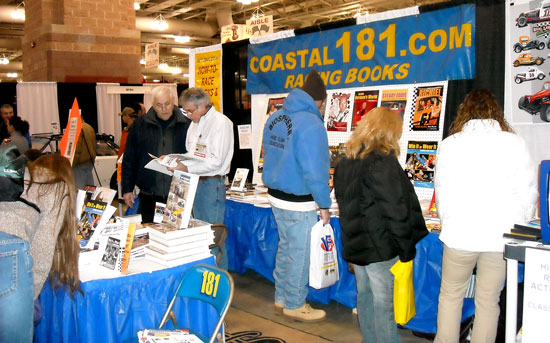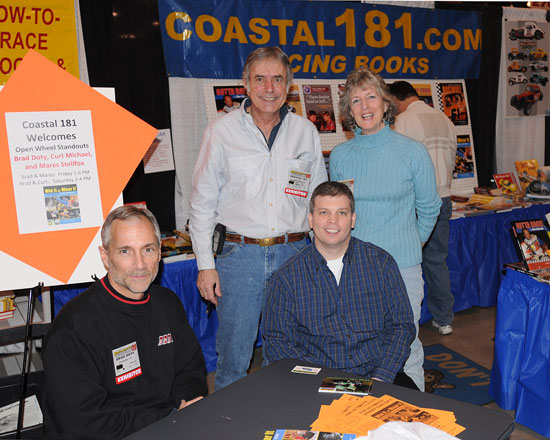 A great time was had by all at Motorsports '09 in Atlantic City January 16-17. Here is some of the Coastal team with Brad Doty and Curt Michael, and lovely Lady Outlaw Mares Stellfox with Brad, signing our new book WIN IT OR WEAR IT, by Joyce Standridge. Thanks to photographers Robert Senn and Jim Donnelly for capturing the moments!
---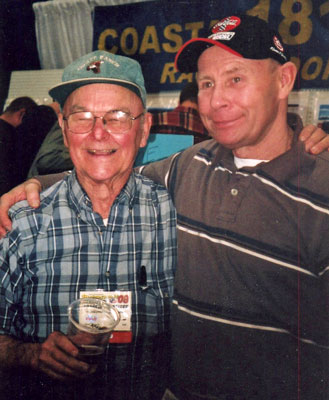 As disciples of the church of the clay, we find that sometimes our booths at racing shows can get a little dirty. And who knows more about dirt than this pair, Frankie Schneider (L) and Doug Wolfgang? They joined us last year at AARN's Motorsports last year in Atlantic City. What a gas!
---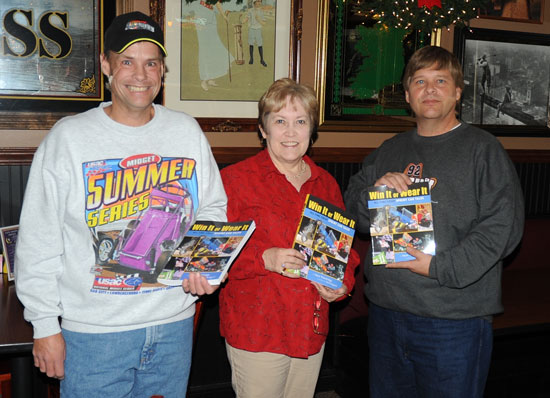 The first signing for our brand new sprint car book, WIN IT OR WEAR IT, was held with the St. Louis Auto Racing Fan Club on December 14th. That's author Joyce Standridge surrounded by some pretty heavy duty lensmen, Allen and Kevin Horcher. The Horchers have been shooting fabulous sprint car images for many a season, and our book is lit up with them.
---
Here's Cary Stratton, Coastal 181's energy source and centering device, with a table of books in Maine. The occasion is the summer outing of the Maine Vintage Race Car Association at Beech Ridge Speedway, just outside of Portland. The Ridge was built in 1949 by Jim McConnell as a 1/3-mile oiled dirt track. In 1987, it was paved and it's still going strong under the popular leadership of promoter Andy Cusack. Cary first went to Beech Ridge in the late sixties. They didn't allow women in the beer garden back then. She likes it much better now.
---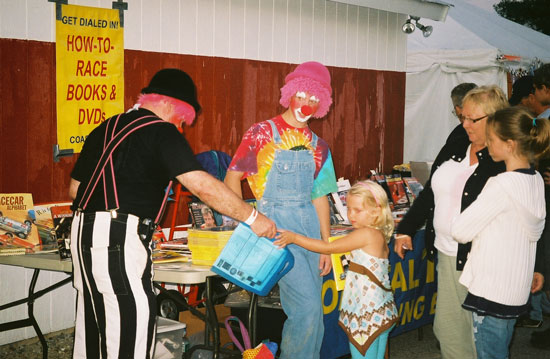 June 27th was "Coastal 181 Night" at Lee USA in NH. We celebrated by giving away copies of Sue Hearn's wonderful children's book Martin and T.J's Race Car Repair (Click HERE) to 30 young racing readers. A great show and a great evening!
---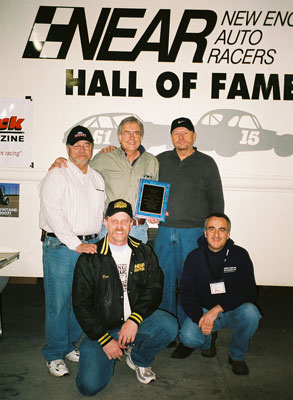 Each year we present the Coastal 181 award in conjunction with NEAR, the New England Auto Racing Hall of Fame. The award goes to an individual who has made strong and continuing contributions to auto racing. This year the award was given at Speedway EXPO, and the recipient was Wes Pettengill of Salisbury, MA. Wes has been active with the supermodifieds for many seasons and recently has hosted a series of fabulously popular banquets called "Legends of Auto Racing." Standing, left to right, are Racing Historian R.A. Silvia, Lew Boyd, and Wes Pettengill. Kneeling are NEAR President Pete Newsham, left, and author Bones Bourcier.
---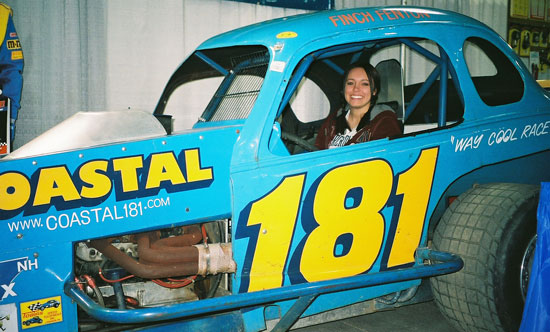 That's 16-year-old Bethany Viets, a student from East Granby, CT. Daughter of long-time racer Scott Viets, Bethany has been looking really good on the dirt at Whip City. For '08 she will be aboard Charlie Gunther's midget. At Speedway EXPO, Bethany tried on a few modifieds for size. She said she did like the #181, but admitted that she hopes her first full-sized ride will not once have been driven by dinosaurs!
---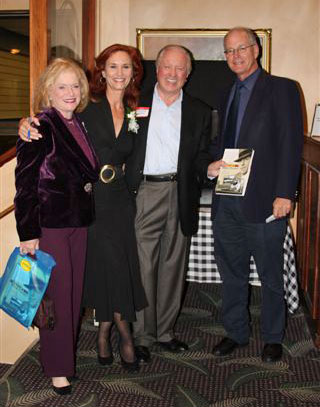 Coastal 181 launched our most recent book, ED OTTO – NASCAR's Silent Partner, at the Indigo Lakes Golf Club in Daytona Beach as a part of Speedweeks 2008. Written by Otto's son Edgar and journalist Joann Biondi, it details the dramatic contributions Otto made to the development of motorsports in the United States. Quite the group of racing luminaries showed up for the party, including Crocky Wright, Ralph Liguori, Rex White, Bill Wimble, and Frankie Schneider. In this photo that's Jim France on the right with the book, Edgar Otto, co-author Joann Biondi, and Edgar's wife Nina.
(Photo by Karen Wardle)
---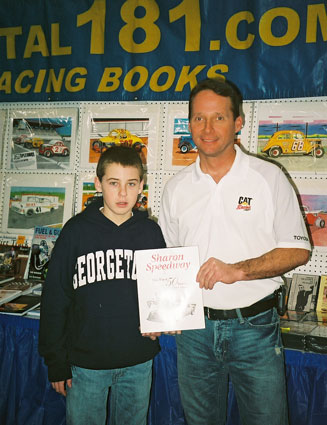 Here's Dave Blaney and his son Ryan in the Coastal 181 booth at Motorsports in Atlantic City this January. Dave is holding a copy of the book on his family's Sharon Speedway. Ryan, as it turns out, is a racer. He is looking really good in the legends cars. His dad isn't bad, either.
---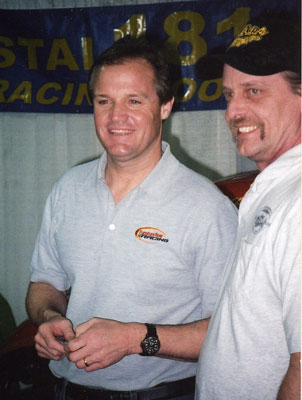 Coastal 181 will be at Speedway EXPO again this year with a major presence. The show is at the Big E in West Springfield, Massachusetts, from Friday, February 29 to Sunday, March 2, 2008.
Last year we sure had a lively cast of characters at our booth. The moment that may have taken the cake, though, was when two of racing's most accomplished comedians carried on about our books and videos. They just don't come any funnier than Kenny Wallace, left, and Pete Newsham. Kenny was signing copies of his autobiography, INSIDE HERMAN'S WORLD. Pete Newsham, President of New England's great racing Hall of Fame organization, NEAR, had everyone doubled over in laughter, as usual.
Not sure what we can do to top that this year. Perhaps Linda Vaughn?
---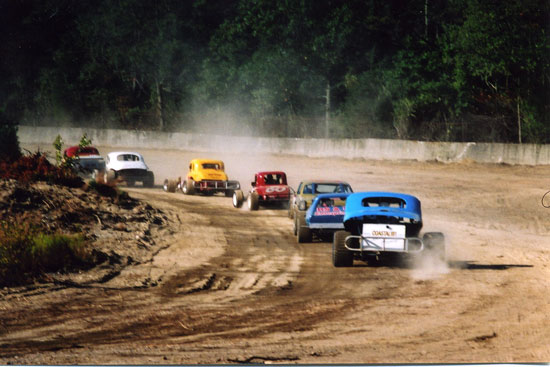 On September 30th of 2007, Charlie and Mary Lima, the energetic couple behind New England's Senior Tour Auto Racers (seniortourautoracers.com), held a reunion at the old Lakeville Speedway in Massachusetts. They certainly did their work getting ready.

The huge half-miler had not been open for 30 years, and the STAR folks literally cleared and cleaned the whole facility. Cars took to the track for parade laps, and that old Lakeville mystique was suddenly back.

That's Ric Mariscal aboard the Coastal 181 coupe, bringing up the rear of this group. Ric is a major player in New England racing. Along with historian R.A. Silvia, he heads up the Pronyne Museum in Pawtucket, RI. It has a breathtaking collection of old time racing photos, records, trophies, memorabilia, and authentic race cars and equipment.
---
Now there's a duo! Keith Herbst (right) has his glasses off, making a point with New York City's own "Jalopy Jack" at Area Auto Racing News' MOTORSPORTS show in Atlantic City, January 2007.

Keith authored DAREDEVILS OF THE FRONTIER, the acclaimed old-time midget and sprint car history published this year by Coastal 181.

Jalopy Jack hosts a racing phone-in information line that changes each week. You can reach it by calling 718-707-1052.
---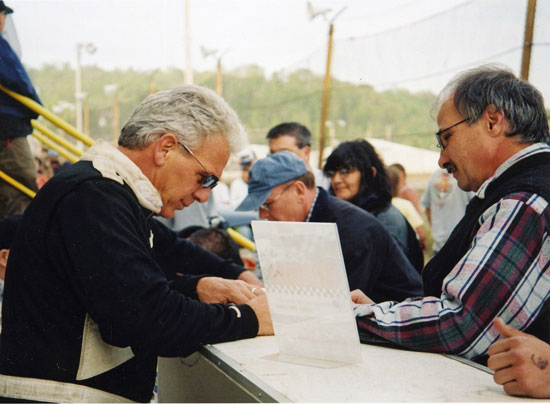 Jack Johnson, one of the winningest and most enduring dirt modified racers of all times, signs FONDA! books at a Coastal 181 signing. Jack is known for his edgy, on-the-gas, right rear style. He likely got it from watching his Dad and the other heavies of upstate New York "back 'em in" on the heavy dirt tracks of the sixties. "Barefoot Bob" McCreadie once said, "You only need to watch Jack run for half a lap and you know where he is coming from!"
---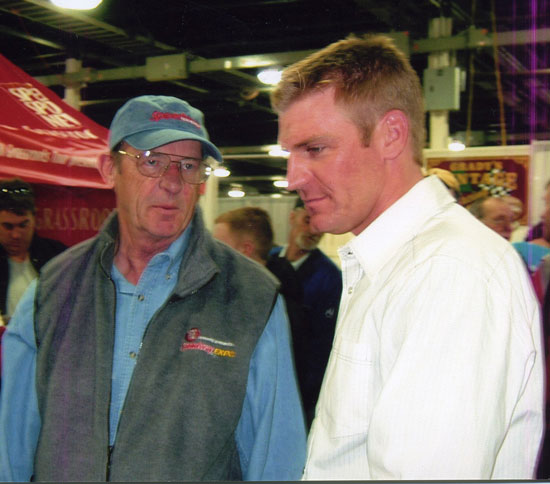 Dick Berggren and Clint Bowyer solve the world's problems outside of Coastal 181's booth at the Speedway Illustrated Speedway Expo, March 2007. Maybe they were discussing what it must have been like for Clint to have just finished his first Daytona upside down. That really impressed Bergie – and all of us.
---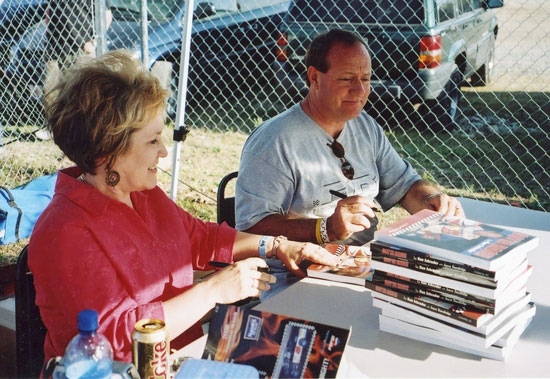 Ken Schrader and Joyce Standridge sign copies of GOTTA RACE! at Paducah International Raceway in Kentucky. The track has been purchased and revitalized by Kenny and his partners Bob Sargent and Dale Earnhardt Jr.
---
That's Karin Fredrickson giving Chris Economaki the scoop on how she won the tricycle race at Speedway Expo in Springfield, MA this spring. Karin's dad Karl is a modified racer and editor of Speedway Illustrated magazine.
Chris was at the Coastal 181 table at the show signing copies of his book,
LET 'EM ALL GO.
---
Susan Kelly Hearn sure can sign an autograph. Here she shows an inscription of MARTIN AND TJ 'S RACE CAR REPAIR, a children's book she wrote for Coastal 181. The popular book is perfect for early racers aged 4-7 and includes a fun tool search at the end of the story.
---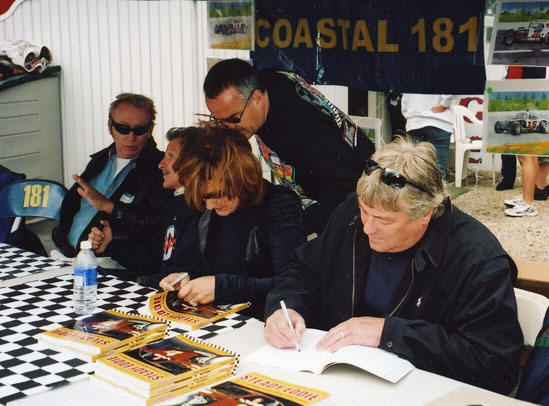 Left to right, that's Pete Hamilton, Eddie Flemke, Jr, and Paula and Ronnie Bouchard at the 2007 Spring Sizzler at Stafford, CT. The occasion was the launch of Bones Bourcier's autobiography on Eddie Flemke, Sr, STEADY EDDIE. Would you pay a dollar to know what Bones is whispering in Paula's ear?
---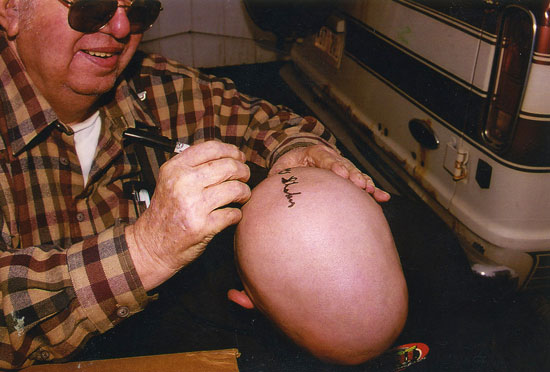 An oldie but goodie! The late, great Kenny Shoemaker puts his John Hancock on a fan's head at Fonda, NY Speedway. Our very first book, THEY CALLED ME "THE SHOE", was released that night. Folks came from as far as Chicago to see Kenny, but luckily most of what he signed were books!
---
Who says Buggo has never been to a book store!?! Here Bugsy Stevens engages a young fan at the Barnes & Noble in Windsor, CT. BUGSY -- The Life and Times of Bugs Stevens is one of the most popular short track books ever published.
---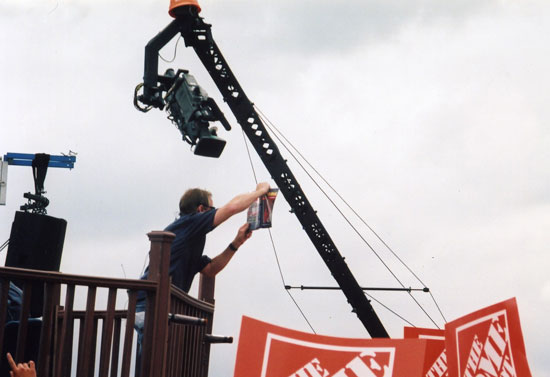 He was moving so fast, we could hardly capture him! That's the caffeinated Kenny "The Hermanator" Wallace plugging his book INSIDE HERMAN'S WORLD at Pocono. Kenny is a wonderful, guy-next-door kind of dude. But that doesn't mean his book is any faster than his friend Kenny Schrader's.