jJOIN OUR
MAILING LIST


for advance notice




of special offers!




(emails are never




shared or sold)


-



Email us at info@coastal181.com

---
---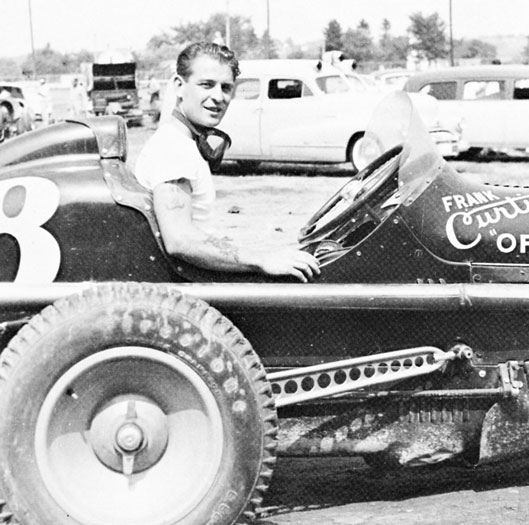 #1976 - Wally Campbell, one of the East Coast's most serious gassers, is shown at Cedar Rapids in 1953 in Frank Curtis' Sprinter. Campbell, who perished at Salem the next season, was strong-armed. But his tattoos and his T-shirt, the racers' fashion statement of the day, did little to protect those biceps. Typically, on the old fair tracks, drivers would return to the pits all bloody and banged up from flying dirt clods and rocks. Arnie Knepper labeled the condition "Offy rash." Later, when fire suits were in vogue and the track surface looked a little racy, some guys would tape a protective layer of cardboard to their arms. There was no visible compromise to their masculinity, as few fans saw they did it. From 1976 SPRINT CAR PICTORIAL. (Larry Sullivan Photo)
A
---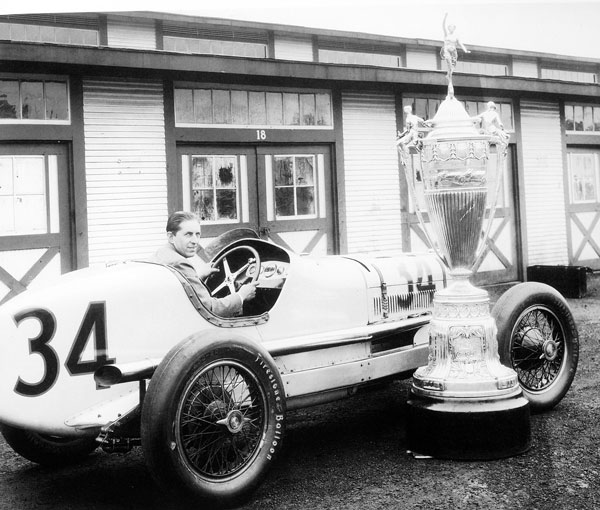 #1975 - A trophy that looked like it meant it! "Harry Hartz poses with the Wheeler Schebler trophy he won in 1932. It was originally intended for the 1909-1910 Indianapolis events. As of 1914, the trophy would be awarded to the car owner that led at 400 miles. Hartz led at 400 miles in 1930, 1931, and 1932." Quote and Photo from HARD DRIVING MEN: Images of Speed, by Dick Wallen (Indianapolis Motor Speedway Photo)
A
---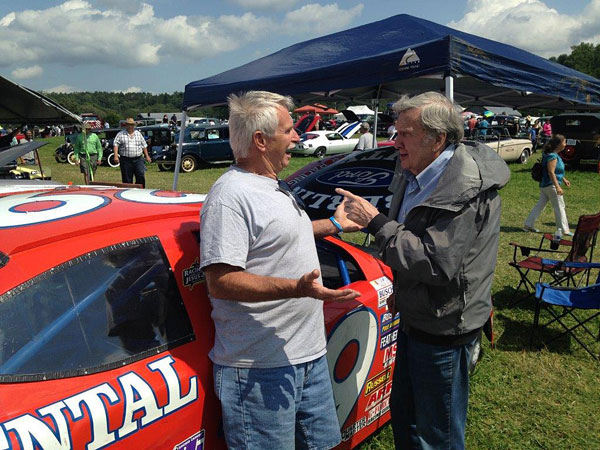 #1974 - That's Dave Dion (L), a spicy, former champion Northeast Late Model racing standout, having a bit of discussion with Kenley Squier. Ken is a 2018 inductee to the NASCAR Hall of Fame who, back in promoting days, tried mightily to keep Dave in check – with mixed results. Dave has moved to Daytona, hooked up with the Living Legends of Auto Racing, and each year, these days, he hosts what just might be the coolest, down-to-earth event of Speedweeks. It is called "Coffee with Characters," and it is a free-ranging, often hilarious, discussion among racing notables from all over the country. It is scheduled for this year at 10:00am, Thursday, Feb. 15, at the LLOAR Museum, 2400 South Ridgewood Ave, South Daytona. If you need more info, give Dave a shout at (603) 320-3095 (Dion Brothers Collection)
a
---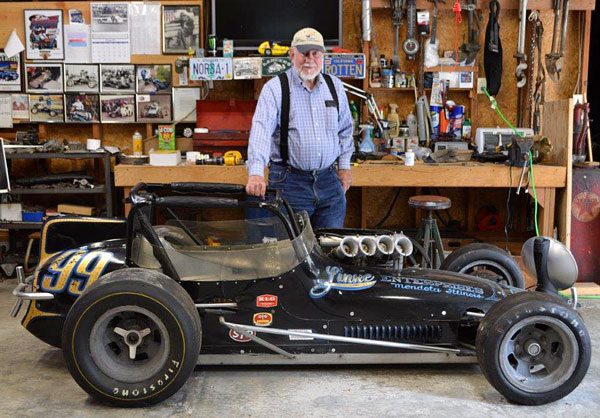 #1973 - In the early 1970s, championship driver and prodigious car builder Don Edmunds put his well-utilized pencil to paper to design a four-wheel, independent suspension Midget. His hope was the car might really help keeping open wheel – and Indy – racing accessible to American drivers, most all of whom were trained with straight axles and torsion bars and little lap time with the new independent chassis technologies. The car was lightning fast, but was banned both in the United States and in Australia. It was, however, Don's favorite of all the cars he ever built. Recently, when Paul Weisel, the former racer and current race historian/writer from New Jersey, went to Don's home in Oregon to work on the book they were producing, Paul noticed that the car had a set of two Hoosier dirt tires on the front. Don had been unable to locate a pair of the original pavement front Firestones. Turns out that Paul used to have Firestone's Northeast racing tire warehouse, and the next time he went west, he brought the proper rubber with him. Paul writes, "Don was all smiles. We had them mounted at a local tire dealer and the above photo is the first one taken with Don and his prized roadster on four vintage Firestones." From THE SAGA OF ROTTEN RED: The Don Edmunds Story, by Paul Weisel Jr. (Paul Weisel Photo)
A
---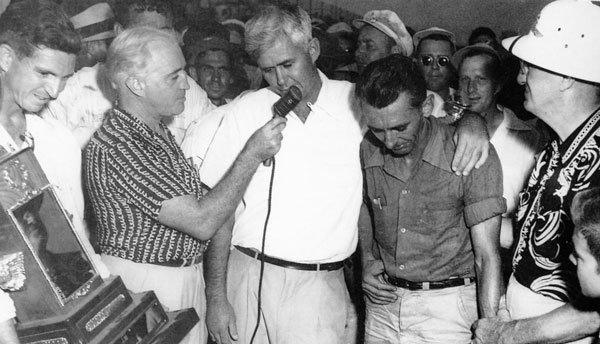 #1972 - A lot of ex-racer Harold Brassington's South Carolina neighbors thought he had gone a little wacky in 1949. The previous year he had gone to Indy and seen the enormous crowd; he announced at a card game that he was going to build a huge, banked and paved facility for stock car racing in Darlington. Equally unbelievably, he planned to open with a 500-miler for the Strictly Stock cars on the Monday of Labor Day weekend in 1950 that he would call the Southern 500. Seventy-five cars showed up from everywhere, and after 15 days of qualifying, still fascinated with Indy, Brassington lined the grid up three-deep, 25 rows. The fans showed up, too – so many of them that hotels filled, and Brassington opened the infield for cars and trucks so fans would have a place to sleep. Apparently most of them decided to drink instead. Some of them likely caught a few Zs during the show itself. It took the winner, Johnny Mantz, over six hours to urge his 1959 Plymouth along the 500-mile run. He was the slowest qualifier, but unlike others he used heavy-duty truck tires and just plodded along while faster entries broke or had tire failures. He averaged 75.250mph. That's Brassington with his arm around Mantz in victory lane, and Cannonball Baker is on the right. From STOCK CAR RACING – The High Speed History of America's Premier Motorsport, by Don Hunter and Al Pearce. (Tom Kirkland Photo)
a
---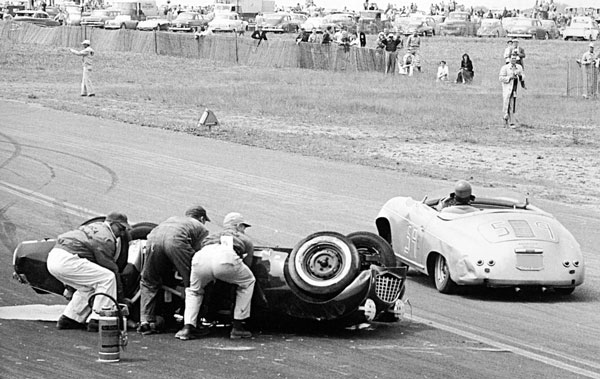 #1971 - "For many privateer (sports car) racers, the TR3 proved to be the car of choice…In the 1950s, drivers frequently raced in short sleeves and the equivalent of a polo helmet; cars did not have roll bars or sometimes even seat belts. This accident at the 1956 Redwood Empire amateur race in Arcata, California, claimed the life of William Howard 'Pete' Snell. Another amateur racer, Dr. Howard Snively, was the course physician and after seeing how poorly the existing crash helmets worked, he began serious efforts to do something about it. Within a year and with help from the SCCA, the Snell Foundation was born and by 1959 the first Snell standards were implemented. The Snell number certifications for helmets continue to this day." Quote and Photo from THE ILLUSTRATED TRIUMPH SPORTS AND RACING CARS, by G. William Krause. (Photo courtesy Revs Institute, William Hewitt Collection)
A
---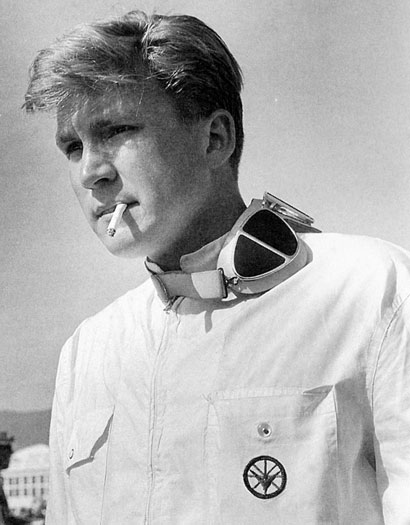 #1970 - Handsome Lance Reventlow was son of socialite Barbara Hutton and Count Kurt von Haugwitz-Harderberg-Reventlow. Relying on his resources as heir to the Woolworth fortune, he began road racing in California with his buddy James Dean. He then set up a company building Chevy-powered Scarab race cars, driven to glory by stars such as Chuck Daigh and Carroll Shelby. Married initially to Jill St. St. John and subsequently Mouseketeer Cheryl Holdridge, he died in a plane crash in 1972. Can you imagine seeing a figure like that today with a cigarette in the mouth? Photo from UNITED STATES AUTO CLUB: Fifty Years of Speed and Glory, by Dick Wallen. (Dave Freidman Photo)
A
---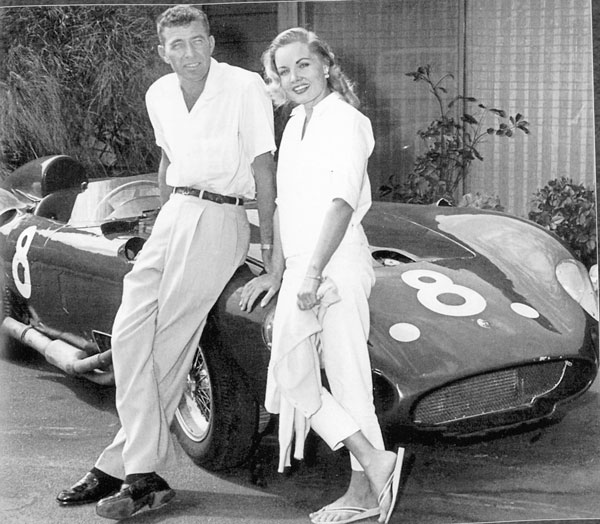 #1969 - "Carroll Shelby was kissed so many times by [actress] Jan Harrison that he asked her to marry him…After watching the bull fights in Tijuana, Mexico, they were married. A few months later he returned to Mexico and terminated it. He and Jan remained friends, however, for the rest of his life." Quote and Photo from CARROLL SHELBY: A Collection of my Favorite Racing Photos, by Art Evans with Carroll Shelby.
A
---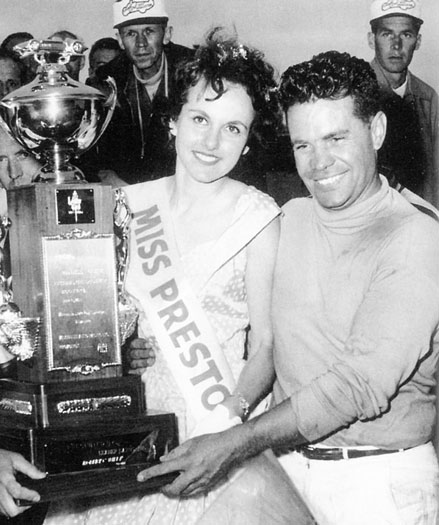 #1968 - Three "B-boys" from Arizona were '50s-era open wheel champions: handsome Art Bisch, bespectacled Bobby Ball, and the state's "Cowboy" Jimmy Bryan. All of them perished pursuing the oily grail. Ball, a fabulous Midget wheelman, died 14 months after being injured at Carrel Speedway in Gardena, CA, in 1954 in a wreck in which Bryan was also hurt. Bisch won the 1956 CRA title and moved up to Championship cars. As shown above, in spring of 1958, he won Milwaukee, but he died in a 100-miler at Atlanta's Lakeside Speedway on July 4, 1958. Two years later, Indy-winner Jimmy Bryan met his demise in Langhorne's dreaded Puke Hollow on the very first lap of the June USAC Big Car main event. Photo from UNITED STATES AUTO CLUB: Fifty Years of Speed and Glory, by Dick Wallen
A
---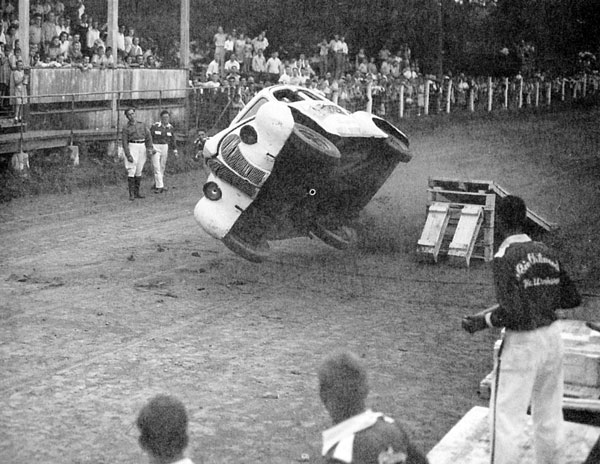 #1967 - Right after World War II, Joie Chitwood ramped up his thrill show with several traveling units. His friend and employee, Snooks Wentzel, became manager of one of them. Shown here doing an early rollover crash while Chitwood (upper left in the riding boots and pants) watched, he had become quite the stuntman himself. As reported in Chitwood's biography, "Then in the evening of July 1, 1952, Snooks was doing deliberate auto rollovers in Haverhill, Massachusetts, [at the old Pines Speedway]. A crash man had quit, and the show was short-handed, so Snooks decided to do the rollover. He started with a full tank of gas. At the time, stuntmen didn't drain the gasoline out of the junkers. He rolled the car wheel-to-wheel, side-over-side, landing on all four wheels, drove back up the track, approached the narrow rollover ramp and flipped the car again. He repeated the feat as many times as he could landing in the same place every time. On the fourth roll that evening, something went wrong. The car did not roll back up onto its wheels, but came to rest on the driver's side. Then it caught fire. Before the firetruck in the infield could drive over, the car exploded. Snooks was knocked unconscious by the blast and died. Apparently the gas cap came off after the first roll. Each successive time Snooks did the rollover, more fuel was dumped in the same spot. It is not known what actually ignited the fuel. The engine may have backfired or the fan may have hit the radiator shroud causing sparks." It was obviously a frighteningly sickening spectacle. And, to make it even more horrible, a sizeable crowd in the grandstand watched, as did all the drivers scheduled for the jalopy feature. They were all lined up, buckled in their cars, on the backstretch. Photo and Quote from SAFE AT ANY SPEED: The Great Double Career of Joie Chitwood, by Jim Russell and Ed Watson.
A
---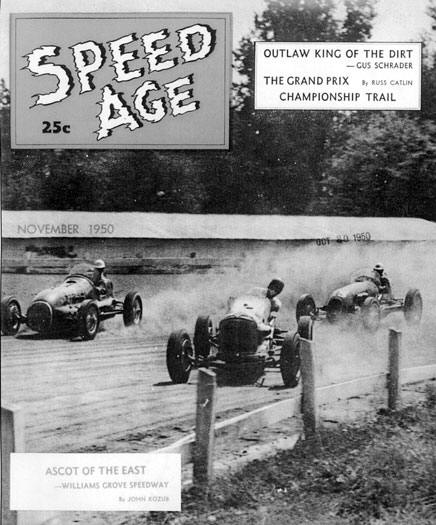 #1966 - SPEED AGE magazine was close to biblical in 1950. Its November cover featured Hank Rogers, Walt Brown, and Rex Mays at Williams Grove. From INDY CARS ON SHORT TRACKS, by Buzz Rose and Joe Heisler.
A
---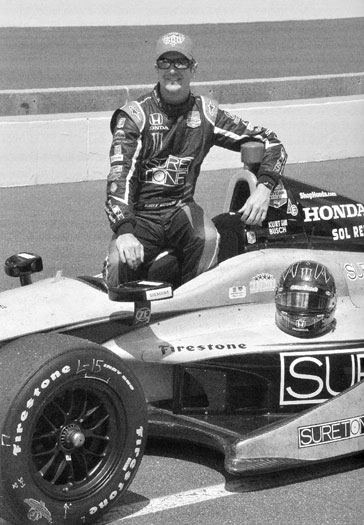 #1965 - In 2014, Kurt Busch took a shot at the Brickyard, driving for Andretti Autosport. "…Then there was the responsibility of the three-wide start. That was the first time I'd ever done something like that, where you have the responsibility of the three-wide parade and when they drop the green – that's the first time I'd really been in all that dirty air. That was probably the most intense moment of the month. Everybody was telling me how it insane it was once the green flag drops. Then there was also the responsibility – with guys like Scott Dixon and Juan Pablo Montoya on my inside. It was like 'Whoa. Here we are and it's real. It's race time and here we go." He brought it home sixth, Rookie of the Year. Photo and Quote from INDY 500 MEMORIES: An Oral History of "the Greatest Spectacle in Racing," by Art Garner and Marc B. Spiegel
A
---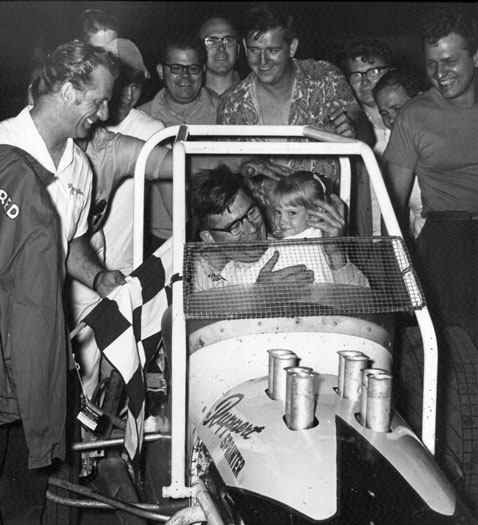 #1964 - It was an amazing night at Reading, PA, on the Thursday before July 4, 1969. The track held a combined URC/ARDC show to benefit the promising Bob Wilkey who had died there on May 29. The pits were awash with Sprinters. A surprise entry among them was Modified standout Dick Tobias who climbed into Russ Ruppert's Hillegass. Toby had never ever been in a Sprinter, but he qualified handily in third spot for a 24-car main. Little question he knew the short route around Reading. He assumed the lead in the second turn of the first lap and romped on to the win, to wild applause. In his words, "I drove the last lap exactly the way I drove the first. I couldn't be happier if I had just won Indianapolis." His good luck charm for the evening was his daughter Tina. Quote and Photo from TOBY: The Star-Crossed Story of an American Racing Family, by Lew Boyd (Tobias Family Collection)
A
---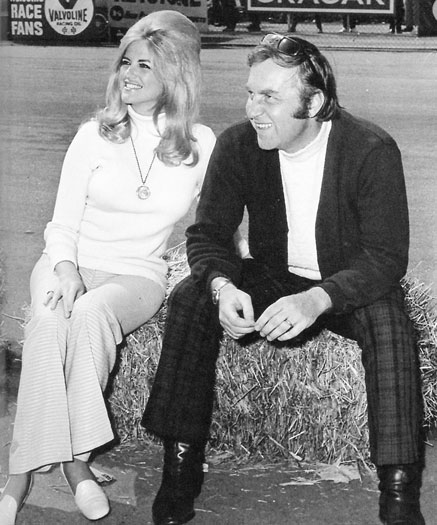 #1963 - "God bless Brock Yates. This shot was taken when he came up to do an interview with me at Bakersfield. Brock and I started on the story and worked our way through the pits, when we were told that Garlits got hurt at Lions, when he lost his foot in a horrible clutch explosion. So Brock and I jumped on a plane and went down to the LA airport and were there when Pat Garlits walked off the plane. I looked her right in the eyes and never blinked. She told me later, 'I knew, Linda, that if you closed your eyes, I had lost Don.' I said, 'No, we haven't lost him.' And then we went to the hospital." Quote and Photo from LINDA VAUGHN: The First Lady of Motorsports, by Linda Vaughn with Rob Kinnan, Foreword by Don Garlits.
A
---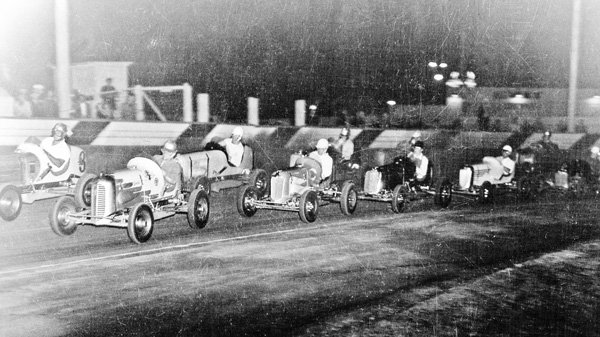 #1962 - It was a glorious scene in every way, but "the flower once born forever dies." The track was an amazingly well-appointed 1/5-mile oval built specifically for the Midgets that were exploding in popularity in the mid-1930s in California. Located on Gilmore Island in LA, Gilmore Stadium held crowds of 18,500. The racing, too, brought rave reviews. It was aggressive and dangerous, but sadly dismantled in 1951. Shining stars had included Ronney Householder, Roy Russing, Curley Mills, Swede Lindskog, Gilbert Guthrie, and Billy Betteridge. In this faded photo, popular Bob Swanson out of Minneapolis was on the point. The first Turkey Night Grand Prix was held at Gilmore in 1934, and he won it. Swanson went on to be the 1935 National Midget Champion, but died qualifying for a Midget event in Toledo, Ohio, in June of 1940. In his book LET 'EM ALL GO, Chris Economaki stated, "I believe he may be the finest racing driver America ever produced. I consider it a toss-up between Swanson and Bob Sweikert, the terrific driver from California (who died in a Sprint Car at Salem, Indiana)". Photo from ROAR WITH GILMORE: The Story of American's Most Unusual Oil Company, by Charles Seims and Alan Darr.
A
---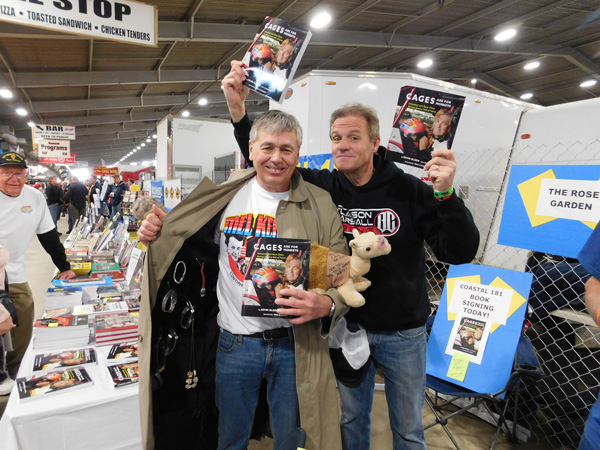 #1961 -

So, we're bravin' the wintry blast and packin' up for the Chili Bowl in Tulsa, which runs from January 8 - 13. Here's a shot from last year with Kevin Olson and Kenny Wallace redefining the art of selling books. This year should really be something: Page Jones will be with us signing GODSPEED: The Page Jones Story DVD; Rich Tobias signing the just-released TOBY; the Olson Boys, KO and Loren, with CAGES ARE FOR MONKEYS and MIDGETS OF WISCONSIN; Dave Darland; Bentley Warren ...and did someone say Vladimir Putin? The joint will be jumping! (Coastal 181 Collection)
a
---

All Previous Photos of the Day HERE
---