jJOIN OUR
MAILING LIST


for advance notice




of special offers!




(emails are never




shared or sold)


-



Email us at info@coastal181.com

---

Previous Photos of the Day - PAGE 8

Previous Photos of the Day - PAGE 7

Previous Photos of the Day - PAGE 6

Previous Photos of the Day - PAGE 5

Previous Photos of the Day - PAGE 4

Previous Photos of the Day - PAGE 3

Previous Photos of the Day - PAGE 2

Previous Photos of the Day - PAGE 1
---
#1814 - It was quite the crew in Victory Lane at the 1972 L&M Continental 5000 Grand Prix at Riverside, CA. L to R: Sam Posey, Loretta "Hot Lips" Swift, and Brian Redman. It is understandable that winner Redman's eyes were sending out kind of a mixed signal as he raised the glass. But why was Posey looking so pleased? You'd think he'd be a tad unhappy: Earlier Redman had passed Posey under a yellow flag. But Redman claimed he never saw the caution, and so the SCCA just fined him $100 – and he headed back to the UK with $17,800 in his pocket. From RIVERSIDE: Palace of Speed, by Dick Wallen (Frank Mormillo Photo)
a
---
#1813 - Quite possibly, Dick Tobias never slept at all. It was always something. In 1967, aside from running his speed shop in Lebanon, PA, he was gunning for the Reading Modified championship on both Friday and Sunday nights. In between, he decided to try the pavement at nearby Hershey Stadium that was bringing in Supermodifieds on Saturdays. Probably because he often said he would like to get to Indy his own way – by racing in, he picked up a former Troy Ruttman roadster, shorted it up, and topped it with a wing. He won the most features there that season and would likely have won the championship, had it not been for a violent mid-season flip. He broke his arm, but that wasn't enough to keep him out of Victory Lane the next week. (Tobias Family Collection)
a
---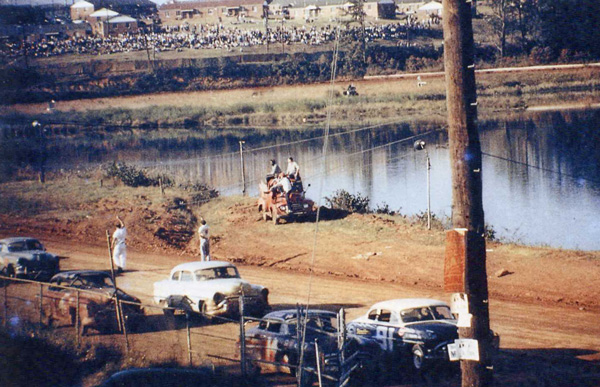 #1812 - It certainly was not landscaped to Mar-a-Lago standard, but Lakewood Speedway in Atlanta was one of the most infamous tracks in the South. This shot was taken on November 1, 1953 at the one-mile dirt facility while the NASCAR Grand National cars lined up for their season finale. The speedy Flock boys, Tim and Fonty, started up front with their Hudson Hornets, but in the end it was Buck Baker with the trophy of the day. It took Herb Thomas a 14th-place finish to capture the seasonal title and pull in a princely $28,090.58 for a summer's work. Photo from NASCAR: The Complete History, by Greg Fielden.
a
---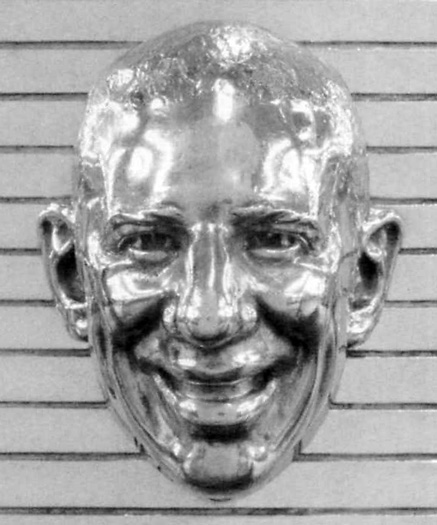 #1811 - "If anyone in modern Indy car racing could be described as a self-made man, it would be Tony Kanaan. In the beginning no driver had less in terms of financial resources, and no diver worked harder to reach the highest levels of the sport….In 2013 the stars finally aligned for Kanaan. In a race that can only be described as historically competitive – 68 lead changes among 14 drivers – Kanaan prevailed as the race finished under caution. Finally the hard-luck man could turn his machine toward Victory Circle." From Indy 500 Program, 100th Running, May 26, 2016.
a
---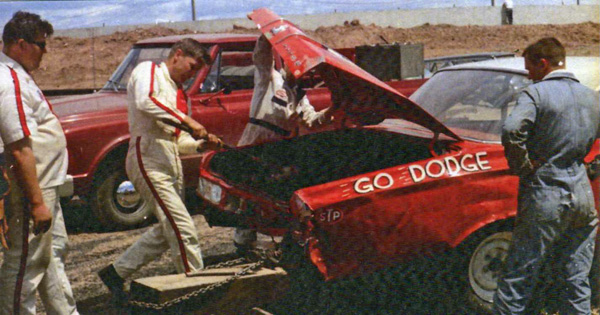 #1810 - Wisconsin racer Bobby "Mr. B" Bennett ran USAC, IMCA and local Late Model shows in the Midwest back in the day. He's shown repairing his Dodge at Wisconsin International Raceway with a sledgehammer. No question he was the type to do whatever was necessary. "He suffered a major setback in December 1968. A licensed pilot, he was flying his plane while a group of people were fox hunting on land near his home in Greenville. The plane went straight down from an altitude of about 500 feet and crashed into a field. 'We had 25 guys hunting fox at the time,' recalled Bennett. 'I was spotting for them. I'd see the fox and dive bomb them so the guys would see where the fox would be. The doctors think I may have blacked out prior to the crash.' Bennett suffered 210 different fractures in his pelvis, chest, legs, and arms in the crash. 'I was back racing the next April,' said Bennett. 'They'd carry me from one car into the race car. I had a block on the accelerator I'd use because my ankle was shattered. In fact, I won my first race after the crash. I beat Milo Van Oudenhoven for the win.'" From LIFE IN THE FAST LANE: A History of Stock Car Racing in Northeast Wisconsin from 1950-1980, by Joe Verdegan
a
---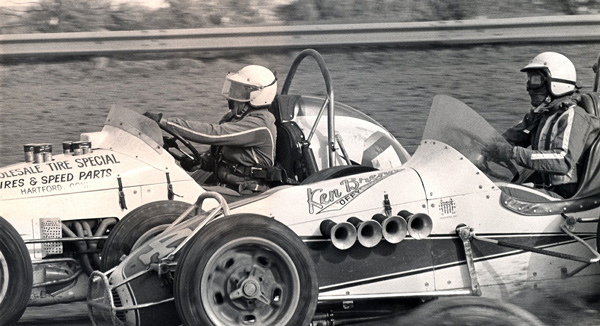 #1809 - What at period it was in URC racing back in 1964. Whether it was a Chevy or an Offy, the big boys were elbows up, no cage between them and the stars. On the outside was tough guy Bill Brown in the Jorgensen #0 and Dave Lundy downstairs in a Ken Brenn machine. From SWAMP YANKEE: The Racing Life of Jim Jorgensen, by Walt Scadden. (Neal Cunningham Collection)
A
---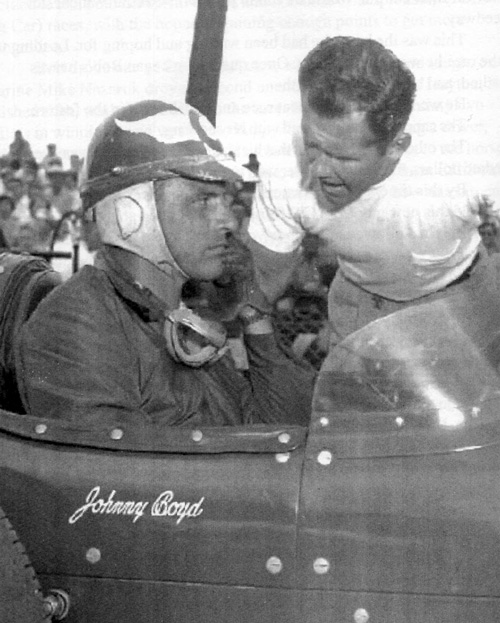 #1808 - Johnny Boyd (in car) and Bob Sweikert had been buddies since the two Californians competed on the West Coast circuits in the 1940s. As they both migrated east to Midwest competition and Indy, they looked out for each other. It was Boyd who arranged Sweikert's first ride at Salem, IN, in 1952, and a win was just the catalyst Sweikert's career would need. Just three years later he won Indy in the Zink/Kurtis #6 roadster. But it was all short-lived. On June 17, 1956, Bob looked forward to coming back to Salem, his favorite track. But coming off four in his heat race, he ran side-by-side with another former Californian competitor, Ed Elisian, and they touched. Sweikert flew outside the track, landed about 100 feet below, on fire. It was not survivable. From EARLY SPEED KINGS: Twenty-four of America's Greatest Open Wheel and Sprint Car Drivers, by Gerald Hodges
a
---
#1807 - "A rare USAC winged show at Haubstadt (Indiana) in 1983, with Tom Tepee ahead of Jeff Gordon. This was a period of experimentation at all levels of racing, and Tepee was trying out a Lexan wing. Vision for other drivers was good as they could see through it, but Lexan was heavy, tended to crack, break and leave a mess on the track at times. As you know, aluminum won out." Quote and Photo from DID YOU SEE THAT? Unforgettable Moments in Midwest Open-Wheel Racing, by Joyce Standridge. (Allen Horcher Photo)
a
---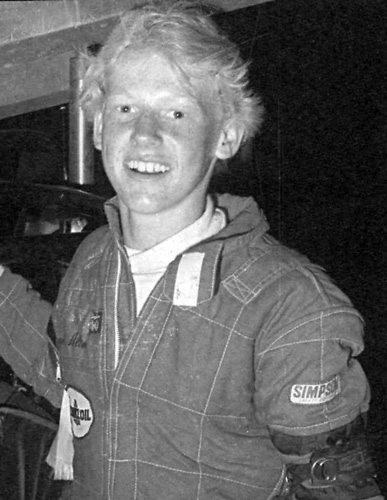 #1806 - "Sport Allen's first sprint car win came in 1984 at age 13. No underage citations were issued as his dad was a St. Pete (Florida) police officer. He's shown here in 1985 after becoming the youngest driver ever to qualify for the Little 500." He was fourth at New Smyrna last Saturday, May 6, 2017, in a 360 winged sprint. Quote and Photo from FLORIDA MOTORSPORTS RETROSPECTIVE PICTORIAL, Vol 2, by Eddie Roche.

A
---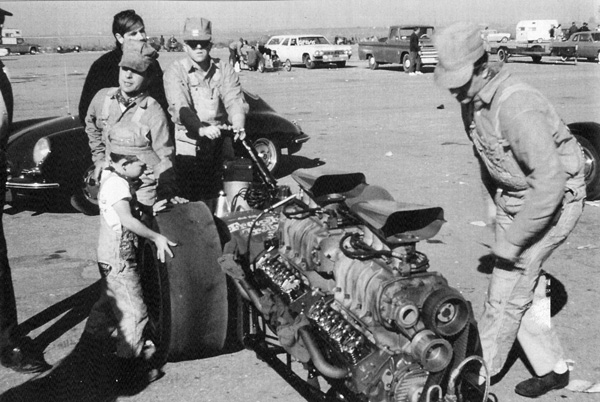 #1805 - Were these guys ready or what? That's John Peter's team at the March meet in 1965 at Bakersfield, CA. They are tending to their legendary and thunderous twin-powered Chevy Top Gas dragster, "the Freight Train." Apparently, the rail-men once encountered the outlaw-branded crew of "Billy the Kid" Scott on a starting line, and a major shoot-out broke out called "the Great Train Robbery," and the cap guns were blazing. Photo from SLINGSHOT DRAGSTERS OF THE 1960S Photo Archive, by Lou Hart. (James Handy Photo)

a
---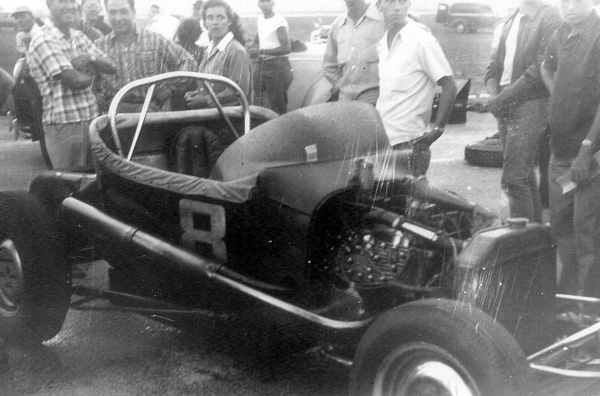 #1804 - The late '40s-era Roadster racing was a national phenomenon, and this spiffy unit was apparently a big part of it. Can you imagine competing in it on a mile track? That was the case on this day when an event was held at Florida's Pompano Beach Speedway. Here's what Miami race buff Brian Sharp has to say: "This was Andy Granatelli's car. I believe it is Duane Carter on the left, Granatelli in the middle, and the lady is Carter's wife, Azra. I think this is the old Yam Oka Roadster out of California. I think Jim Rathmann drove it when he was in Chicago and he may well have driven it this day. He lived down here and had a speed shop here until he retired from driving." (Photo Brian Sharp Collection)
a
---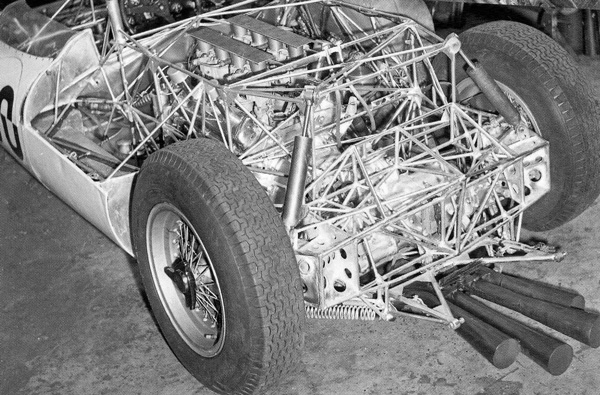 #1803 - In 1963 Carroll Shelby, Briggs Cunningham, and Al Momo collaborated on popping a Weber-ized 289 Cobra into a just a little exotic "birdcage" Maserati. Here's how the exposed hind end looked, replete with toothpicks. From FORD TOTAL PEFORMANCE: Ford's Legendary High-Performance Street and Race Cars, by Martyn Schorr.
a
---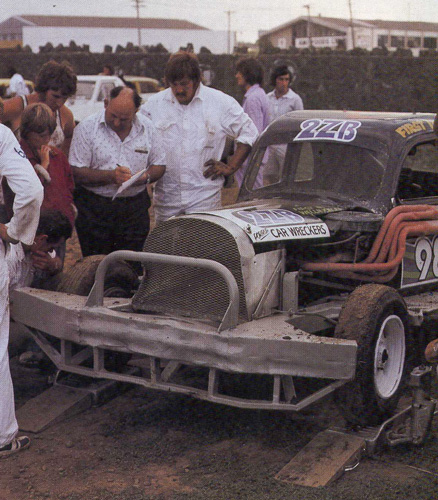 #1802 - This shot is from a booklet called Stock Car Racing published in 1979 in New Zealand. This is the explanatory caption. (Note the last sentence). "Race control officials inspect each car to make sure seat belts are secure and drivers have fire extinguishers and safety gear. Each car must be in safe condition and obey the rules for its class. It has to have a weight ticket, too, saying that it's not too heavy." From Stock Car Racing, by Verne Newcombe, Mary Tagg, and Robin Morrison. (With thanks to A.K. Bowie, Auckland, NZ for the booklet)
a
---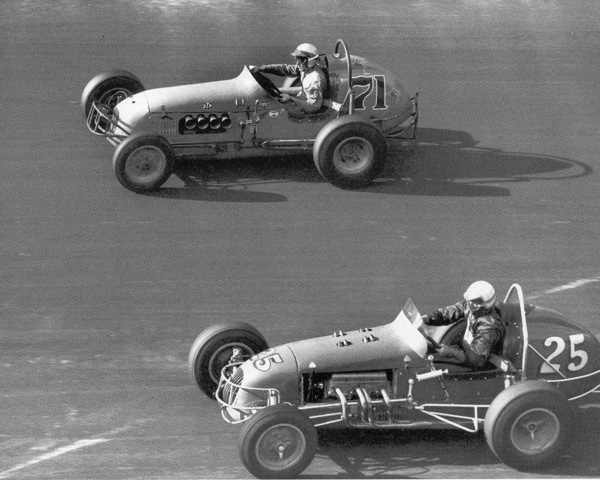 #1801 - A study in styles at Winchester. "Johnny White gave Dizz Wilson his first, and only, IMCA championship in 1962. It would prove to be the last time an Offy would be on the top of the podium. Here, White is sweeping around the top of Winchester with Gordon Wooley (C. Wilson Chevy 25) gliding in the low groove". Quote and Photo from BIG CAR THUNDER : Sprint Cars on America's Fair Circuits, Volume 1, by Bob Mays. (Armin Krueger Photo)
A
---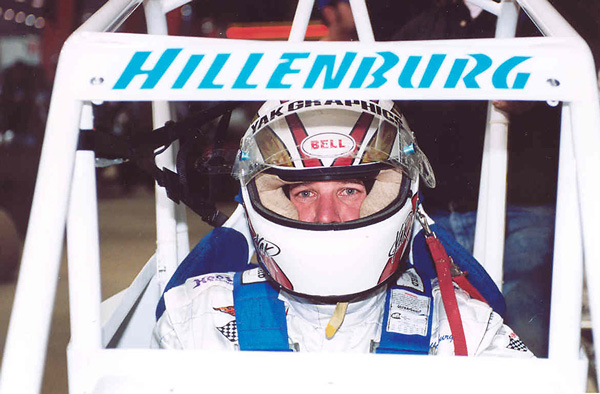 #1800 - Broken Arrow, Oklahoma's Andy Hillenburg had a world-class career in Sprint Cars before retiring at age 35. He also won the 1994 Chili Bowl, a wild shootout with P.J. and Page Jones, called the greatest race ever by many who were lucky enough to see it. He was driving the John Godfrey/Keith Kunz midget. Six or seven years ago, Andy and his wife DeAnn were at Port City Raceway in Tulsa watching their boys Drew and Hayden in their Mini-Sprints. So taken by the skills displayed by a 14-year-old named Christopher Bell, Andy called Kunz and said he had to keep an eye on this kid. That's just what Keith did. And this year, Christopher became the second Oklahoman to win the Chili Bowl, also in a Keith Kunz machine. (Photo – Chili Bowl Collection)

a
---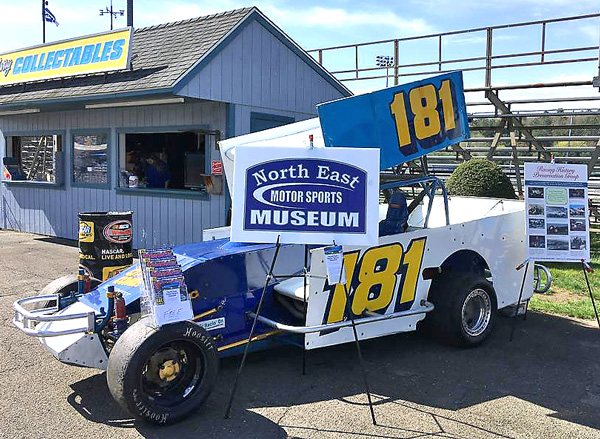 #1799 - We took "Jean," our late '80s-era open comp dirt car, to the North East Motor Sports Museum booth at the Spring Sizzler at Stafford, CT, last weekend. Once again by noon time the grandstands were packed. So is the Museum (www.nemsmuseum.com), with cars and all manner of memorabilia flowing in on a daily basis in anticipation of the opening barely over a month away. (Mark Hann Photo )
A
---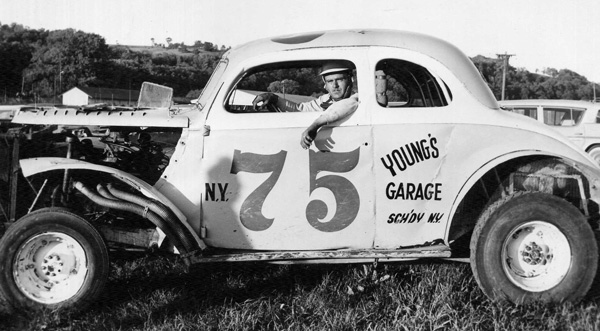 #1798 - Irv Taylor, the great upstate New York wheelman back in the day, passed away last week. He personified his racy times. His deal was to turn a buck with a race car and move on. Free agent; no binding contract; no hard feelings. He drove for 22 different owners. Around the turn of the 1960s, he landed a highly prized ride in Henry Caputo's 283-fired '37 coupe. They started out on the tri-oval at Daytona (can you imagine?) and later went to Middletown, NY. Irv started flipping. He said, "The lights went out when I finally stopped. I was okay and I got to thinking that death ain't that bad. Then a track light came into focus, and I realized I had landed in a gully and was covered with mud. We banged the roof out, but Henry was really pissed. That's okay. I had other stuff to drive." (R. S. Bergh Photo)
a
---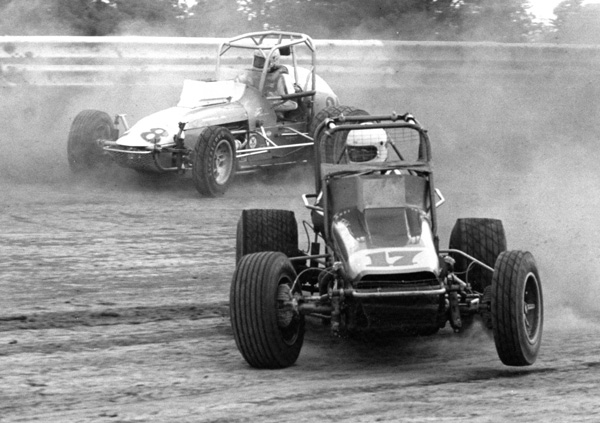 #1797 - May 6, 1978, Terre Haute, IN, the Tony Hulman Classic, USAC Sprint Cars. There was a bit of any empty feeling that day, so soon after eight USAC officials had perished in a plane crash coming back to Indianapolis from Trenton. This shot late in the race shows leader Dick Tobias in his blue and yellow #17 just ahead of "Duke" Cook (did you know his name is Dennis?) stormin' upstairs. Toby nipped him at the line for the win, but it could oh-so-easily have been otherwise. Toby broke motoring under the checkered and couldn't even get past the first turn. (Jack Gladback Photo, Tobias Family Collection)
a
---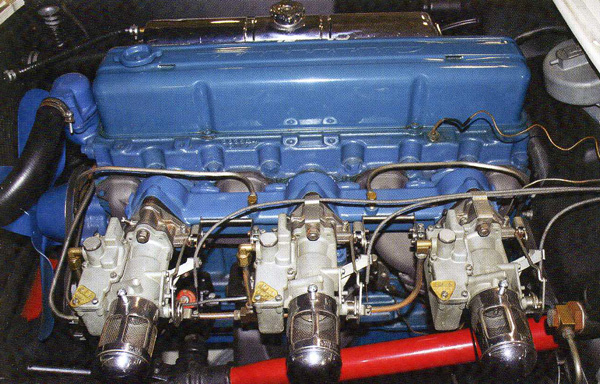 #1796 - "In 1953 Chevrolet introduced America's first fiberglass-bodied, production line-built, two-seat sports car, the Corvette. Since Chevrolet had yet to produce its first modern V-8 engine, power for the Corvette came from the old reliable Blue Flame 'stove bolt' incline OHV six-cylinder that powered passenger cars. The only concession to performance came from a special intake manifold mounting three side-daft carburetors. Further hampering the Corvette's performance was the fact that the only available transmission was the 2-speed Powerglide automatic." Quote and Photo from DETROIT MUSCLE: Factory Lightweights and Purpose-Built Muscle Cars, by Charles Morris. (Photo Charles Morris Collection)

A
---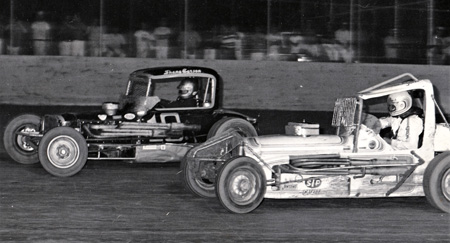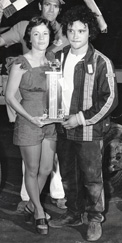 #1795 - It was a grand time in 1975 at the Tulsa, OK, Speedway. Crowds of six to eight thousand packed the place weekly. One of the coolest divisions was the six-cylinder Modifieds, and one of the emerging stars was the irrepressible Shane Carson. That's Shane making haste on the outside in the first photo. In the second, having won the dash, he is greeted by trophy girl Deede Wade, niece of Kansas Sprint Car great Grady Wade. Shane was in contention for the title that season, but his runs were so impressive that Vern Nance came along and popped him into a Sprinter. And that was the beginning of one great career. (Shane Carson Collection)
A
---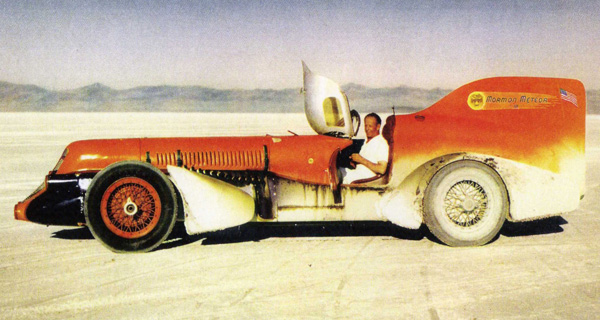 #1794 - It was July 1940 on the Bonneville Salt Flats, and that was AB Jenkins, the racing mayor of Salt Lake City. He had just completed an amazing 24-hour run in the 700 horsepower Mormon Meteor 111, covering 3868 miles. The non-stop trial of speed and endurance was sponsored by a most race-friendly Gilmore Oil Company. Jenkins, averaging 161 mph, broke 21 world and 63 American records. From ROAR WITH GILMORE: The Story of America's Most Unusual Oil Company, by Charles Seims and Alan Darr. (Alan Darr Collection)
a
---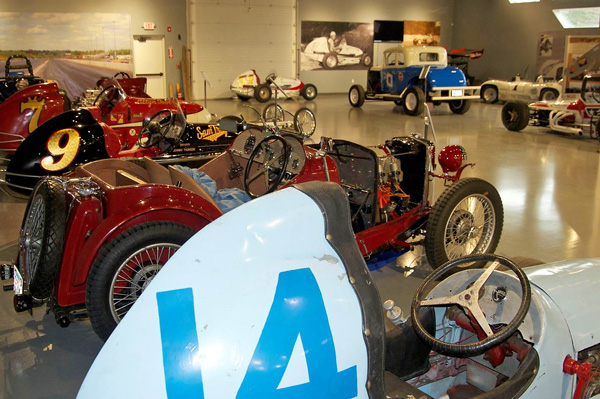 #1793 - Here's at how the floor at the new North East Motor Sports Museum on the grounds of New Hampshire Motor Speedway is shaping up. Cars in the photo include Reino Tulonen's Midget (#14), Peter Ross's 1932 road racing MG, the stretch Midget owned by Ray Boissoneau and driven by Johnny Thomson, Skip Matczak's Big Car, the King & Marshall dragster, Ray Boissoneau's Leader Card Offy-powered Midget, an early square-top that won at Bryar, Sam Posey's Can Am car, Ollie Silva's Super (tucked deep in the corner), and a Beech Ridge Supermodified. The Museum will be open for an initial viewing for members on June 10 and 11. A general opening will follow shortly thereafter. (North East Motor Sports Museum Photo)

a
---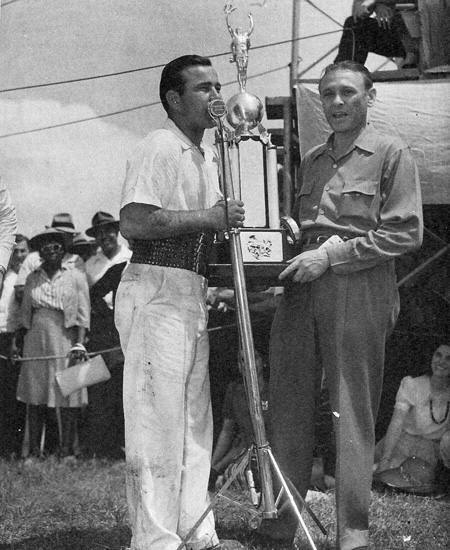 #1792 - Here's Joie Chitwood on the mike accepting the 1940 AAA Eastern Sprint Car Championship from promoter Sam Nunis. They say Chitwood was one of the all-time gassers. Evel Knievel put it this way: "The first time I saw Joie Chitwood perform in my hometown, Butte, Montana, the thing that impressed my 15-year-old mind the most was his intoxicating spirit and incredible showmanship. It was then I knew this business was for me." Quote and Photo from SAFE AT ANY SPEED: The Great Double Career of Joie Chitwood, by Jim Russell and Ed Watson. (LC Roberts Photo)
a
---
#1791 - Starter's stand, Rhythm Inn Speedway, Miller's Falls, MA, August 24, 1951. It really was another day. A special attraction was the pie race. Race a couple laps, dismount and dispatch a couple slices, and run a couple more. But, some things never change. Those guys on the right, "Sneaky Pete" Fournier (53) and Bill Flebut (XX) had best be careful. That's Rene "The Champ" Charland separated just a bit to the left, as if ready to make a quick retreat. The Champ was always the scamp. He was known to slide his cigar into the sandwich of the poor soul who happened to sit next to him at lunch…..(Ed Duncan Collection)
a
---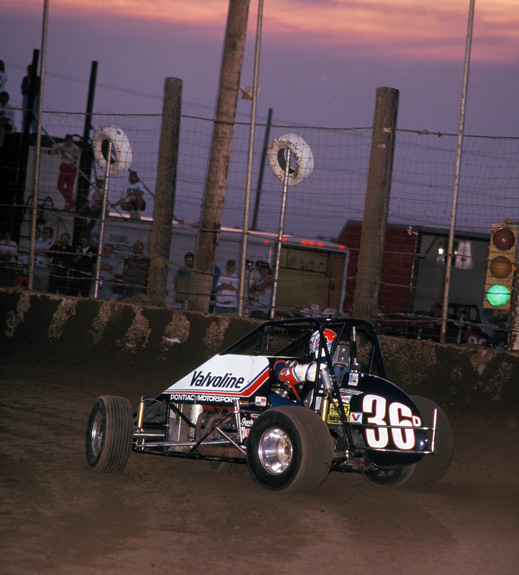 #1790 - Dave Darland first ventured to Kokomo, Indiana, with a Sprint Car on a Sunday in September 1982. He remembers his heart was pounding, as it should have been for a kid who had just turned 16 a week before. He became a true master of the tricky, flat little quarter, as shown in this shot from 1995. That turned out to be the year that Dave started running Midgets as well as Sprints. Since then the track has been reconfigured into one racy, high-banked place, and you can only imagine how many laps he has there now. It's still his favorite track. From THE PEOPLE'S CHAMP: A Racing Life, by Bones Bourcier. (Randy Jones Photo)

a
---
#1789 - "Many great racing drivers and car builders began their competitive wrenching and steering-wheel turning day as hot rodders. Pay particular attention to the tall cat-in-the-hat on the right with the big smile and his hand in the air. Dirty T-shirt and '34 Ford coupe notwithstanding, he's none other than the All American Racer Dan Gurney. From humble beginnings comes great speed." From ISKY: Ed Iskenderian and the History of Hot Rodding, by Matt Stone. (Gurney Family Archives)

a
---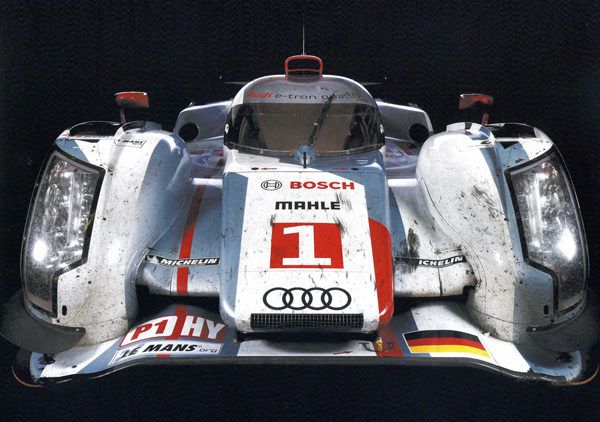 #1788 - Winner – Le Mans, 2011. Audi R18 carbon fiber monocoque. 3.7-liter aluminum V-6, single turbo-charger, 540 horsepower. Twin front-mounted electric motors, 100 horsepower. From ART OF THE LE MANS RACE CAR, by Stuart Coaling. (James Mann Photo)
A
---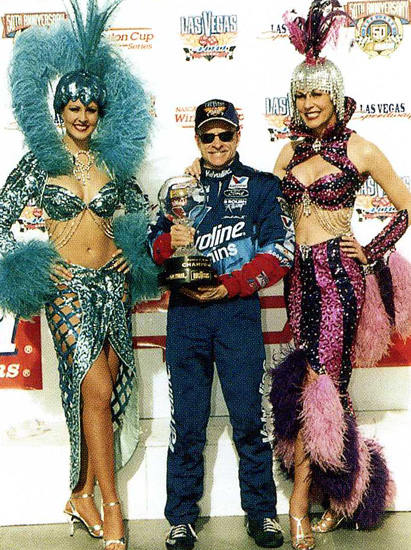 #1787 Mark Martin had his share of good days in NASCAR, and unquestionably this was one of them. On March 1, 1998, he took the inaugural Winston Cup event at Las Vegas by motoring his Taurus past Geoff Bodine with 23 laps remaining. Awaiting in victory lane were three glitzy trophies and $313,900. From NASCAR: The Complete Story, by Greg Fielden.
a
---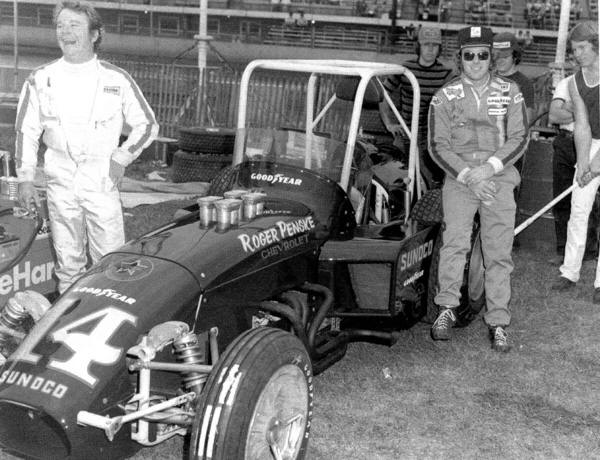 #1786 - "In 1973, Roger Penske's star driver was dirt expert Gary Bettenhausen so he added an unconventional dirt car with side-mounted radiators and independent front suspension to the fleet. Jimmy Caruthers (left) sure thinks it's pretty funny. The next year at Syracuse, Bettenhausen just about bought the farm when this thing tried to jump over a concession stand in turn two." Quote and Photo from
COMPETITION PORTRAITS: The Dirt Championship Cars
, by Bob Mays. (Armin Krueger Photo)
a
---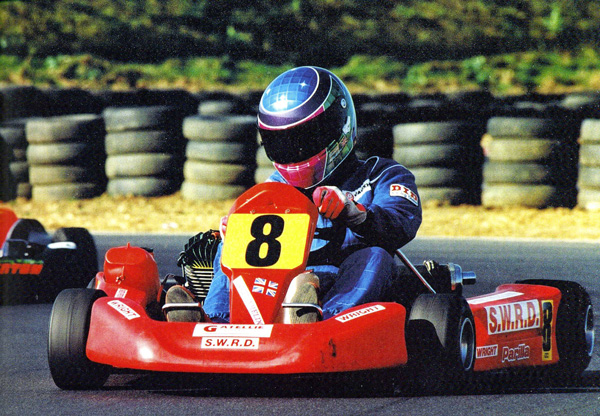 #1785 - There's so much talk these days about the haves and the haves not in racing, but the disparity in competitors' equipment is hardly just here and hardly just new. Take for example this tale of the late Dan Wheldon. By just eight years old Wheldon was already an extraordinary Kart driver, and, happily for him, his dad, Clive, was doing what he had to do to "shoe the horse." Clive recalls, "We were just starting racing over in Europe, and there was an English guy in charge of tires at Bridgestone. If you weren't well-known, you got the crappy tires in the heats. Dan would be right out front, leading, then all of a sudden he'd drop back because the tires were going off. The guy from Bridgestone came to me and said, 'You're in the plumbing game, aren't you? I'd like a bathroom.' I said, 'I'll tell you what I'd like…I'd like some of those tires.' So, I did a deal for the pre-final and final for yellow spot tires. We put those on, and we'd already qualified 10th or something, but all of a sudden while we were near the back, they came in. Dan came through the field, with some unbelievable overtaking. Pantano was leading and we passed him with five or six to go and won. It was an absolutely amazing race to watch. In the final, it was pretty close from the pole for the first couple of laps, but then Dan started to pull away from Pantano and won. My Bridgestone guy came from South West England and I had to go and do his bloody bathroom suite, and we got the tires." From LIONHEART: Remembering Dan Wheldon, by Andy Hallbery and Jeff Olson.
A
---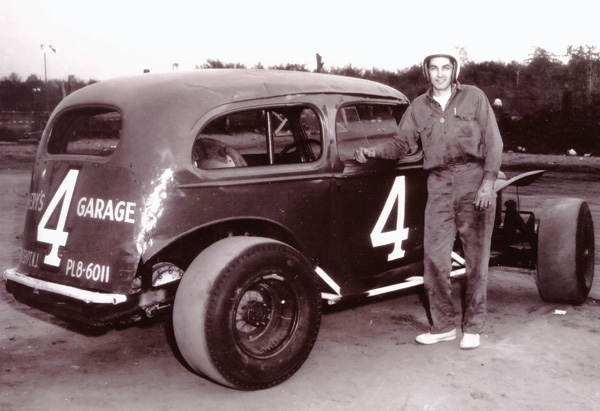 #1784 - "Though history will record New Jersey's Bob Rossell primarily as a disciple of the church of the clay, he cut his teeth (and his lip) on the pavement of Old Bridge [Speedway.[ 'What a place! 'See this scar? I was still learning and I snapped a radius rod and drilled the fence right at the starter's stand. Along comes Danny Gallulo and bam! Got my lip sewed up , but it seemed to happen again whenever I was on the track with Danny. I had a #4 up there in the sixties. It had a compression leak I didn't know about. In the heat, I threw a radiator hose and smashed the boards. In the feature, the same thing happened, and I went backin' on out right through the same hole'." Quote and Photo from PAVED TRACK, DIRT TRACK: Racing at Old Bridge Stadium and Nazareth Raceway, by Lew Boyd. (Ace Lane Photo)
a
---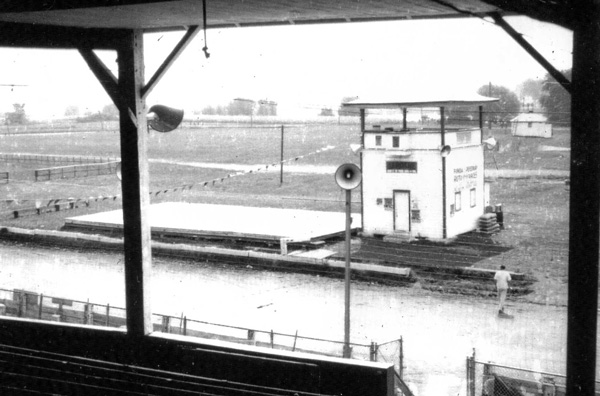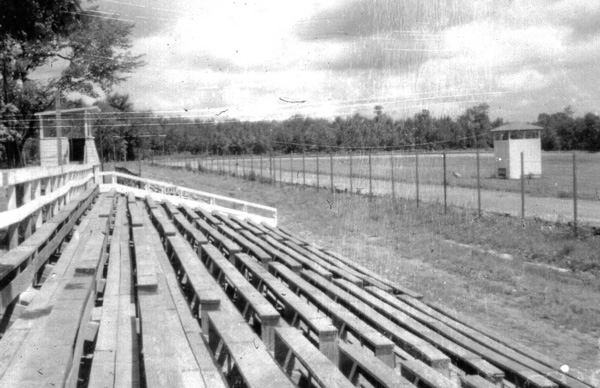 #1783 - Two more from Upstate New York, among of the country's most lively racing areas in 1957. Six decades later, one track motors on; the other is long gone. The top photo is the Montgomery County Fairgrounds alongside the Mohawk River, also known as Fonda Speedway. The track opened with an early NASCAR sanction under promoters Jim Gage and Ed Feuz in 1953 and became an instant success. By 1955 it was known as the Track of Champions and played to huge, sellout crowds. Fueled by their good fortune, Gage and Feuz decided to do it again. They built the half-miler (lower image) in nearby Richfield Springs for Sunday programs. It was very much in the image of Fonda, as can be seen by the comparable announcers' towers built in the infield next to the start finish line. The one obvious difference is that there were no lights at Richfield, and that is likely the reason it lasted only one season. Few dirt tracks have ever been able to survive with afternoon racing. While Fonda at the time was known for its tacky, racy surface, Richfield blew away in a cloud of dust. (Coastal 181 Collection, photographer unknown)
a
---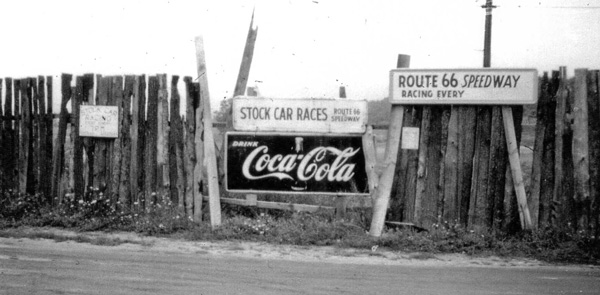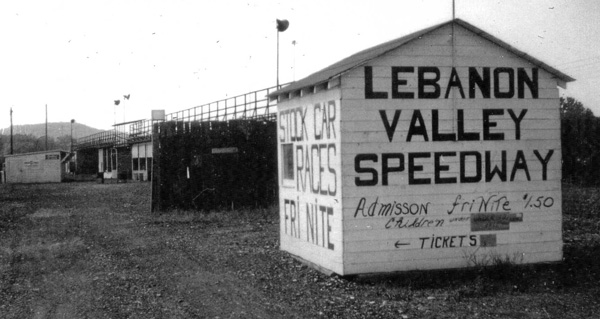 #1782 - According to Alan Brown's survey, over time, stunningly, New York state has had 337 oval tracks, while by 2003 just 49 were operational. It's interesting to postulate why the 15% were successful. The two photos were reportedly taken on August 9, 1957 at different tracks near Albany. Route 66 (also known as Hollywood Bowl) did not make it, but Lebanon Valley still lights up big-time each weekend and is nationally recognized. In any case, today's physical plants certainly convey a far less primitive and gritty image than back in the day. (Coastal 181 Collection, photographer unknown)
A
---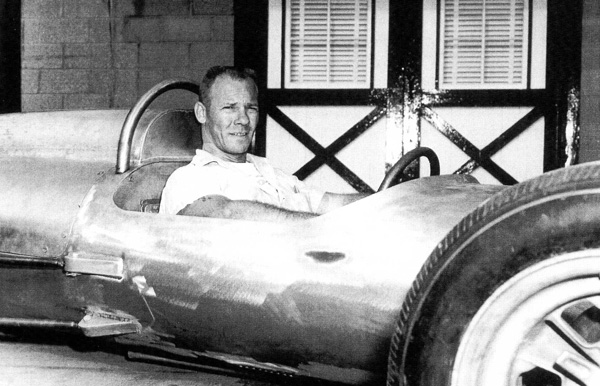 #1781 - Two weeks after a pleasing sixth-place finish at Indy, Ronnie Duman's wife and children watched as he perished at the 1968 Rex Mays Classic in Milwaukee. "According to two drivers, Wilbur (Bay) Darnell and Norman Brown, this is the way it appeared to happen. Brown, who was trapped in his car while flames roared around him, apparently triggered the tragedy when a part from his car had flown off causing him to skid and ram the south wall. Duman appeared to have struck Brown's car and bounced off the concrete retaining wall. One of Duman's tires sailed over the 12-foot wire fence into the stands hitting a couple of fans. In all six spectators were injured as nearly 40,000 fans looked on in horror. Darnell's car then skidded into Brown's car and also broke into flames. 'Gas rolled into my cockpit,' recalled Darnell who was hospitalized with second- and third-degree burns to the hands and knees, 'and I was all on fire.' Duman's car was the only one not touched by the fire as the firefighters were able to reach him before the flames. The 37-year-old was killed when his head struck the wall when he overturned." Quote and photo from RACERS AT REST, by Buzz Rose, Joe Heisler, Fred Chaparro, and Jeff Sharpe. (Sharpe Collection Photo)
a
---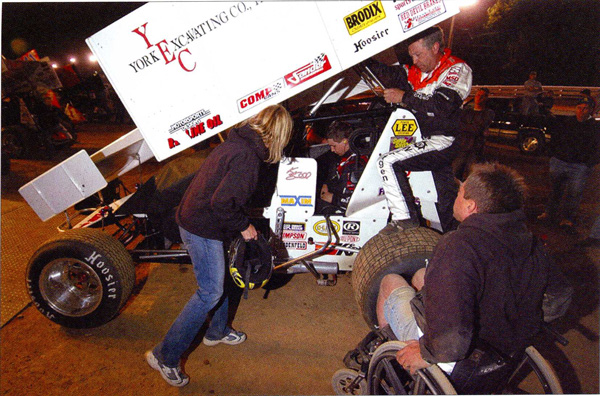 #1780 - Ten years ago…. The Family Swindell at work. Kevin buckles up in Guy Forbrook's Sprinter, while Dad Sammy sets the wing, and Mom Amy provides the head gear. From SPRINT RACING 2006 (Paul Oxman Calendar), Jack Kromer Photo.
A
---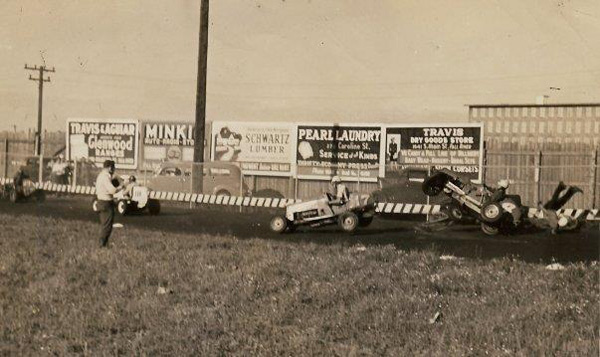 #1779 - Take a close look at this shot taken at Tiverton, Rhode Island, on Sunday afternoon, August 17, 1941. Pappy Hough won the feature, but along the way the Midgeteers were definitely playing hardball. That was Pete Dean in the #17 and John Bogash in the #42. John "Butch" Hoffman, who was taking his leave from his car, likely needed more than a Band-Aid. (Pete Zanardi Collection)
a
---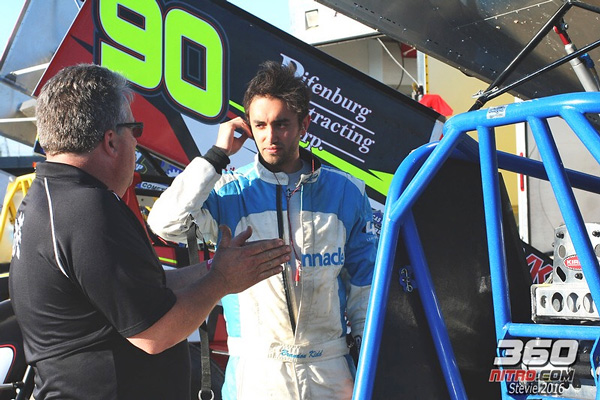 #1778 - Upstate New York's Brandon Kidd likes his challenges. The Syracuse University grad jumped into Karts at 11, asphalt and dirt Late Models at 16, did a stint in ARCA with Bobby Gerhart Racing, and currently runs a Sprinter with ESS. Here he confers with Doug Emery, his "coach" and car owner. Brandon is also an investment advisor with Pinnacle Investments LLC. When he ends up conferring with other racers during the week, "My advice to them is hopefully they don't throw all their money into race cars and save a little for when they hang up their helmets." Tough call! (Kidd Family Collection - Photo by Steve Berthiaume at 360Nitro.com)
a
---
#1777 - Thankfully for the short tracks, Rico Abreu is back from the superspeedways full time for '17. Here's what he had to say back in September of '12: "Right now I just want to keep racing. I want to run 90 shows a year and win a bunch of them. I do love Sprint Cars, but I guess Indy Car racing and Sprint Cup have to be a superior goal for any racer. I'd like to get there, but I'd never attempt to buy my way in. No way. And no way would I want to be there just because I am a little person. I would want to go in just like Kyle Larson – because people could see I was just that good." Quote, as told to Coastal 181, Photo motorsport.com.

a
---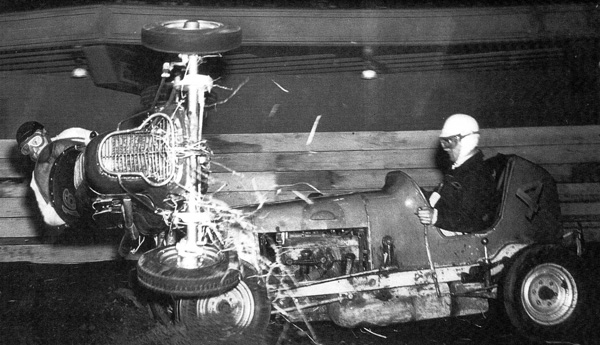 #1776 - The look of terror. Joe Gersich hangs on for dear life, while Cal Trottman grabs the binders at the Chicago Amphitheatre in 1947. Indoor racing for Midgets has continued for decades at many venues around the country, none of which has been as meteorically successful as the Chili Bowl, run each January in Tulsa. From FEARLESS: Dangerous Days in American Open Wheel Racing, by Gene Crucean. (Ted Wilson Photo)

Answer to the question on yesterday's Photo of the Day: Jeff Gordon! From Jeff Gordon: His Dream, Drive, and Destiny, by Joe Garner. (Photo, Mary Ellen Matthews/NBC)
A
---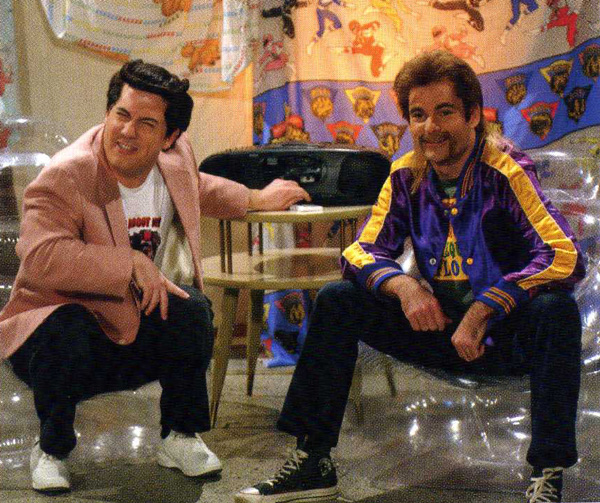 #1775 - Chris Parnell is on the left at a skit on "Saturday Night Live" in 2003. Question for you: Who is the guy on the right? Clue – he is visible more than ever today on television. (Answer and photo credit in tomorrow's Photo of the Day.)
A
---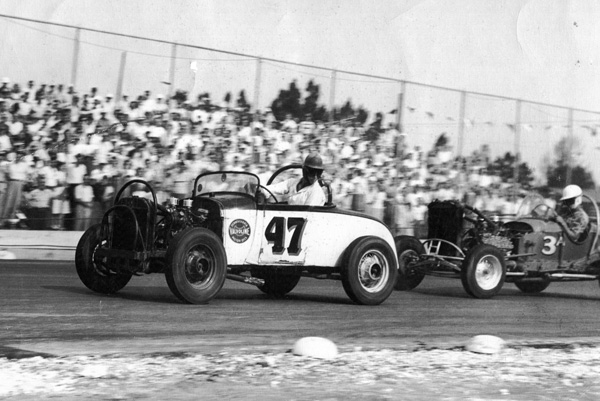 #1774 - In Photo #1758 we ran a shot of Rags Carter in an early roadster at Opa Locka Optimist Speedway in Miami in the 1940s. Here's another of him down there, this time in a spiffier #47 with Dur Howe in hot pursuit. In the later '50s, Howe became one of the earliest of the Miamians to wander north to the New Jersey/PA area to seek the relatively fatter purses in Modified racing. Carter would follow in the '60s. We are currently finishing up a book with Alan Carter Jr., JUST CALL ME RAGS. (Carter Family Collection)
A
---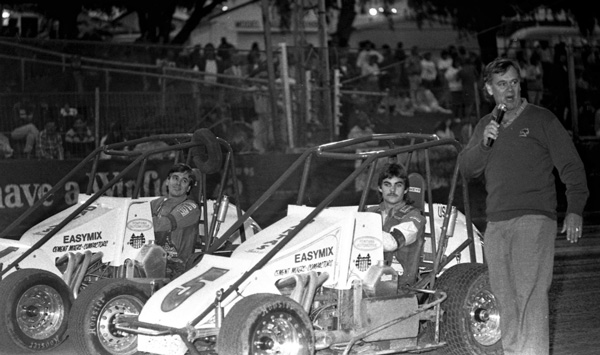 #1773 - It was December 1986, three centuries ago in racing time. Two most different personalities, Jeff Gordon (#5) and Kevin Olson – the American team, lined up to take on the Aussies in Perth, Australia. It was quite a trip to say the least. If you're up for a belly laugh, you can read all about it and other adventures in KO's book, CAGES ARE FOR MONKEYS. For a completely different view on life, you could pick up another very popular title this year, JEFF GORDON: His Dream, Drive, and Destiny. Photo from CAGES ARE FOR MONKEYS: Unleashed with Kevin Olson, Racing's Zaniest Hall of Famer, by Kevin Olson and Lew Boyd. (Peter Roebuck Photo, Anthony Loxley Collection)
a
---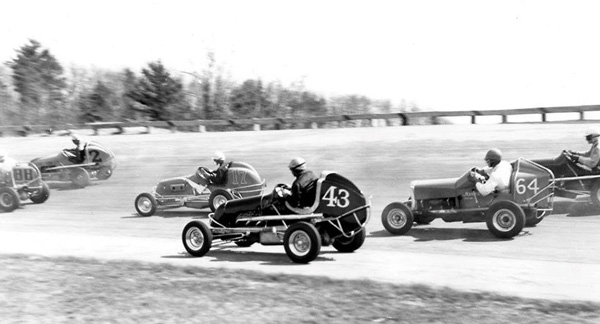 #1772 - Racing journalist Pete Zanardi sent along this neat shot of the Midgets on the 5/8 oval in Thompson, CT, known as "the Ascot of the East" back in1947. The drivers were Billy Tibbert in the #2, Joe Sostilio in the Koopman #17, Sammy Bruno in the Palliano Undertaker Special #43, and Dynamite Duggan in the #64. Their chairs were so upright that they looked seated near Heaven and just didn't look that fast. Most of them were not even running up in the momentum groove. However, racing historian R.A. Silvia says that right around this time they were clocked down the backstretch at 117mph. Yikes. (Pete Zanardi Collection)
A
---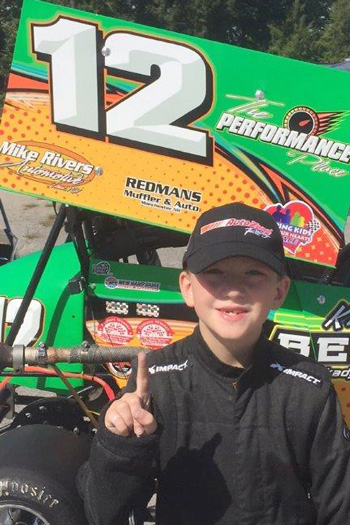 #1771 - Keep an eye on this kid from Goffstown, New Hampshire. At age nine, Kadyn Berry's first year at Rt. 106 Racepark, in Sprint Karts he was 2016 overall points champ, rookie of the year, car show winner, and most popular driver. It's gotta be those genes again. He is a FIFTH generation racer. (Berry Family Collection)
A
---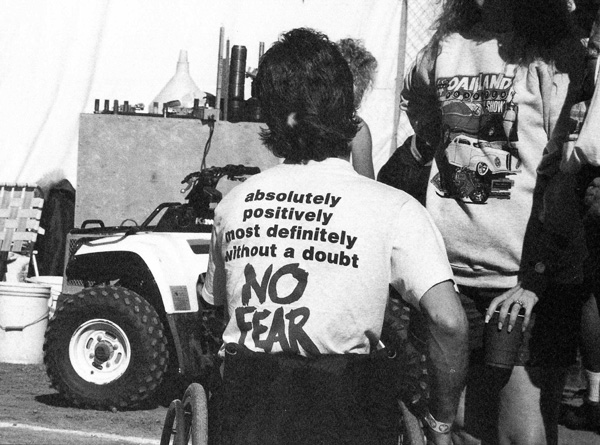 #1770 - This shot was taken in the pits of Ventura, CA, in the 1990s. Wouldn't you like to know the story behind it? From THUNDER ROAD: A Photographic Journey of Open Wheel Racing, Carnivals, and the Iconic Highways They Travel, Circa 1990s, by Tom Loutz (Tom Loutz Photo)
A
---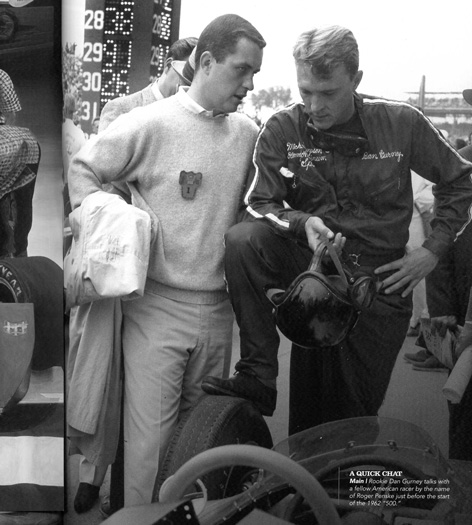 #1769 - Dan Gurney, an Indy 500 rookie, is about to don his helmet for the start of the 1962 running. He listens to another emerging American racer, Roger Penske. Even that early in their meteoric careers, neither of the two had the look of a strong-armed dirt tracker from the fair circuit. (Photo from INDY 500 OFFICIAL PROGRAM, May 29, 2016)
A
---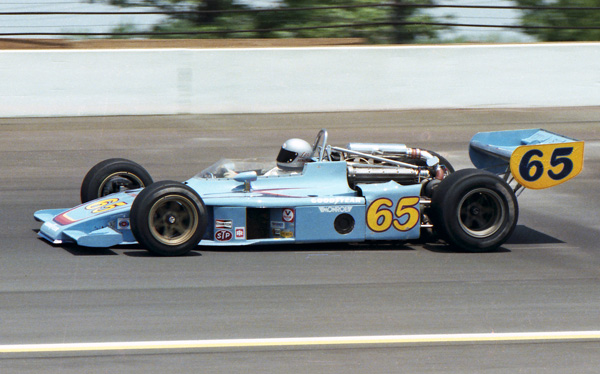 #
1768 - "Lee Kunzman is one of Indy's 'what if' stories. What if he hadn't had to sit out a year, healing from injuries, after a violent 1970 Sprint Car wreck in Missouri? He'd passed his Indianapolis rookie test; team owners were interested. And what if he hadn't had a second savage crash in '73, in an Indy Car at Ontario, after cementing his comeback with nine top-ten finishes? Lee's fine 500 record includes two seventh place runs (1973, '77) in four 500 starts." Quote from THE STINGER: 273 Drivers Speeding Toward Hope, by Bones Bourcier and John Andretti (John Mahoney Photo)
a
---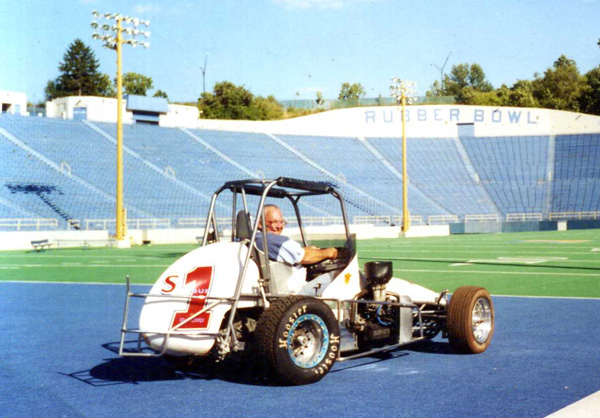 #1767 - Here's the stadium used by the University of Akron's football team. It didn't always look quite like this. From the Great Depression through the 1950s, it was the site of the Akron Rubber Bowl, a gritty – and frightful – oval famous for wild open-wheel racing. It still has its loyal motor head devotees, such as our not-to-be-named friend pictured above with his Midget. "I can say for certain I was the last race car driver to drive there. I unloaded, tore up some turf, and left before the cops came." (Coastal 181 Collection)
a
---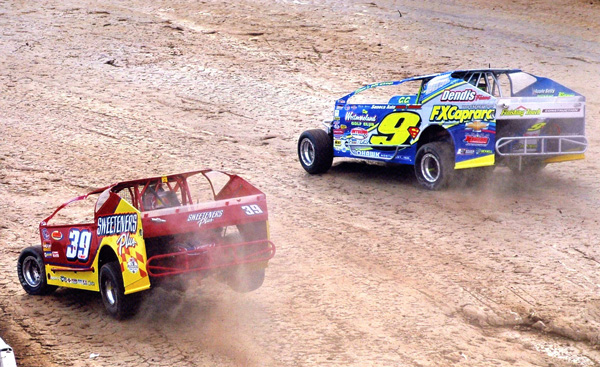 #1766 - Photographer Chris Burgess had quite a vantage point way up over the stands for Super DIRT Week last fall. The dirt-over-pavement at Oswego Speedway was pretty racy until if began breaking up. This image shows Timmy McCreadie and Matt Sheppard dueling for the lead. Note that emerging hole in the lower right, exposing some asphalt. Then note Timmy's right rear. Not the right look for a DIRT mod entering a turn! Lots of equipment and hearts were broken, but the fans were there, and officials contemplate a much more ergonomic surface in '17. (Chris Burgess Photo)
A
---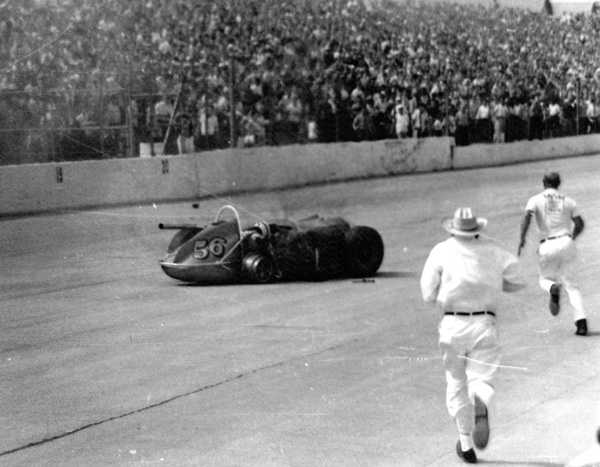 #1765 - Indy 1964 was sad enough before this famously painful scene the following week at Milwaukee. Coming out of four, Roger Ward, Jim Hurtubise, and A.J. Foyt were running one-two-three in strict formation. Suddenly a bearing in Ward's rear end spun. He threw his hand in the air, but slowed so quickly, there was no way to avoid contact. Both Foyt and Herk jumped on the binders, but they touched and Herk headed for the wall. His right rear tire came off and hit him on the chest, breaking ribs and puncturing a lung, and knocking Herk out. But the horrible part was when the front axle pushed back and the crushing metal caused so much pressure inside the fuel tank that it popped the filler cap off. Methanol spewed into the driver's compartment. Buster Warke, in the hat, was one of the first on the scene. Herk would live, and every race fan in the world knows how his Olympian determination to race again eventually outpaced his suffering. (Cal Lane Collection)
A
---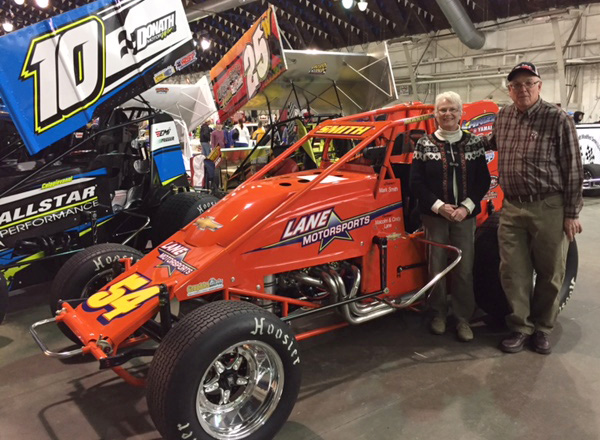 #1764 - A very competent former Sprint Car driver himself, Mal Lane of Dundee, NY, here with his wife Cindy at last weekend's Gater Motorsports Expo at the Syracuse Fairgrounds, seemed to be bitten again with the racing bug. Here is a drop-dead beautiful Silver Crown car he's just put together – 1396 pounds of fun delivered by a 775hp 356. He's also now got a bad case of spring fever. A thousand people asked when he and Mark Smith, the Pennsylvanian wheelman, would be debuting the Maxim. They just can't wait for April 2 and the Sumar Classic at Terre Haute. (Coastal 181 Photo)

A
---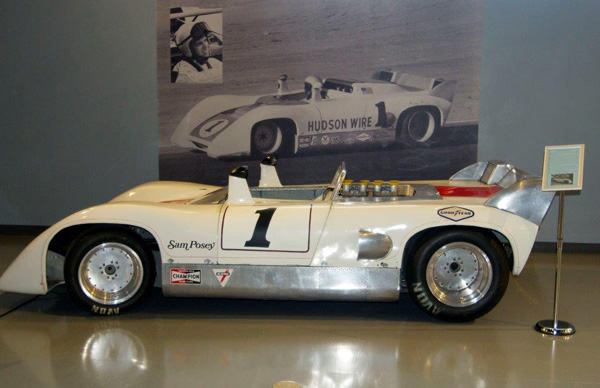 #1763 - This image was taken in 1968 at Ray Caldwell's shop in Massachusetts. Two nearly identical Can-Am Series road racing cars were built in New England, and this one is the lone survivor. It was designed for and driven by New England's own racing and TV star, Sam Posey, and now sits in the North East Motor Sports Museum in Loudon, NH. (www.nemsmuseum.com). The Museum will be opening in July, but a gala event will be taking place in just over three weeks.
On Saturday April 8th, from 1:00 pm to 5:00 pm at Midway Buick/GMC located at 155 Rte. 108 Somersworth, NH, there will be a "Casino Museum" event that will include blackjack tables, a money wheel, Let it Ride, and Texas Holdem Poker, along with other games. Midway is owned by Bob Demers, a highly respected SCCA road racer and instructor and a Museum devotee.
There will be prizes of all types, ranging from race car equipment to restaurant gift certificates and even a chance to become a member of a pit crew for a night. In addition, the museum will be giving away memberships, books from Coastal 181 and access to many upcoming racing events.
Also taking place on the same day, SCCA racers will be bringing their cars to the dealership for pre-season inspection and will have racecars on display along with driver meet and greets.
The North East Motor Sports Museum is located next to the south entrance of New Hampshire Motor Speedway and will be the only museum of its type in the Northeast. The grand opening is slated to take place in July during the NASCAR race weekend. (Photo, Dick Berggren, North East Motor Sports Museum)
---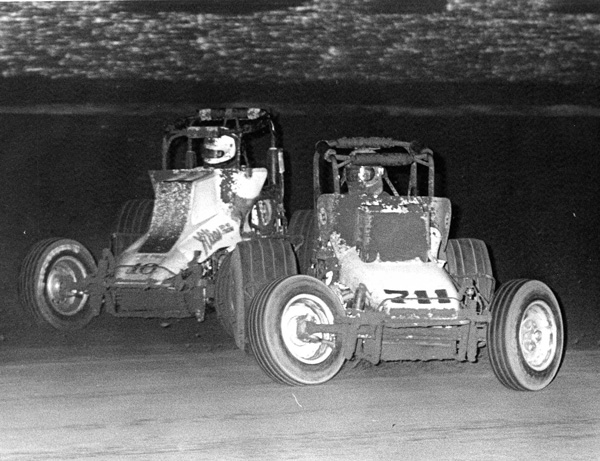 #1762 - It would be so easy to become totally retrospective about racing, especially when you get to thinking about CRA out there at Ascot. Bob East in the #10 and Clark Templeman in the #711 show why. (Barbara Jo Garson Photo, Coastal 181 Collection)
A
---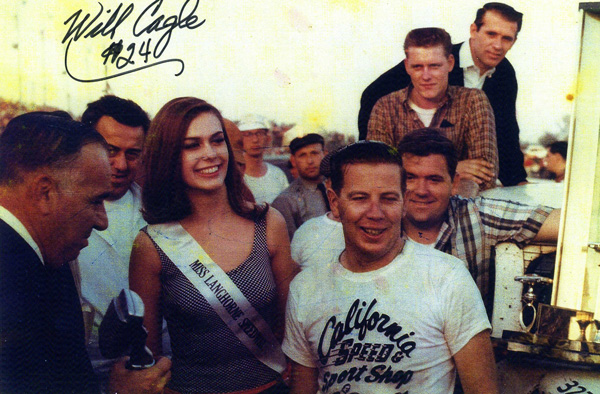 #1761 - In 1966 Will Cagle was on his way from being "The Tampa Terror" to becoming "Wily Will." He shocked them all at Langhorne. Even though the grand circle was then paved, Will showed up with his dirt car. It was outfitted with different springs and shocks and shoed with some special rubber from Marvin Rifchin of M & H Tire. Upfront was a 402 small block assembled by Buzzie Reutimann – and upfront is just where Cagle finished. (Cagle Family Collection)

A
---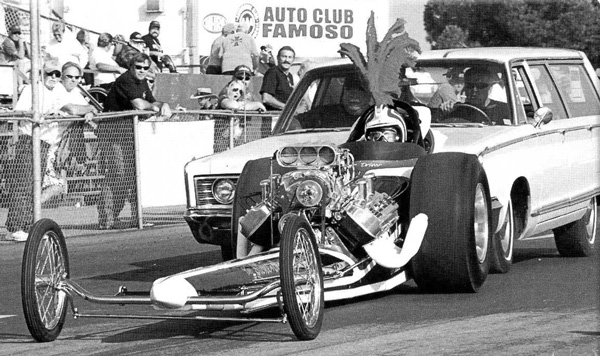 #1760 - "For George 'Hutch' Hutchenson, The Stone Age Man wasn't just a name on one of the 1960s most beautiful dragsters but it was a whole persona. George had a vivid dream in 1968, one in which he saw a helmet, similar in style to that which a Roman centurion would have worn, and affixed to the helmet were 24 red plumes. Over the next couple of weeks, George went to work building the helmet, which became part of the Stone Age Man persona. Thereafter, not a pass was made without the helmet." Quote and photo from 1001 DRAG RACING FACTS, by Doug Boyce, (Dave Davis Collection)
a
---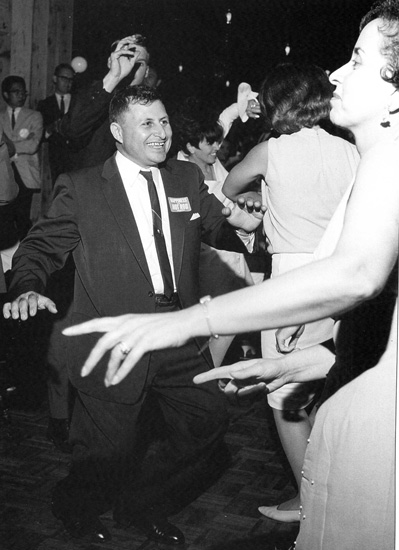 #1759 - SEMA president Ed Iskenderian having fun at an early show banquet, cutting a rug with his wife, Alice. "Previous to this, Ed didn't know how to dance and didn't want to look stupid if he ever got hauled onto a dance floor, so he bit the macho bullet and took dancing lessons." Quote and photo from ISKY: Ed Iskenderian and the History of Hot Rodding, by Matt Stone. (Photo Courtesy of TEN: The Enthusiast Network Archive)
a
---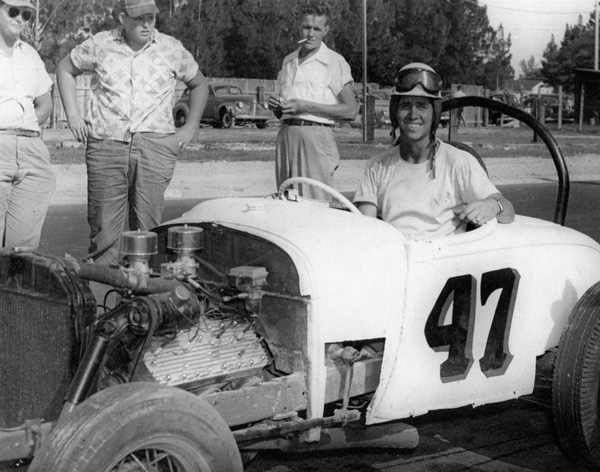 #1758 - That's the late Alan "Rags" Carter at the Opa-Locka Optimist Speedway just North of Miami in the late 1940s. Rags had just been driving for a year or so, but was already a top dog at the funky third-mile track that straddled on top of both an airport and a baseball field. It was half paved, half dirt. On Wednesdays they ran jalopies and on Friday roadsters. Rags' very first ride had been when a driver didn't show up for a roadster race. Apparently, the guy had gotten cold feet. Looking at Rags' car, it's hardly a wonder why. (Alan Carter Jr. Collection)
a
---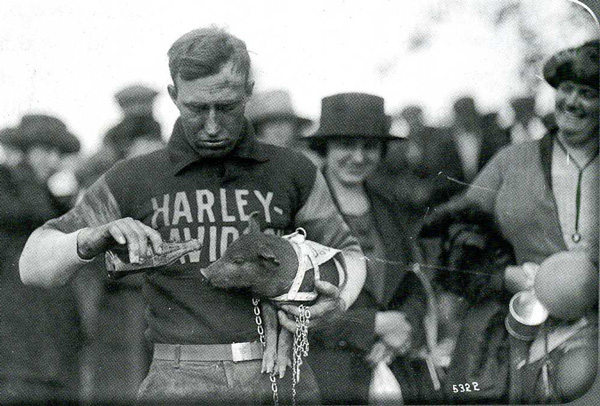 #1757 - "Although its origin is from racing, the term Hog has become synonymous with the Harley-Davidson motorcycle as well as the Hartley Owners Group (H.O.G.) and the New York Stock Exchange ticker symbol. The name was first used in 1920 when the H-D factory team became known as the Hog Boys. It wasn't just their farming background that garnered the nickname; they actually brought live pigs to the events as their mascot. After each of their frequent victories, the winning rider put the hog on his bike and took a victory lap." Quote and Photo from 1001 HARLEY-DAVIDSON FACTS, by Tyler Greenblatt. (Photo Courtesy of Harley-Davidson)
A
---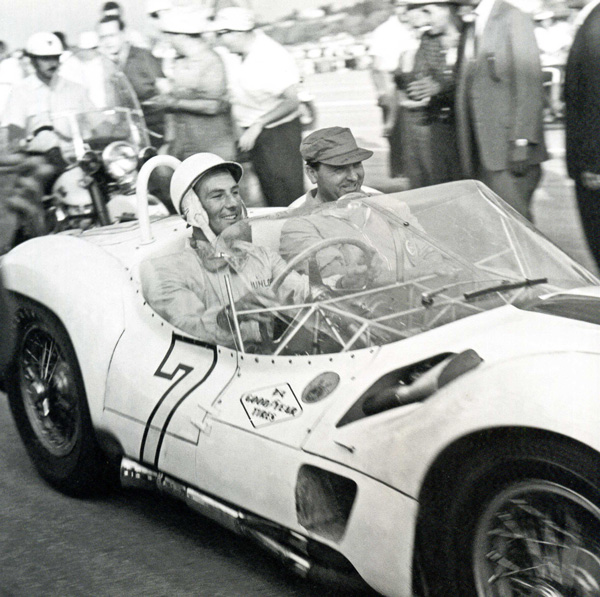 #1756 - Is this cool or what? A jubilant Stirling Moss has just won the 1960 Grand Prix, and he takes Maserati Team chief mechanic Guerino Bertocchi for a victory spin. The location – Havana, Cuba. The event was promoted by West Palm Beach's Ken Coleman under the close watch of Fidel Castro. From the just released CUBA'S CAR CULTURE: Celebrating the Island's Automotive Love Affair, by Tom Cotter and Bill Warner (Bill Warner Collection)
z
---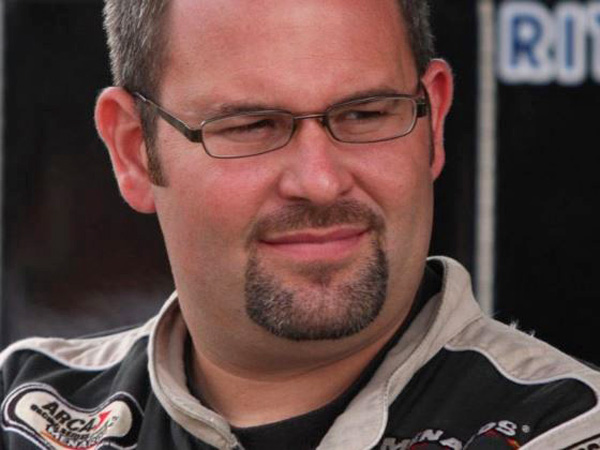 #1755 - This Photo of the Day and its caption comes to us from our associate Joyce Standridge. "Those reminders that we're not playing with tinker toys are tough to take. When the word filtered back that one of the three pitsiders injured when Dale Blaney's sprint car penetrated the fence at Volusia during Speed Weeks was Kelly Kovski, a lot of Midwestern racers were shocked. Some people know him from his ARCA and late model driving and a lot more from his long-term tenure at Hoosier Tire Midwest. There aren't many in the business who are more likable. Among Kelly's multiple serious injuries are broken vertebrae, ribs and ruptured spleen. More than two weeks after the wreck, medical staff have not been successful in removing him from the ventilator. It's going to be a long, long recovery. A substantial group of fans and friends have put together a benefit auction for Kelly, his wife Amanda and their two little girls, scheduled for April 2nd in Springfield, Illinois. Racing folks are at their best when a racer is at his lowest. Donations, whether auction items or financial gifts, are still being welcomed by Hoosier Tire Midwest General Manager Terry Young. You can reach him at hoosieris1@aol.com.
a
---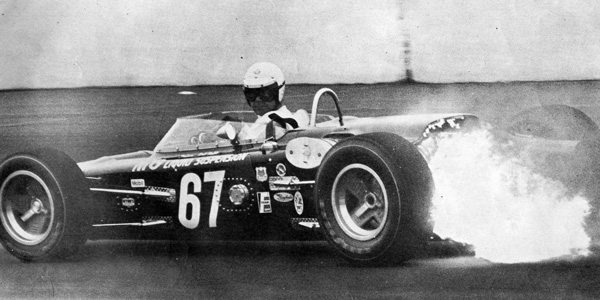 #1754 - Looking back at Indy. It was a practice run in May 1966, and driver Bob Veith could see things weren't so cool. He slowed way down, allowing the flames to fan away from the cockpit. The fire trucks caught up with him, and the fire was extinguished before the car even stopped. (Illustrated Speedway News Collection, Walter Chernokal Photo)
a
---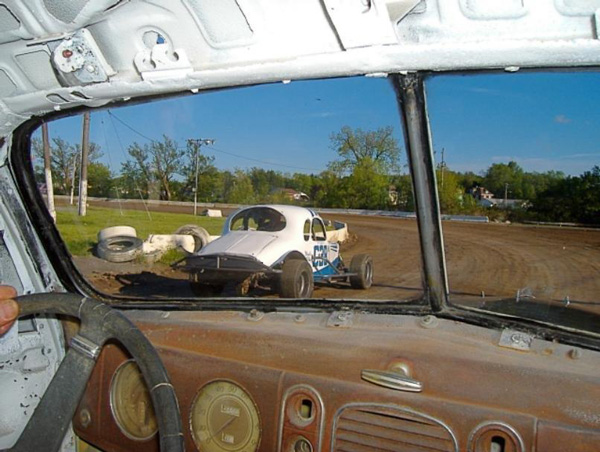 #1753 - Absence makes the heart grow Fonda. (Photo Mid State Stock Car Association Collection)
A
---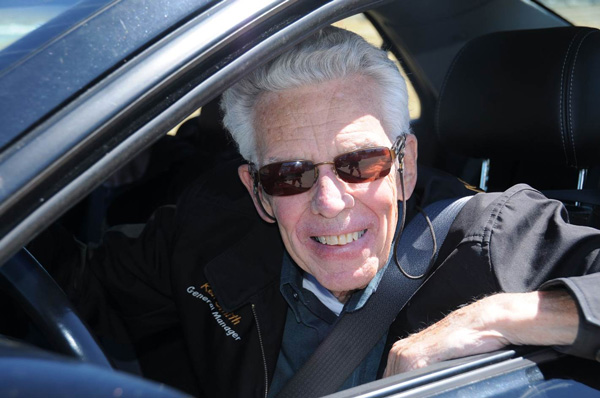 #1752 - The entirety of the Supermodified community mourns the loss of good guy Kendall Smith. A graduate of Bentley College and long-time President/CEO of Pentucket Bank in Haverhill, MA, Ken was highly honored for his success in business and his participation in local charities and community organizations. But, the image of energy, he always was on the go, doing things his own way. Case in point was the remarkable co-founding and nurturing of the New England SuperModified Racing Association (NESMRA) and promotion of over 1,000 shows with his partners Charlie Elliott and Russ Conway. For people who really knew him, there was little surprise when he showed up looking dutifully like a banker with his black Caddy. It just happened to have flames painted on the front quarters. (Coastal 181 Collection)
a
---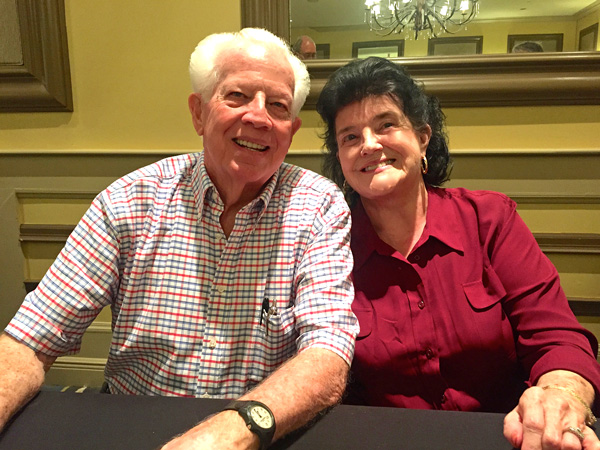 #1751 - It always seems that Will and Barbara Cagle are together. Here they are at an autograph table at the Living Legends of Auto Racing auction night last week in Daytona Beach. Asked about their close relationship, Barbara smiles and says that it has been over 60 years – and she tells a story from the fifties. Back at Plant Field in Florida, Will was hustling towards the front of the field in a black #24 as he always did, while Jimmy Riddle kept jumping the flag on restarts. The starter got irritated and threw the black flag – for Will by mistake. Will motored back to the pits, totally incensed. After the race, the starter came over to discuss the incident and, in Barbara's words, "Will socked him." Down he went. And when a reinforcement officer rushed over, he went down, too. But soon the two were back on their feet, starting to pound on Will, so Barbara jumped on one of their backs. That move was to no avail, so she grabbed one of their guns and, pointing it enthusiastically, told them to lay off her Will. At this point the fans had taken notice and were applauding loudly. Barbara handed to gun to one of them, and it was handed over row to row, all the way to the top of the grandstands, where it was tossed away. Needless to say, there were legal repercussions, but Barbara says there was no record since she and Will were under 21. Just then at the Living Legends table Billy, the Cagle's quite normal looking son appeared. Asked whether this story could possibly be true, he just shook his head, smiled, and said "absolutely." (Photo by Dick Berggren)
a
---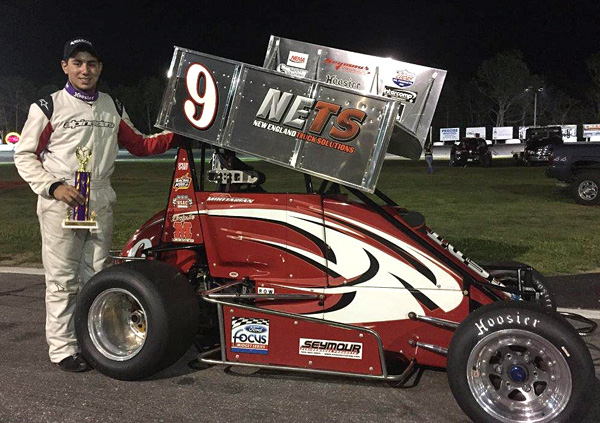 #1750 - That Seymour Family of Marlborough, MA, sure has its mark on open-wheel history. The late family patriarch, "Boston Louie" Seymour, was said to have towed a million miles with his Sprinter and Silver Crown rides for over 50 of the country's finest wheelmen. His sons, Bobby and Mike, both formerly top-shelf drivers themselves, continue the racing tradition with their speed-part activities. Now their nephew, Ben Mikitarian, has jumped in the seat and sure is getting it done. He's shown here, age 15, at New Hampshire's Star Speedway on his way to winning Lite Rookie of the Year in the NEMA Lites. He looked really good on the ultra-fast banks of the 5/8-mile Thompson (CT) Speedway in NEMA's final race of the year. His mom, Celeste, said that she was one proud mama, but could only watch with one eye. (Mikitarian Family Collection)
a
---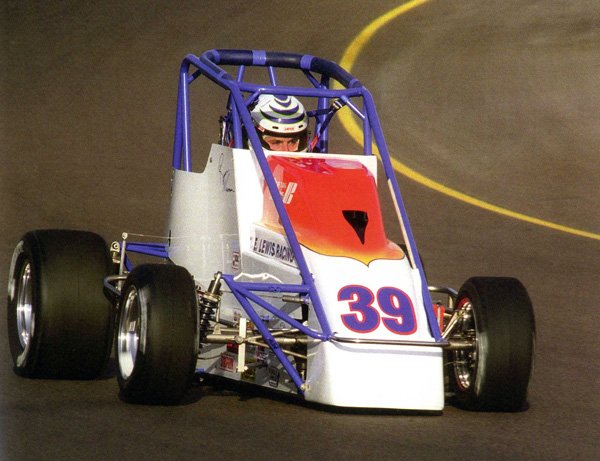 #1749 - It's about the eyes. (Ryan Newman going very fast at Phoenix in 2000). Photo from UNITED STATES AUTO CLUB – Fifty Years of Speed and Glory, by Dick Wallen (Mike Arthur Photo)
a
---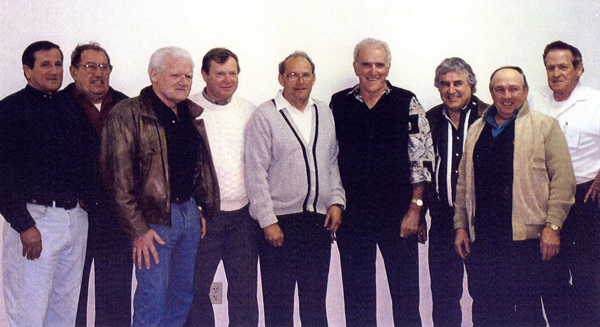 #1748 - What a time for racing the 1970s turned out to be. There was the nationwide rollout of NASCAR superspeedways; the launch of the World of Outlaws at Devil's Bowl in Mesquite, TX; the glory days of the Modifieds in the Northeast – and on and on. This gaggle of Modified masters sure could pound the pavement. L-R, Jerry Dostie, Freddy Schultz, Dick Armstrong, Bugsy Stevens, Bob Judkins, Leo Cleary, Ted Marsh, Billy Harman, and Bill Slater. (Coastal 181 Collection)
A
---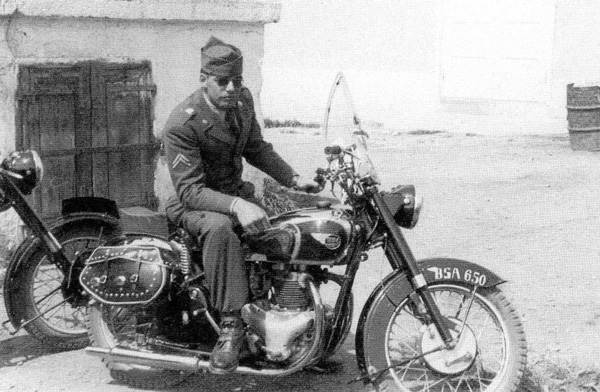 #1747 - Even back during World War II, Ollie Silva had that look. His physique, his chiseled good looks, and surely those sunglasses predicted the dashing image he would convey for three decades as one of the country's top open competition open-wheelers. It's curious though, how looks can deceive. In actuality, Ollie was quiet, private, and unassuming. He once said that all he needed in life was a good road car to drive and some decent threads. (Russ Conway Collection)
a
---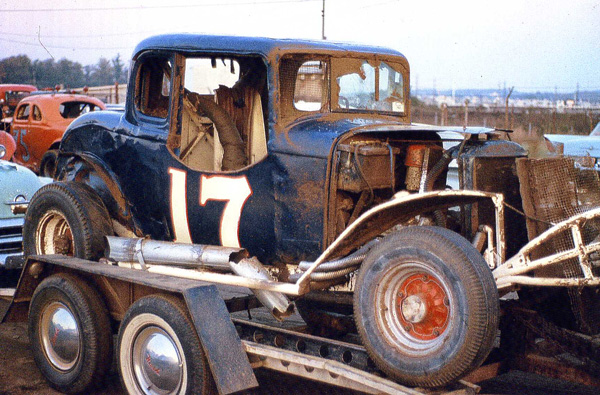 #1746 - Jim Donnelly, Senior Editor at Hemmings and author of our Miller's Time on Don Miller, is working on a book about the Tobias family for us. What a story they are! They have dedicated so much to racing for so very long. Here's a way cool square top Toby showed up with right at the beginning. How about that windshield and the seat brace – and that exhaust system! (Flex pipe never did work). (Coastal 181 Collection)
A
---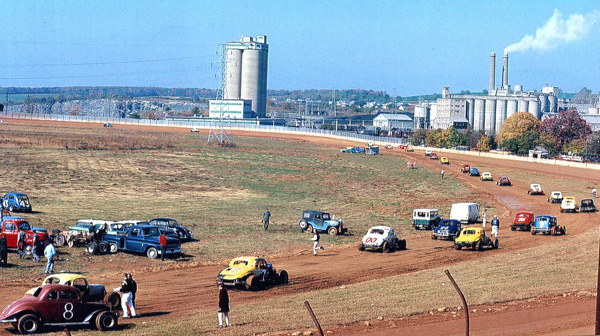 #1745 - It seemed highly unlikely when in 1952 a dance and ballroom operator from the Bronx moved to cement-dusted Nazareth, PA, to run the half-mile race track at the Fairgrounds. Jerry Fried demonstrated incredible tenaciousness in guiding the facility through good seasons and bad over the next three decades. He had one especially lofty dream – to be a key figure in what he felt would be an explosion in the popularity of racing, "the sport of the seventies." He built the enormous 1 1/8th-mile track next to the half-mile, intending over time to light it for night racing – and even to cover it with a dome. There was some amazing Modified and Sprint Car racing in which most of the entries were going far faster than their design speed. For whatever reasons, though, he could not ride that wave of superspeedways and television that so enriched NASCAR. The big track closed first, and, just 11 months after he was forced to shutter the half-mile, he quietly passed away. (Coastal 181 Collection)

A
---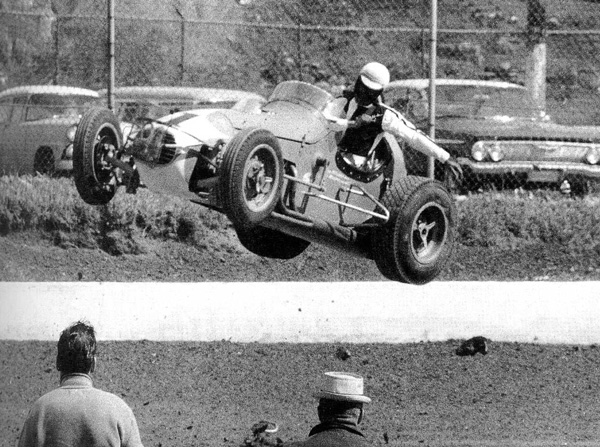 #1744 - It was not a good situation at all for Roger McCluskey. He arrived at Reading, PA, on March 29, 1964, as the defending USAC champion and had not anticipated departing in an ambulance. He pitched Wally Meskowski's Sprinter just past the starting line, having qualified right up front, hit a rut between one and two, and things got out of hand. He ended up with two broken arms. It took a while to recover, but he was up for hugging one of J.C. Agajanian's trophy girls in victory lane at Ascot that fall. From UNITED STATES AUTO CLUB – Fifty Years of Speed and Glory, by Dick Wallen (Walter Chernonakal Photo)

a
---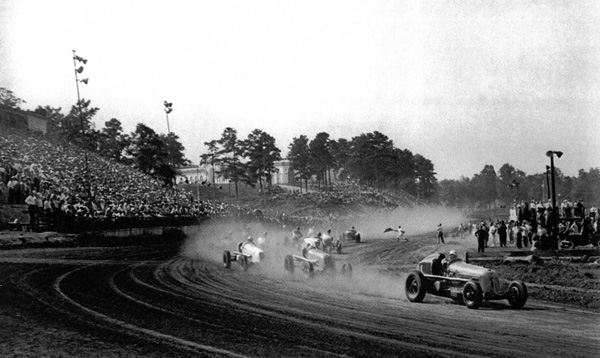 #1743 - It was a beautiful thing on Labor Day of 1946 when Ted Horn roared into the first turn at the one-mile Lakewood Park track, leading the field into a 100-miler. Entering the third turn on lap 98, however, things went terribly wrong before the shocked crowd of 38,500. George Robson, Indy 500 winner that year, was blinded by worsening red dust conditions and rammed into a lapped car; a huge wreck ensued, consuming all but three cars. The race was cancelled immediately with Horn declared winner. George Robson and George Barringer were the clear losers, both fatally injured. From Racers at Rest, by Buzz Rose. (Jeff Sharpe Collection)
a
---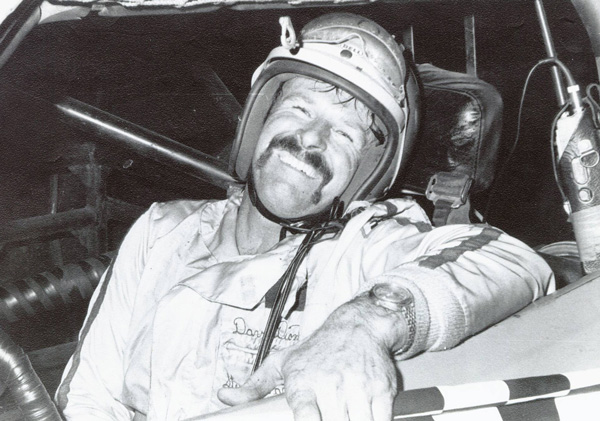 #1742 - If you're headed to Speedweeks next week, you've just got to stop in on this one. It's a function put on at the Living Legends of Auto Racing Museum (Sunshine Park Mall, 2400 S Ridgewood Ave, #36) in South Daytona on Thursday (the 23d) from 10 to 2. Known as "Coffee with Characters," it's all about old-time racing storytelling – and the last couple of years have brought some incredible tales. Much of that is because of the host, "Dynamite Dave" Dion. The photo above is from a book on Dion we did with Dave Moody some years back called LIFE WIDE OPEN. The caption is: "I may look ecstatic after winning the '75 Oxford 250, but don't believe it. The truth is, I'm in pain! My leg cramped up from the heat, and I couldn't straighten it to get out of the car." It's always sumthin' with Dave. He's the biggest character of all. For more info on the event, ring Dave's chimes at 603-320-3095. Bill Balser photo from LIFE WIDE OPEN, by Dave Dion with Dave Moody.
A
---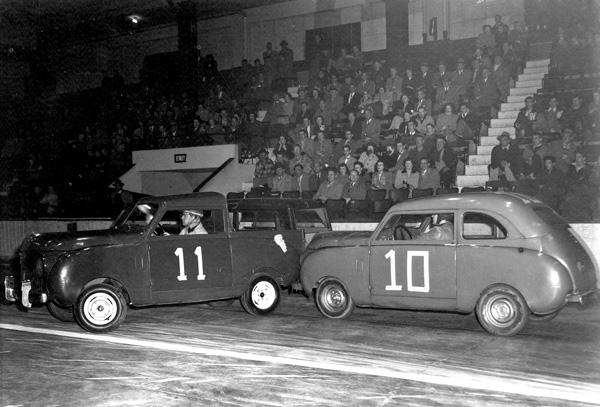 #1741 - In New England in February a young man's heart turns…..INDOORS. So, here we are again at the turn of the '50s at Rhode Island Auditorium. The show was Crosley city, presenting all flavors – a passenger car, a pickup, and a wagon. The bespectacled guy in the pickup, Ray Hill, was an exceptionally brave – star-crossed – racer. During the war, he was given a 4F for diabetes, and by this time, winter of '52-53, his health was deteriorating. Perhaps that's why he opted to go to the sprawling Thompson, CT, oval the next fall in a car unsuited for the high speed. He crashed and – most dramatically – flew out of the car and perished. Another photo from R.A. Silvia's fabulous files.
a
---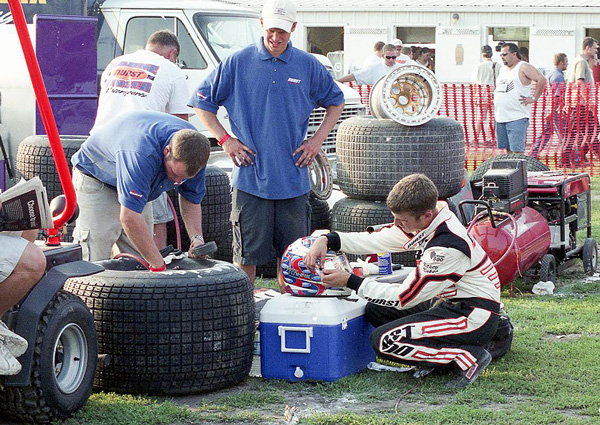 #1740 - Like most of us from snowy New England yesterday, our friend John DaDalt was busy digging through piles - in his case very cool racing photos he has taken over the years. Here's one from Iowa in 2001. Twenty-one-year-old Kasey Kahne was seeking a win in the Knoxville Nationals, but, alas, it was not to happen. Dover, Missouri's fast-talkin', fast drivin' Danny Lasoski, twice his age, snatched the pole and went wire-to-wire in the 30-lap main. Kasey did not make the show. (John DaDalt Photo)
Z
---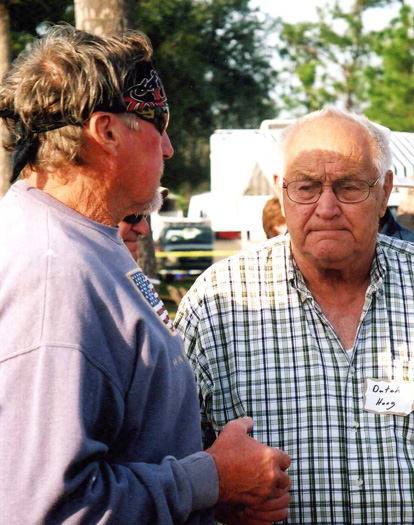 #1739 - This shot was taken a while back at the fabulous Modified Reunion held each year at New Smyrna during Speedweeks. The late Dutch Hoag, right, was concerned about the knee replacement he faced the following week. Bentley Warren had just been through the procedure and was assuring Dutch that was no problem. "Gosh," he said. I was chasin' the nurses down the hall in half an hour." Dutch didn't look that convinced. (Coastal 181 Collection)
A
---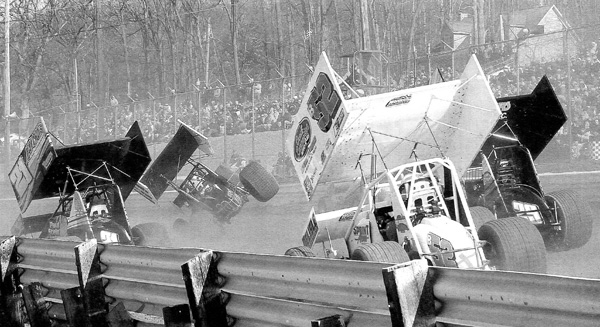 #1738 - Every rookie driver has heard a gray beard say it: "Always focus on three cars ahead of you." Here's why. Suddenly, coming down for the green at the Lincoln, PA, opener three winters past, Derek Sell's #20s bicycled. The field scattered immediately. From Mike Feltenberger's STRAPPED IN. (Kirk Rissmiller Photo)
a
---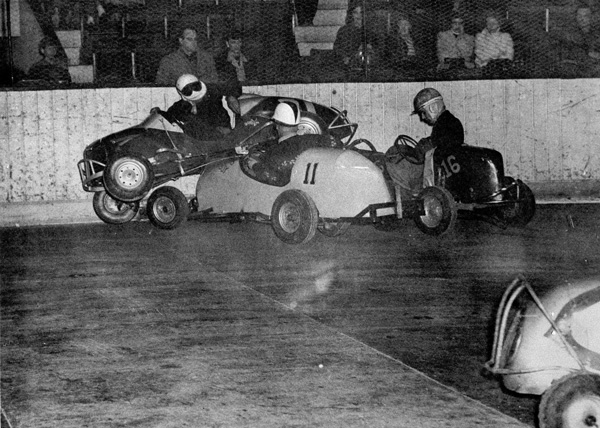 #1737 - Things could get a little spirited indoors back in the day. This was a March 1951 show at the Rhode Island Auditorium in Providence. According to New England's esteemed historian RA Silvia, Mickey Gill had been pretty much cruisin' along in the low groove when future Hall of Famer Hop Harrington was buzzing around upstairs. Apparently Hop kept coming down on Mickey and rapping him. The last time was the last time. When Hop got close, Mickey leaned over, grabbed his steering wheel, gave it a yank – and Hop was into the wall. Unfortunately, Mickey reported, "I didn't let go in time, so I went for the ride, too." (Harold White Photo, RA Silvia Collection)
a
---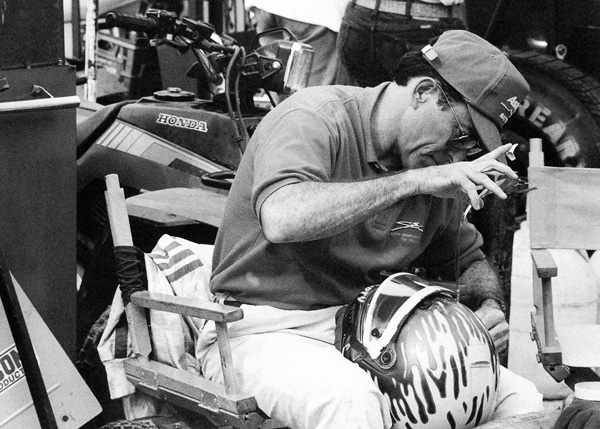 #1736 - Johnny Parsons Jr. is from California – an L.A. policeman before starting an impressive open-wheel career, including 12 Indy 500 starts. He knew about tearoffs – he was on the hammer whether in a Midget, Sprinter, or Silver Crown car. Photo from THUNDER ROAD: A Photographic Journey of Open Wheel Racing, Carnivals, and the Iconic Highways they Travel, by Tom Toutz
A
---
-#1735 - It may not have been as technologically – and financially – advanced as what is happening in Daytona today, but testing has been a part of racing since our world was young. Case in point is this scene from Thompson, CT, back in the 1950s. Close enough to perfect for me. (Coastal 181 Collection)
a
---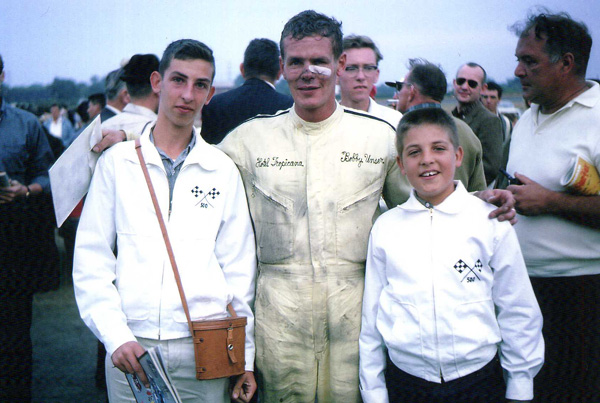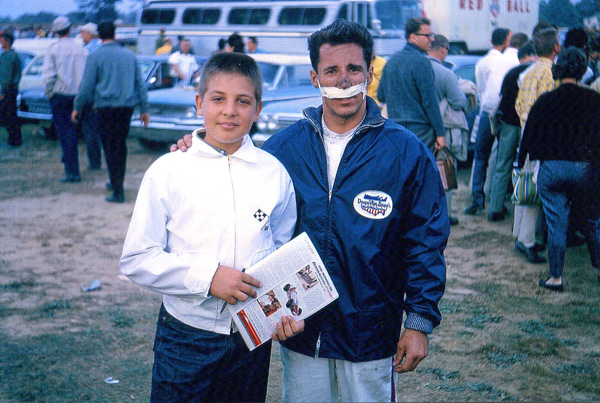 #1734 - We were at the Chili Bowl with our books, especially Kevin Olson's CAGES ARE FOR MONKEYS. Needless to say, we were watching carefully when he ran his alphabet feature on Saturday – and what a trip that he won it. When we told him he looked great, he said we couldn't see what had been really great. Character that he is, he was wearing his old time open-face helmet. He said, "I was going down the backstretch and I got hit right on the nose with a rock or a mud ball. It was really cool – just like the old days." Here are images of a young Bobby Unser and Mario Andretti. Wonder what they'd say. (Coastal 181 Collection)
A
---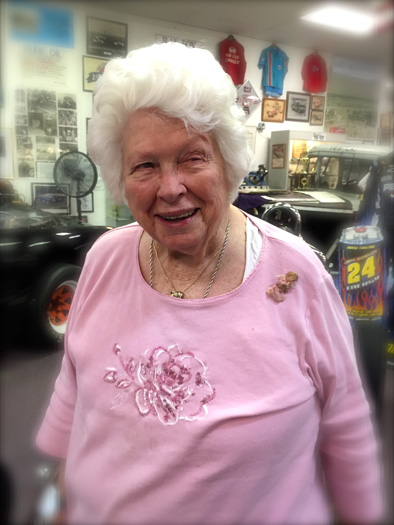 #1733 - Longest serving Juanita "Lightnin'" Epton saw her first race in 1945. Now at age 96, she has worked at Daytona Speedway's ticket office for its entire 58-year existence. As such, she is the track's longest-serving employee. "I was there before Bill Junior," she proudly says. Former track president Joie Chitwood in a newspaper interview said, "She's a spitfire." With a warm smile and great caring for the track's customers for so many years, many instead call her "a legend." Her late husband gave Juanita the nickname because, as she says, he "…never knew when or where I'd strike." (Photo and caption by Dick Berggren)
a
---
#1732 - Here's good guy Walt Scadden in his first Supermodified at Thompson, CT. Walt recalls that with a 289 Ford it was "slightly underpowered." The wheelbase looks short enough that a front bumper was able to serve as a nerf bar. I bet Walt had to pay attention to keep it straight on those long straightaways. (Scadden Collection)

a
---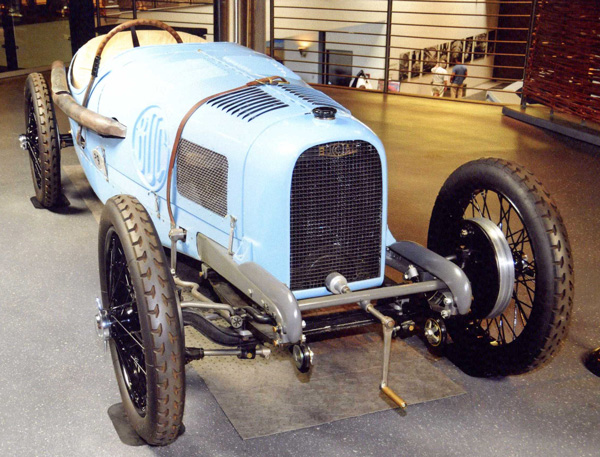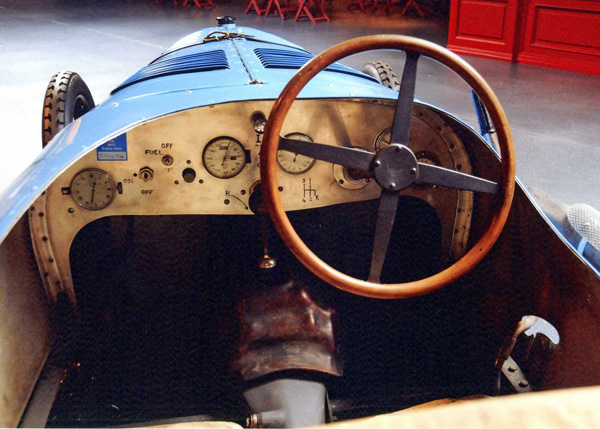 #1731 - It is hard to believe that something so beautiful could make someone feel so racy. Here is one of Peter Mullen's Bugattis at the amazing "Art of the Bugatti" show at the Petersen Museum in Los Angeles. (Dick Berggren Photos)
A
---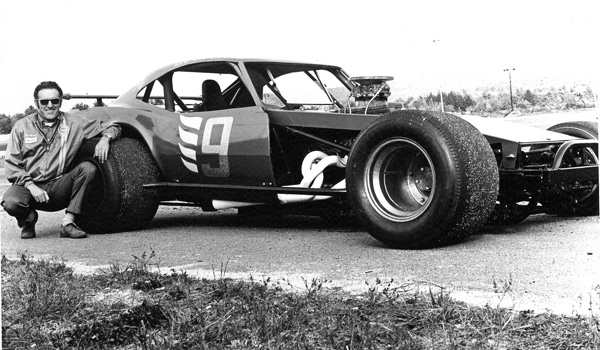 #1730 - Remembering LEO CLEARY, a racing legend.
(North East Motor Sports Museum)

https://www.youtube.com/watch?v=X0s28Uab_AM
- YouTube video excerpts from
Norwood Arena: The Movie
a
---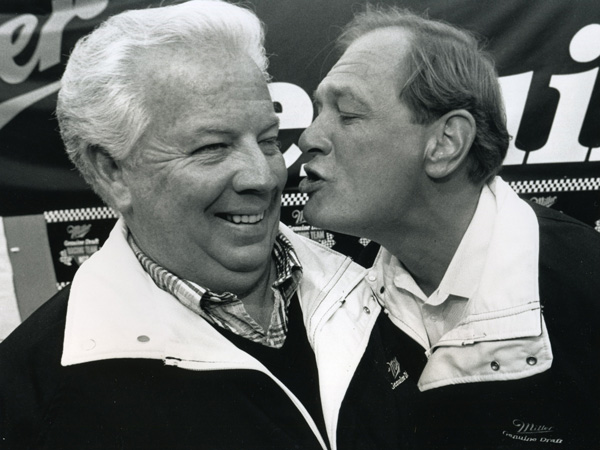 #1729 - We were going through our photo collection at Coastal 181 getting ready to induct Will Cagle into the Living Legends of Auto Racing during their Awards Night in Daytona the Wednesday before the Daytona 500. This surprising image popped up. Will is shown here with the late – and rather impish – New York journalist and lawyer Andy Fusco. Will, on the other hand, was quite reserved through all his years of incredible successes. Somehow Andy's advances must have worked. Nobody could believe it when Will allowed Andy to jump into the mighty #24 Modified and hot lap it at Weedsport, NY. (Coastal 181 Collection)
a
---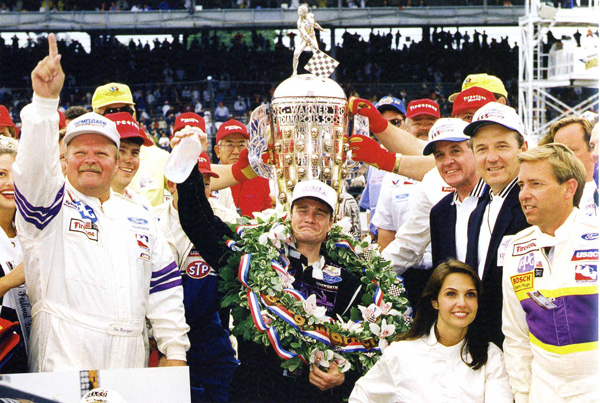 #1728 - Pain and pleasure: He had just won the 1996 Indy 500, and everyone was grinning except Buddy Lazier. What was the problem? Just two months earlier he had entered the Dura Lube 200 at Phoenix, but never made the show. He crashed in warm-ups with Lyn St. James and definitely was the loser. At Indy he still suffered from the 16 fractures in his back. (FROM AUTOCOURSE: Official History of the Indianapolis 500, Second Edition, by Donald Davidson and Rick Shaffer)
A
---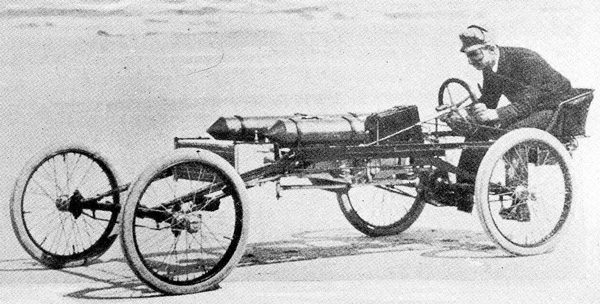 #1727 - The Olds "Pirate" was the very first car to make an unofficial timed run on the sands of Florida – at Ormond Beach in April of 1902. The driver was the designer, Ransom E. Olds. Quite remarkably he cruised own the beach, powered by a 5-cu. in., 1-cylinder engine, at 57 mph. (Photo from FORD: The Dust and Glory – A Racing History, by Leo Levine
a
---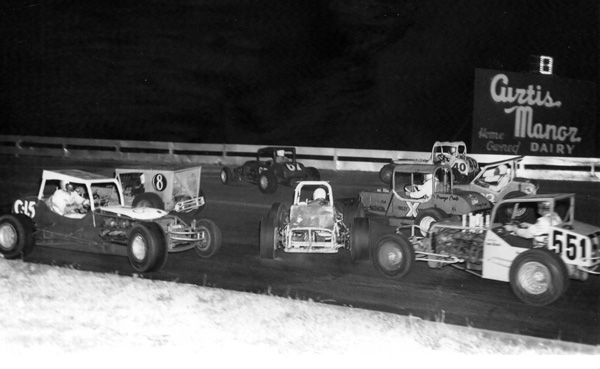 #1726 - It sure looked like the afternoon commute on Route 4 in Orlando, but it was actually a Saturday night at Oswego, NY. The participants were Mark Letcher (c-15), Jim "The Pine" Shampine (8-ball), "Rapid Ralph" Denson (67), "Irish Jack" Murphy (6-backwards), Billy Yuma (X), Neil "Terrible" Tooley (23), "Stormin' Norman" Makereth (40), and Leon "Cowboy" Weiske (551). (Coastal 181 Collection)
a
---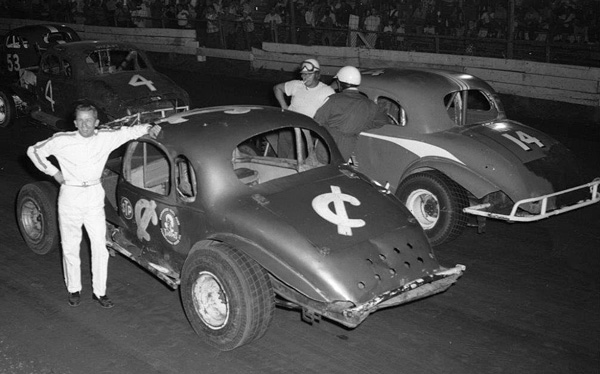 #1725 - Here's a shot of Ed Flemke, "Modified Racing's Fastest Professor," in 1966 in an unusual dirt track appearance – at New York's Fonda Speedway. Bones Bourcier, who wrote Flemke's biography (STEADY EDDIE), says, "He always, ALWAYS used the cliché, 'Dirt is for planting potatoes.' But he certainly never looked down on it; he always kept more or less abreast of what was happening, who was winning, new chassis developments, and so on. He did drive for Sharkey and others on the dirt at Stafford, Connecticut, but only because there were no Friday-night blacktop options in that season or so between the end of the Eastern Bandits and the opening of Albany-Saratoga in New York." (Coastal 181 Collection)
a
---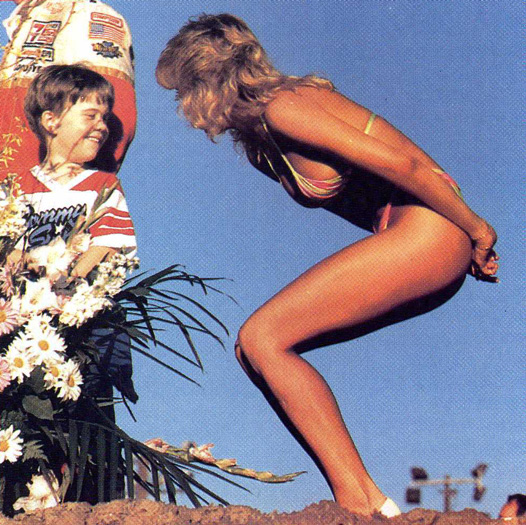 #1724 - It was a score when the Agajanians hired Leslie Bremer to be their trophy girl at Ascot. The intolerably beautiful model/actress from Thousand Oaks, CA, was a hit with all generations. (Open Wheel Magazine, Mike Myers Photo)
a
---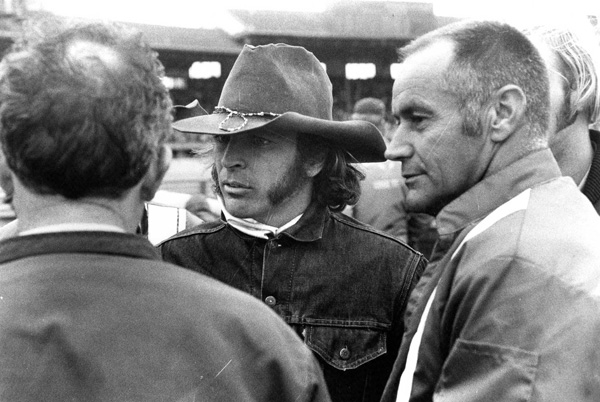 #1723 - Dick Berggren captured this moment at the old Trenton, NJ, Speedway back in the '70s. Jan Opperman (L) and Dutch Hoag were alike in their Olympian talents, but oh so different in their packaging. (North East Motor Sports Museum Photo)
A
---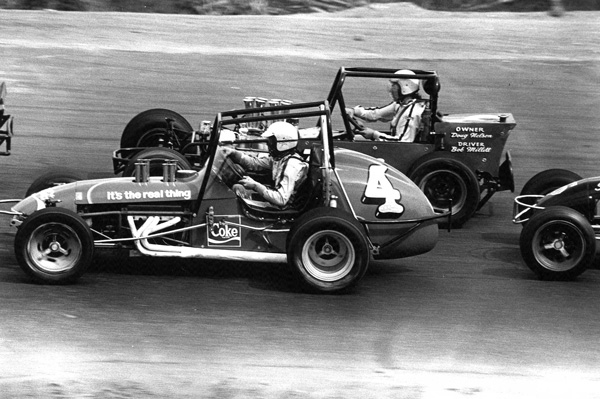 #1722 - In #1720 we ran a shot of Massachusetts' Scotty Martel making his way very quickly around Flemington, NJ, in his Super. Here's his dad, Jim, a New England Auto Racing Hall of Famer, exercising Skip Matczak's Sprinter at a 1971 NESMRA race at Star Speedway in Epping, NH. Skip, also a Hall of Famer, commented, "The car was a Ron Ward chassis which Bentley Warren drove to many wins at Bryar Motor Sports Park. We also won a couple of times with it at Pocono. It was a great car. The cage was a bolt-on as USAC did not allow cages when we ran with them. Tassi Vatis noticed us as we ran pretty well on pavement and, after a call from Paul Young, he invited us to lunch, where he asked Bentley to come to Indy that year. Bentley then suggested I hire Jim Martel as his replacement. It was a good choice as we won together including on dirt at Claremont." (North East Motor Sports Museum Photo)
A
---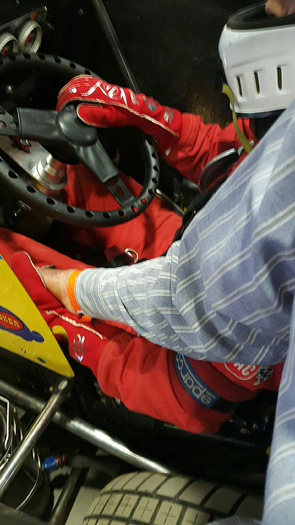 #1721 - Legendary Sprint Car champion, Jimmy Oskie, is a familiar – and welcome – sight for emerging wheelmen and wheelwomen in California. He shares racing strategy, visualization, and centering techniques – even at the intensely pressure-packed starting grid of the Chili Bowl. This is Ashley Hazelton, a top notch West Coast USAC runner, ready to be pushed off for one of the alphabet qualifiers. That's Jimmy's arm in the striped shirt reaching in to hold her hand as they share a calming prayer.
A
---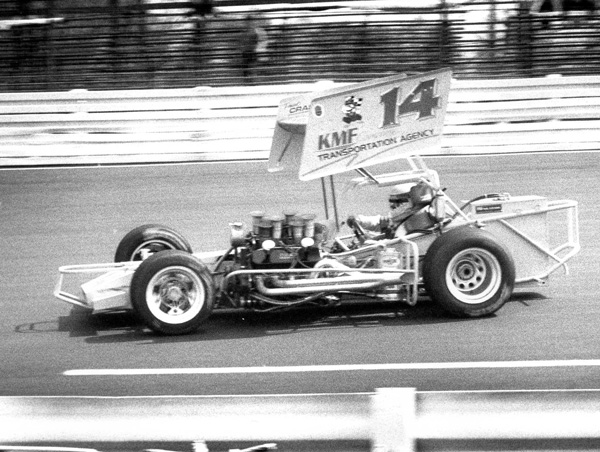 #1720 - The Martel Family of Ipswich, MA, has been immersed in Supermodified racing for decades. Here's a cool image of second-generation Scott Martel at speed at Flemington, NJ. Scott says, "That sure brings back some great memories. I believe this was the first-ever race on the newly paved Flemington Speedway. ISMA heats were the first to roll out that day, and I won the first one from the pole. If I remember correctly, I led the feature for a while and finished second to Bentley Warren with my right rear badly blistered. It was one very interesting place for a guy who grew up at small bullrings like Star and Hudson up in New Hampshire. I wish it was still there. It was FAST, square, and fun." (Jim Donnelly Photo)
a
---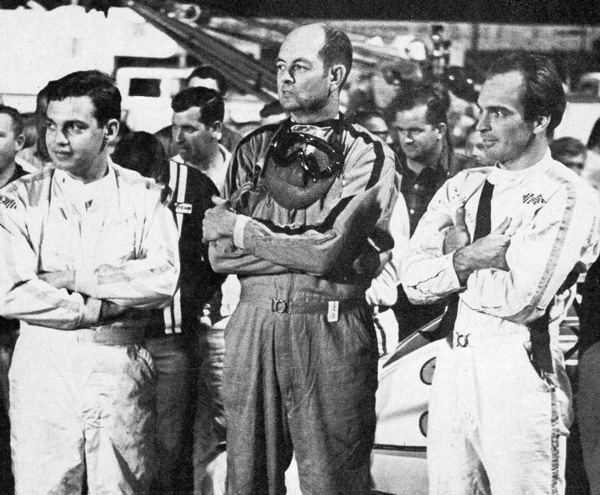 #1719 - Three of the stars of American open wheel racing met up at the Western at Manzanita in 1968. L to R, Lee Kunzman, Gordon Wooley, and a carefully combed Jan Opperman. All three were huge winners along the way in their Sprints, but all three also suffered serious injury. (Open Wheel Magazine, Jim Chini Photo)
A
---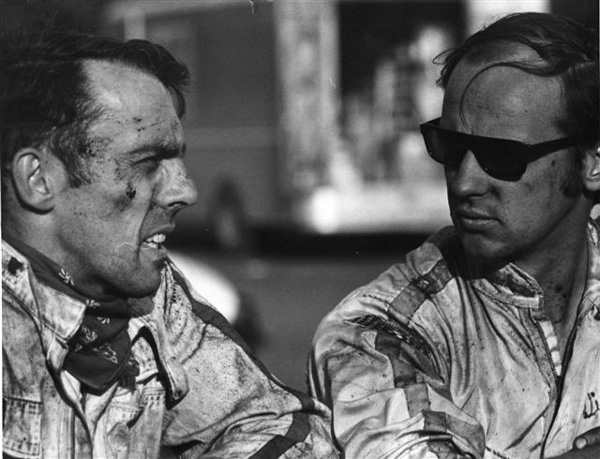 #1718 - Actually they look pretty sane, but they weren't. New York Hall of Famer Dick Hansen (L) and NEAR Hall of Famer Dick Berggren share tall stories after a show at the gritty old Lakeville, MA, Speedway in the 1970s. (Coastal 181 Collection)
a
---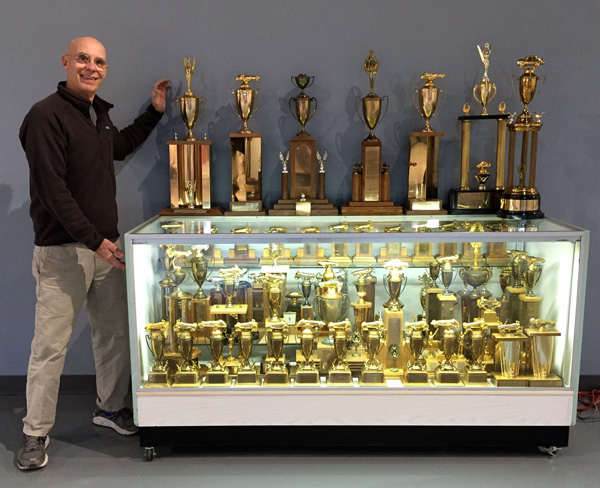 #1717 - Every auto racing museum relies on volunteers to make things work well. Museum volunteer Rick Nelson smiles on completing the cleaning and polishing of a trophy case and the trophies to fill it at the North East Motor Sports Museum. Hard to believe but all these trophies and more were won by one driver, Dave Sanderson, who was a top drag racer in the 1950s and '60s. Sanderson designed, built and raced a unique car whose Pontiac engine was an integral part of the chassis, thus saving weight. As brave a race car driver as he was, Sanderson feared water and never learned to swim. Sadly, he lost his life when he fell out of a boat. (Caption and Photo, North East Motor Sports Museum)
a
---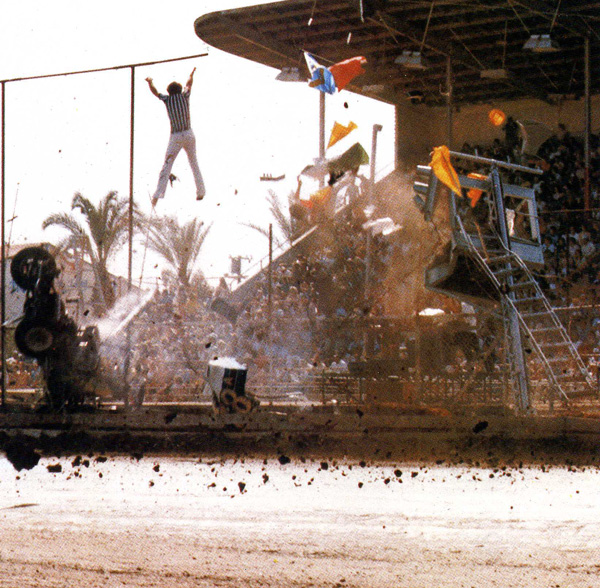 #1716 - It was some kind of show in front of the full stand at El Centro, CA, when Larry Clark got to flipping his Sprinter. On the way by, the nose of the car tore up the starter's stand, sending Steve Vadden for one serious moon shot. He ended up with a compound leg fracture. (Open Wheel Magazine, Greg Talley Photo)
a
---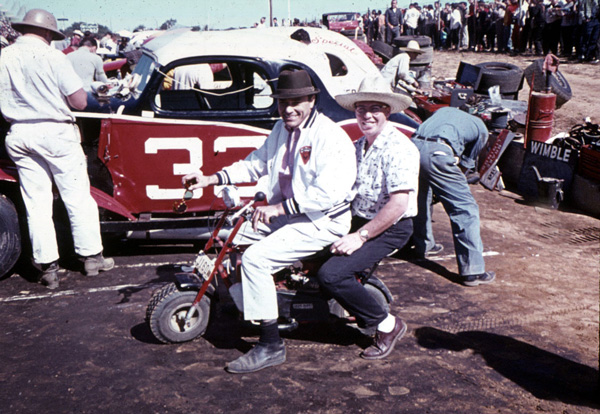 #1715 - They were two buddies – and two of the very best – so we have to forgive them their hats. That's Al Tasnady up front and Bill Wimble on the back, Langhorne 1963. (Steve Pados Collection)
a
---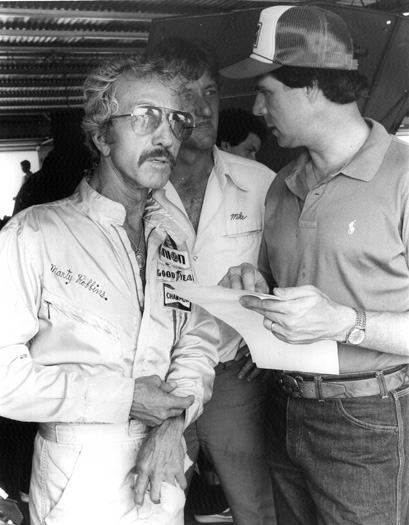 #1714 - Darrell Waltrip actually seemed to be listening. But who wouldn't when Marty Robbins piped up. (Coastal 181 Collection)
a
---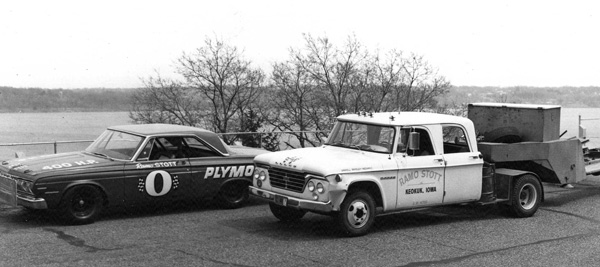 #1713 - Keokuk, the southernmost city in Iowa, sits right near the junction of the Des Moines River and the Big Muddy. It played a big role in Mark Twain's Life On The Mississippi. More recently the city, population around 10,000, has played a curiously distinguished role in pit areas in the middle part of the country. Among the long list of Keokuk racers past and present are Ernie Derr, Ron Hutchinson, Dick Hutchinson, Lem Blankenship, Ramo Stott, Lance Stott, and Don White. Photo (Coastal 181 Collection)
A
---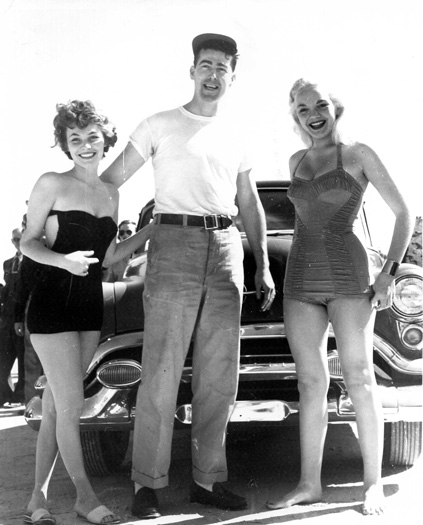 #1712 - Lots of action seemed to accompany "Big Bob" Pronger wherever he went. He blasted onto the scene with vigor in Daytona in 1953, shown above. He set new standing-start, measured-mile and two-way run records and then sat on the pole for the Grand National race at 115.77 mph. Pronger supposedly bet Fonty Flock, his front-row mate, that he would whip him on the first lap. That didn't quite work out, as Pronger flipped over the North Turn embankment. For years and years he became a standout at Chicago's Raceway Park, while allegedly supporting himself as a chop shop operator with mob ties. He reported being shot at a couple of times pulling into Raceway Park, and on June 17, 1971 he just plain disappeared. A body believed to be his – but never officially identified – was eventually found in Griffin, Indiana. (Coastal 181 Collection)
A
---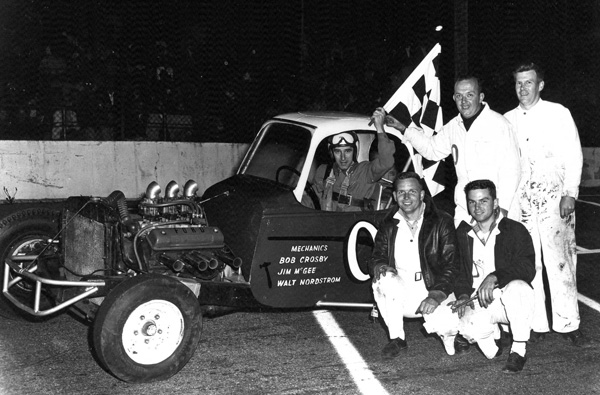 #1711 - It was a very spiffy "cutdown" in the very late 1950s at Seekonk, MA- Speedway. The caffeinated Gavin Couper was tucked tightly into the office with both shoulder harnesses and a Sam Brown-type belt, surrounded by a rather minimalist cage. Up-and-coming Jim McGee was in the lower right, at the outset of a spectacular career that landed him in Indianapolis. (John Monaghan Collection)
A
---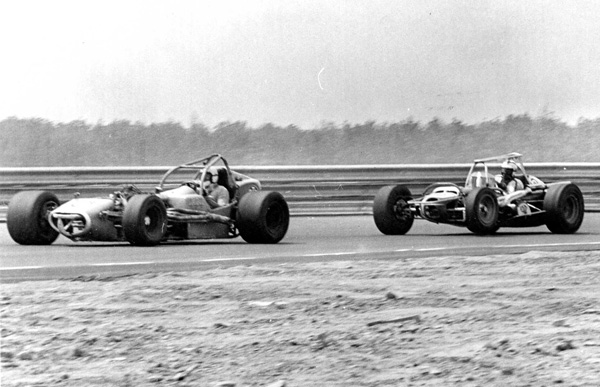 #1710 - Fearsome looking Supers under power at Pocono in the 1970s. Masterful Jim Shampine is chased by versatile Neal "Terrible" Tooley. (Photo, North East Motor Sports Museum)
A
---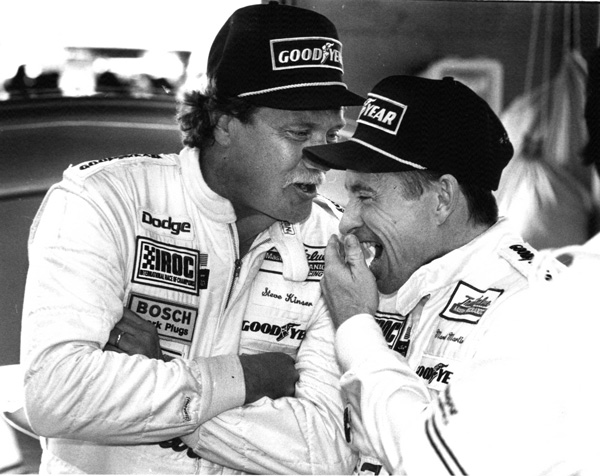 #1709 - Stars from different galaxies. What could Steve Kinser had said to get Mark Martin goin' like that? Bet it had something to do with girls. (Photo, North East Motor Sports Museum)
A
---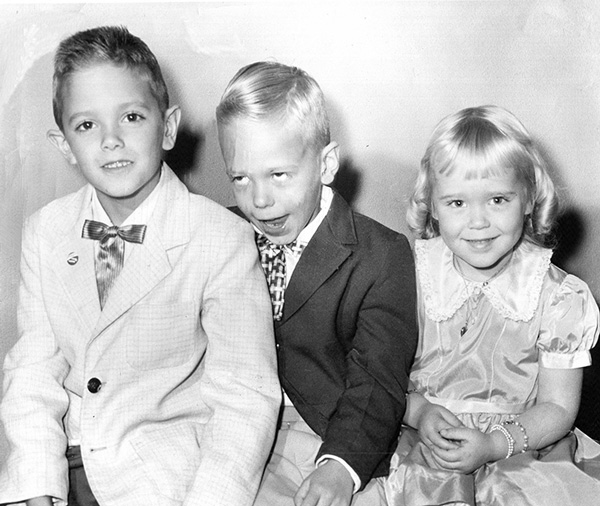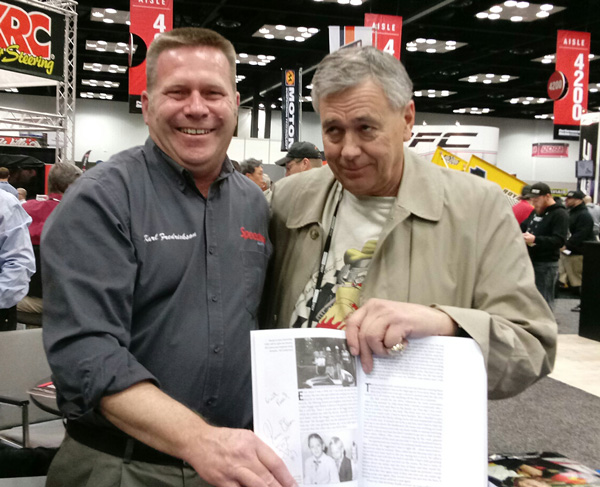 #1708 - Get two people together who are a half-bubble off center and guaranteed they will demonstrate that some things just never change. This went down at PRI a couple weeks ago. The top photo is an Olson Family portrait from the brand new CAGES ARE FOR MONKEYS book showing Kevin, brother Loren, and sister Sharon in the mid-'50s. In the second shot

Speedway Illustrated

's Karl Fredrickson has asked Kevin for an autograph – on that page. (Photos,

Speedway

Illustrated

and KO Family Collection)
A
---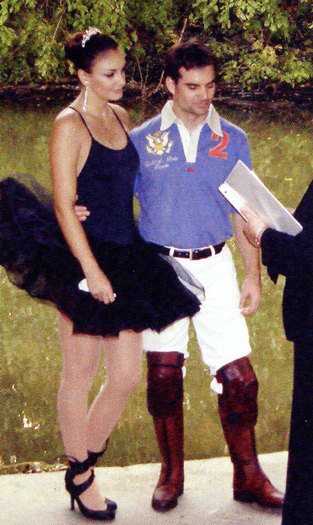 #1707 - Jeff Gordon and Ingrid Vandebosch actually were hitched quietly – and uniquely – on Halloween in 2006. "He and Ingrid pulled off a surprise wedding – and in costume no less – in a secluded gazebo in New York's Central Park. With a judge dressed like a witch, Ingrid in a tutu and crown as the black swan from Swan Lake, and Jeff clad as a polo player next to their cowboy hat-wearing dog Valentino, the happy couple took their vows. 'Normally, a guy forgets his wedding date, but I was afraid I'd forget – I'm no good with dates,' Ingrid says. "So I said, 'Let's do it Halloween so we'll never forget.' A week later, on November 7, they tied the knot again in front of their friends and family at a ceremony in Mexico." From JEFF GORDON: His Dream, Drive, and Destiny, by Joe Garner. (Gordon Family Photo)
a
---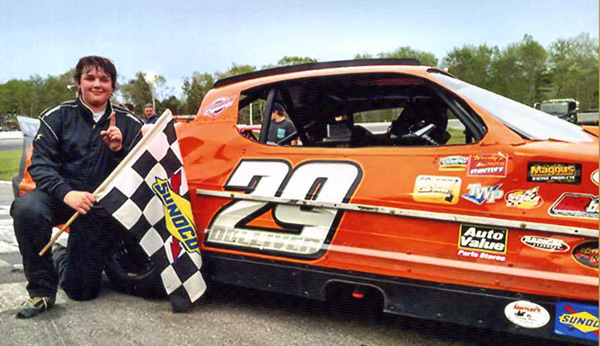 #1706 - No question that racing is a family sport. It only makes sense that a kid spending countless summer nights in a grandstand with his family would be bitten by the bug and want to show his stuff in the cockpit. But often talent seems to seep down through the generations as well. Take for example the unassuming teenager from Derry, NH, Max Dolliver. Watch him run his Dolliver Streeter – upstairs, downstairs, up the middle. Look carefully and you might as well have been watching his dad, Bryan, (named for Jimmy) wheel his dirt car around Canaan Speedway – or even his granddad, Jerry, a gentle man who racked up multiple championships in Supers and Sprinters, performing with grace and civility. (Dolliver Family Collection)
a
---
#1705 - The traffic reports called out heavy congestion in Williams Grove, PA, in 1958. Len Sutton #48, Don Branson #10, AJ Foyt #29, Earl Motter #25, and Buzz Barton. From FEARLESS: Dangerous Days in Open Wheel Racing, by Gene Crucean. (Dave Knox Photo)
A
---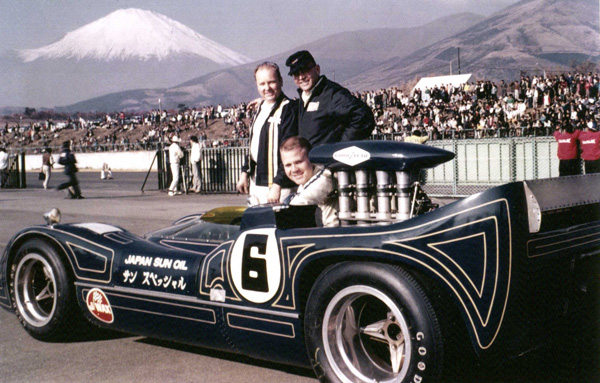 #1704 - One beautiful race car. Engine builder Jim Travers of TRACO, Karl Kainhofer of Penske Racing, and Mark Donohue get ready at Mt. Fuji, Japan in 1968. From PENSKE's MAESTRO: Karl Kainhofer and the History of Penske Racing, by Gordon Kirby. (Karl Kainhofer Collection)
a
---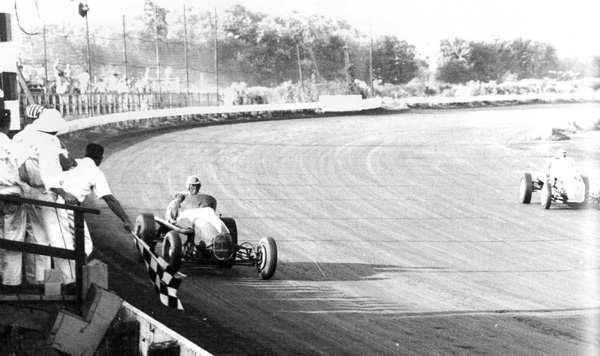 #1703 - "Ralphie the Racer" Liguori grins through the Langhorne grime as he sweeps past the starter for a win in the Leitenberger Offy. He set a 50-lap record of 104.107mph that will never be broken. His comments on the grand circle: "It was a tough place, but I liked it. You know that track, the way they oiled it, graded it and everything else, if you were very cautious and you didn't get full-throttle on that joint, the car would jump all over the place. And the faster you went, the better it felt. When it felt good enough that you could do anything with it, that was time to back off a little bit. It was very deceiving. I got in trouble one time, and that's how I learned that. And then down in Puke Hollow, you had to go up to the fence and run straight. If you ran through there sideways, you 'd catch a rut for sure. Also, if you came down the front and went in there low, you'd get upside down. 'Cause that underground stream or whatever it was, you just had big holes and everything….You know, I wonder if a house ever sunk there." Photo and quote from LANGHORNE: No Man's Land, by L. Spencer Riggs. (Walt Imlay Photo)
a
---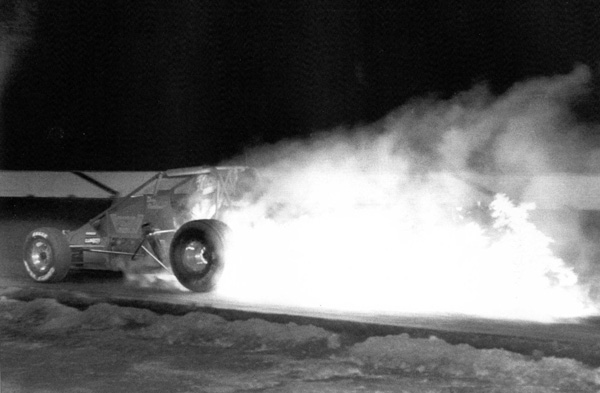 #1702 - A fiery bummer. Dave Darland was bidding for the 1995 Championship when the Silver Crown cars pulled into California's West Capital Speedway. All was going well until lap eleven when an oil fire erupted, forcing "the People's Champ" to the pits. He ended up losing the crown to "Smoke" by two points. From SACRAMENTO: Dirt Capital of the Wesr, by Tom Motter. (Dennis Mattish Photo)
a
---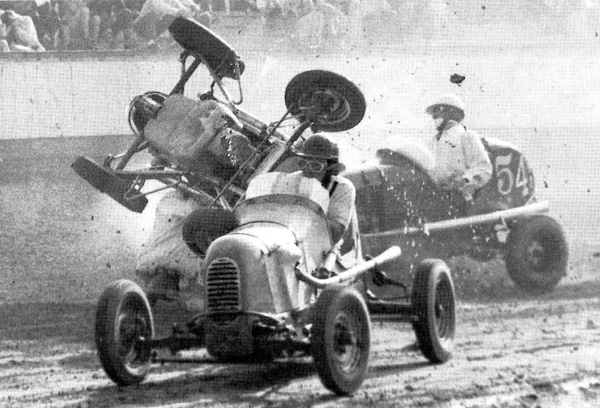 #1701 - Diminutive Walt Faulkner, nicknamed "Little Dynamo," was a native of Tell, Texas, who moved to L.A. in 1936 and became a top-rate racer. He showed his stuff by going to Indy in 1950 for his first Championship event, becoming the first rookie to gain the pole position. He ran seventh. He was especially proficient in Midgets, but they nearly did him in. Here he is at Bonelli Ranch Stadium in California on October 7, 1945, getting drilled face first into the dirt. Tossed around with his feet caught in the seat belts, he ended up with a broken pelvis and multiple leg fractures. Eleven years later he died in a USAC Stock Car at Vallejo Speedway. From DISTANT THUNDER: When Midgets Were Mighty, by Dick Wallen (Dick Wallen Collection)
a
---
a

Previous Photos of the Day - PAGE 8

Previous Photos of the Day - PAGE 7

Previous Photos of the Day - PAGE 6

Previous Photos of the Day - PAGE 5

Previous Photos of the Day - PAGE 4

Previous Photos of the Day - PAGE 3

Previous Photos of the Day - PAGE 2

Previous Photos of the Day - PAGE 1