-
On Saturday, January 28, 2017, Gary Balough was inducted into the New York State Stock Car Associationís Hall of Fame. Gary was a very popular selection, and it was fun to make the presentation.


On October 12, 1974, there was a Christopher Columbus 100 Modified race at Fonda. Just prior to warmups an unfamiliar hauler pulled through the gates. Everyone's heart sank. It was one of the country's hottest drivers of the era: a brash, wiry, driven, tech-savvy Gary Balough - and the brilliantly tooled Ferraiuolo #73 Whip Mulligan Modified.

As expected, it turned out to be one total romp. Gary won his heat and dominated the feature, green to checker. It was embarrassing for everyone, especially me. I followed him most of the way that night, but dropped out around lap 90 for a black flag thrown for Rene Charland. I stupidly thought it was for me. I had been able to keep up with Gary because you could see his engine was on the fritz. In the end he had about one cylinder left, but that's all it took to whip us regulars.

Just who was this guy? Gary, a Miami kid, was stung by racing at 14. His sympathetic mom would leave his window open so he could sneak out to nearby Hialeah Speedway and back without his dad - a policeman - knowing about it. But when his dad found out about the '51 Chevy Gary built at 16, his dad tossed him out of the home - permanently.

The strife only seemed to make Gary more determined. He won the first time out and had 36 more by season end. "Guess I had all the superheroes helping me," he recalls. "They must have seen something in me I didn't."

In no time he was winning in Late Models, sweeping the Florida Governor's Cup at 19.

By the late sixties, he had Charlotte on his mind and he befriended legendary car builder Tom Pistone. Tom, in turn, dispatched the kid to Western Pennsylvania to help out a customer, Jim Kell, with his team at places like Bedford and Schmucker's. Gary ended up in the seat and immediately joined the church of the clay. He got it done.

Then the phone rang from New Jersey. It was fellow Floridian Spud Murphy, who told Gary to come east. The money, he said, was with those dirt Modifieds. Gary's first injected big block ride was in the pink Dick Egge #9. The first night he parked it in the wall at Windsor, demolishing the car. It was a horror show - the starter broke his leg. But, ever work-alcoholic, he and Whip Mulligan rebuilt it and they got second at Flemington and won Nazareth the next week.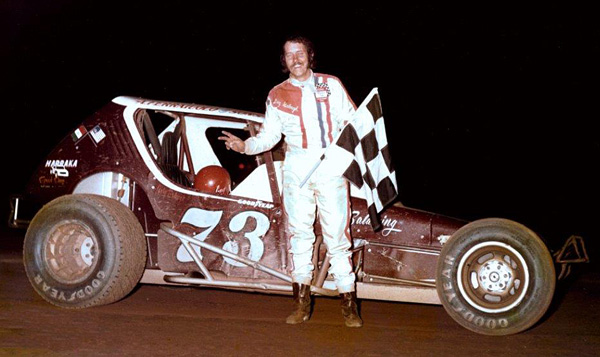 (Balough Collection)
When the Ferraiuolos bought the car, Gary went on tour with it and Rich Marinelli's # M-1. These were busy times, and Gary was pretty edgy. The first time at the Middletown in the M-1, he busted the steering and took down the wall. He jumped on the hood and carried on about winning the next week. And he did just that. It seemed he starred in every race - and every party.

In the eighties he was back to Charlotte. That year he went to New Smyrna with a Super Late Model, winning six in a row, before crashing with Junior Hanley and breaking his neck. He was out until August, but the autumn was BIG. Gary appeared at Syracuse even stronger than before - in a ground-effects Modified missile from Lincoln, Nebraska, an engineering masterpiece known as the Batmobile. If Gary embarrassed us at Fonda in 1974, he shamed everyone at Syracuse in 1980. After touring the Fairgrounds faster than the sprint cars, he handily lapped the field, never fully on the hammer, even though he lost a cylinder. It was arguably the most dominant win in Modified history.

It was probably a good thing that Gary was then off to the big-time asphalt again, winning the Miller Life 300 at Charlotte, the Snow Ball Derby multiple times, the All American 400 and more championships.

And in 1982, quite deservedly, came the grand prize...a ride for 25 shows with the RahMoc cup team. He had paid his dues.

But that's when the grand dark bummer took it all away. Gary had been temping with a Florida team, working on race cars and power boats. There was drug trafficking going on. Gary saw the money and the glitz and became entangled. In his ironic words, "When I did things, I did them right." He and 65 others were arrested on February 18 and he was out of commission for a decade, paying his dues yet again.

Recently Gary has been living in Ohio, advising racing teams on technology and driver technique. He hasn't done much driving - he's got five stents and the repercussions of the inevitable broken vertebrae and bones that follow someone who is said to have won over 1,000 races.

He's also a little more chill these days at age 69. He has become a very popular and respected figure, consistently surrounded by folks at races and shows. In 2015 he teamed up with Chris Larsen and his most impressive company Halmar to manage a Modified team and to take Stewart Friesen to Eldora in a truck. In 2017 they will be campaigning a truck in the NASCAR Truck Series with our own Stewie at the wheel.

Gary smiles impishly about that and says, "Stewie is so easy, so smooth, so natural. He's as full of talent as anyone I've seen since I climbed out of the seat myself."

Yup. So how about that one and only Gary Balough? There is a lot of New York in him - and now there's gonna be more.

Let's welcome him up here right now into the New York State Stock Car Association Hall of Fame.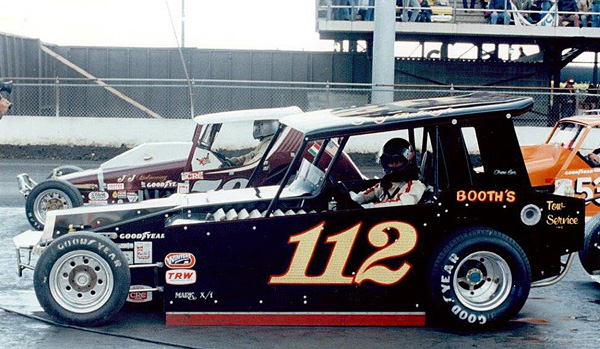 "The Batmobile."
(

Balough

Collection)